Lead Confidently With a Doane Business Degree
"Business as usual" is a far cry from how we operate. With our liberal arts approach and experiential learning opportunities across four undergraduate majors, 11 minors, three certificates, and three graduate programs, a Doane education equips you with the experience and confidence to stand out in your career as a creative and adaptable leader.
Undergraduate Programs
With a bachelor's degree through our College of Business, you'll possess the foundational knowledge required to positively impact the world.
Graduate Programs
Advance your career with a master's degree from Doane. We focus on your development as a resilient and empathic leader who's equipped to make an immediate difference in their career.
Flexible Business Programs
A degree should enhance your career and life — not inhibit it. That's why we offer flexible learning options for our programs. If you're balancing other responsibilities like a job and family, check out our non-traditional student experience. Classes are eight-week terms and are either offered fully online or are a mixture of distance learning and in-person evening classes on our Lincoln campus.
Undergraduate programs for non-traditional students:
Accounting (can be in person at the Lincoln campus)
Agribusiness  (online classes)
Business Administration (can be completed fully online or in person at the Lincoln campus)
Graduate Programs:
Master of Arts in Leadership (can be in person at the Lincoln campus or via distance learning)
Master of Business Administration (can be completed fully online or in person at the Lincoln campus)
Master of Science in Instructional Design and Technology  (online classes)
Deanna Friesen
Class of '23, Business Administration
The instructors take the time to listen and are always very understanding. Being in the non-residential program in Lincoln and a non-traditional student, life happens. Managing two jobs and full-time school is a lot and the instructors see that and are always very supportive.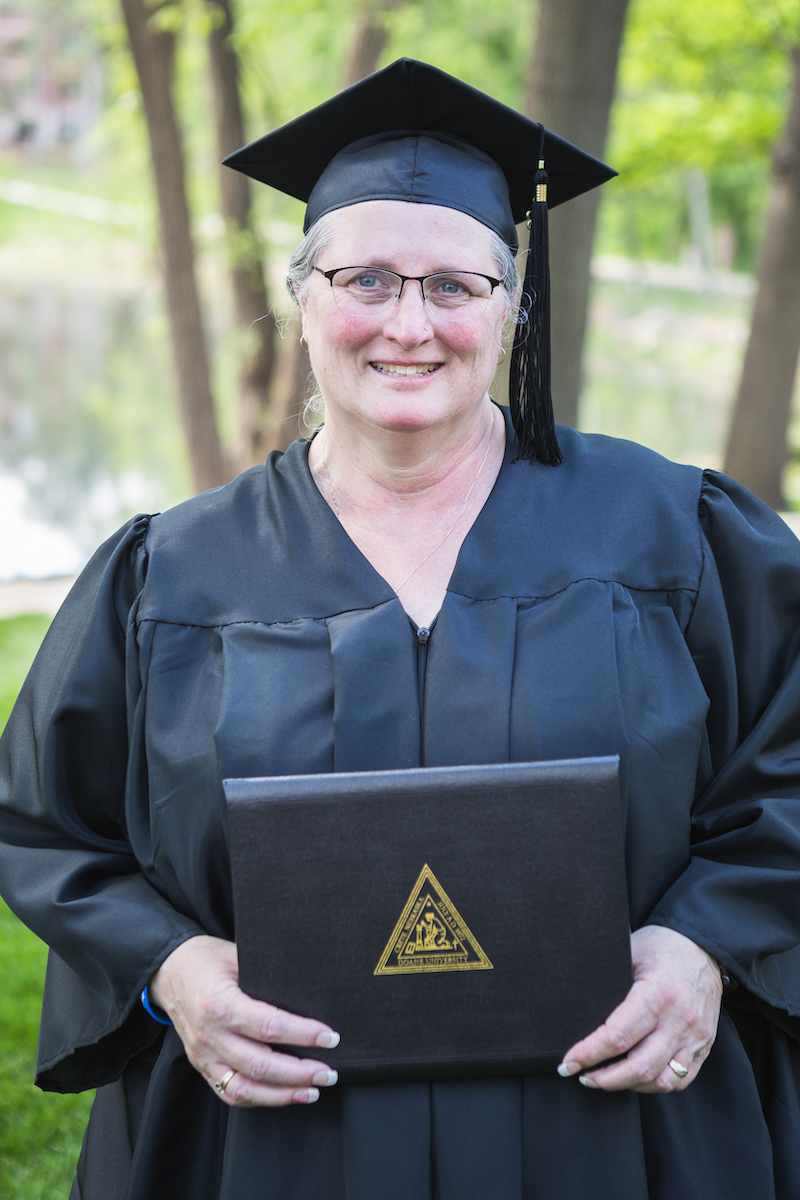 Mission, Vision, and Values

Mission statement:
Achieving excellence through knowledge, experience, and the liberal arts.

Vision:
Doane University's College of Business commits to providing relevant educational experiences, engaging in strategic partnerships with organizations and industry experts, and preparing students to effectively contribute to business and society.

Values:
Community: We consider those around us and include key stakeholders when making decisions.
Integrity: We make decisions grounded in ethics and principles.
Stewardship: We use resources to optimize effectiveness.
Impact: We affect positive change through leadership and followership.

Growth: We continue to learn and expand.

Agility: We adapt quickly to meet needs.
ACBSP Accreditation - Candidacy

Accreditation Council for Business Schools and Programs (ACBSP) is a global business education accrediting body and the first organization to offer accreditation to all levels of collegiate business educational degree programs from associate to doctoral. ACBSP ignites a standard of excellence with an accreditation process based on the Baldrige Education Criteria for Performance Excellence. By evaluating aspects of leadership, strategic planning, relationships with stakeholders, quality of academic programs, faculty credentials, and educational support, ACBSP assesses whether or not business programs offer a rigorous educational experience and commitment to continuous quality improvement.
ACBSP Programs in Candidacy - Number of Graduates

| | | | |
| --- | --- | --- | --- |
| Number of Graduates | 2020-2021 | 2021-2022 | 2022-2023 |
| Accounting - Public | 15 | 6 | 5 |
| Agribusiness | 6 | 12 | 7 |
| Business Administration | 71 | 56 | 47 |
| MBA | 60 | 49 | 39 |

 
ACBSP Programs in Candidacy - Job Placement Rate

 

| | | | |
| --- | --- | --- | --- |
| Job Placement Rate | 2020-2021 | 2021-2022 | 2022-2023 |
| Accounting - Public | 93% | 100% | 100% |
| Agribusiness | 100% | 82% | 100% |
| Business Administration | 90% | 82% | 79% |
| MBA | 91% | 88% | 87% |

  

 
ACBSP Programs in Candidacy - Number of Students with an Internship

| | | | |
| --- | --- | --- | --- |
| Number of Students with an Internship | 2020-2021 | 2021-2022 | 2022-2023 |
| Accounting - Public | 8 | 6 | 15 |
| Agribusiness | 8 | 5 | 3 |
| Business Administration | 28 | 42 | 31 |