Settle into community
When you make Doane your home, you don't just move into a building, you join a community whose purpose is to help you thrive so you can make an impact in the classroom and beyond.
Residence Halls
Smith Hall offers the comforts of home. Enjoy rest and relaxation however it suits your needs — in the lounge area, the outdoor courtyard or the gaming room.
Frees isn't short on options. Enjoy an indoor theatre for movie nights, an outdoor grill space to gather with friends, or head to the game room to hone your pool game.
Sheldon is the perfect place to make connections. This energetic hall features a music studio, TV lounge, and classroom, as well as an outdoor fireplace and lawn games.
Home to leadership and honors students, Hansen Leadership Hall offers space to study and relax. The spacious lobby offers board games, a baby grand piano and a large-screen tv.
Burrage Hall is home to upperclassmen. Enjoy suite-style housing with a shared living space. Suites house up to four students in two person bedrooms.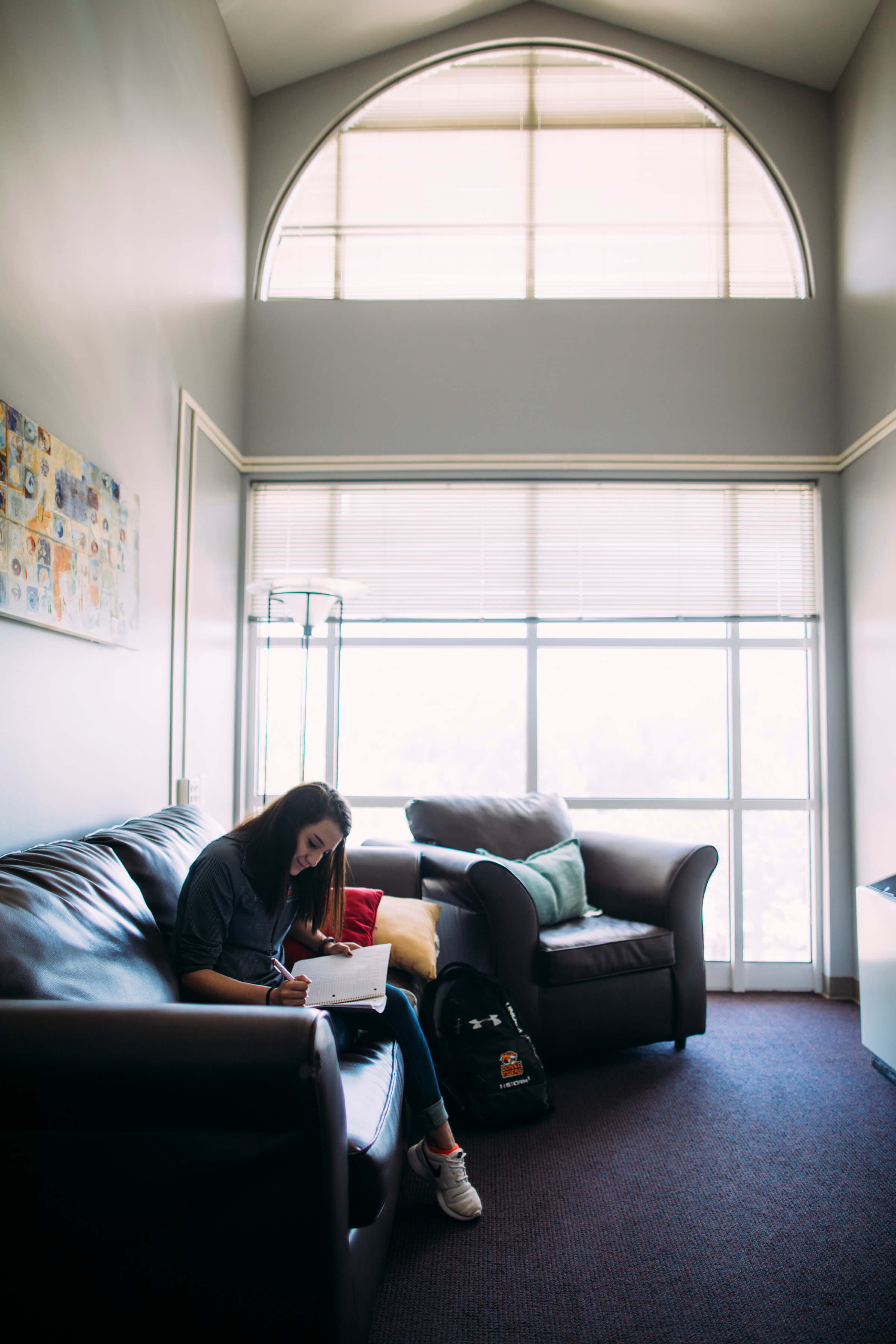 New Tiger FAQS
Do I have to live on campus?

Doane's Crete campus is residential, meaning students are required to live on campus all four years unless they meet particular exception criteria that permit them to move off campus. Only the Office of Residential Life and Education can grant off-campus approval.
Can I visit campus this summer and take a look at my specific room?

Unfortunately, no. During the summer Residence Halls are used for camps, conferences and summer housing.
What is a Room Condition Report, and why do I need one?

For your protection, as well as the University's, Residential Life team members complete the RCR (Room Condition Report) to check the condition of your room before and after moving in/out. You must check each item listed on the RCR on eRezLife, as you are responsible for the condition of everything in your room. Review the RCR after moving in and note any discrepancies that you see. Please record all existing conditions and date them when you move in to avoid charges at the end of the year. Changes in the checkout condition of the RCR result in charges to your student account.

If there are items in need of repair when you move in, or at any time during the year, please complete a work order through eRezLife.
Does the University provide insurance for my property?

No. We urge each student to purchase some form of insurance, whether it be renter's insurance or a rider on their parent's homeowner's insurance. The University is not liable for theft, damage or loss of personal property from any part of the residence hall.
Are different resident halls different prices?

No. All Residence Halls have the same base price per building. However, pricing varies based on whether residents live in a single room (one-person room), double room (two-person room), or private room (double room reserved for one person).
Can I have a private room?

Private rooms are double rooms that are purchased at a higher price for one person to reside in. Private rooms are rare and are only available if space permits. First-year and new students are typically unable to have private rooms.
What if I don't get along with my roommates?

While we strive to make the best matches possible, sometimes conflicts will arise. Residential Life views conflict as a healthy part of development. If roommate conflicts arise, the Residential Life team will assist with a mediation process to help parties involved find a solution that works for them.
Can I stay on campus during a break?

The campus closes for Thanksgiving, Winter and Spring Breaks. Requests for exceptions are reviewed for Thanksgiving and Spring Break. There are no exceptions for Winter Break. The campus is open for Fall Break, but we do ask you to complete a registration form so we are aware of who will be sticking around.
When students leave for breaks, do they need to move their belongings out or turn in their keys?

Students can keep their belongings within their space for the duration of the school year. Students living in Burrage Hall will turn in their interior and exterior key over winter break only.
What is the cost of laundry?

Laundry is free for all on-campus students. Please make sure you bring your own laundry supplies. As per our laundry machine provider, we ask you, DO NOT use any form of pod detergent. These cause machines to get clogged and not work properly.
Are pets allowed in the Residence Halls?

Just fish. Students are permitted to have one 10 gallon aquarium per room.
Is my emotional support animal permitted in the Residence Hall?

If you are a student in University Housing with a disability and wish to pursue permission to bring an emotional support animal to campus, please begin this process by contacting Anita Harkins [mailto: anita.harkins@doane.edu] in the Office of Disability Services. Our Emotional Support Animal page has more information.

 
Is alcohol permitted in the Residence Halls?

Residents who are 21 or older can apply to have an alcohol-tolerant room if everyone in that room is of age. Upon approval from Residential Life and Education, alcohol-tolerant rooms may have beer and wine. Hard liquor is never permitted on campus.
I lost my room key. What do I do?

Please fill out the Lost Key Form on eRezLife as soon as possible. A key reorder will need to take place for the safety of yourself and your items. Reorder charges will be charged to your student account.
I lost my student ID. What do I do?

A new Student ID can be printed off at the Doane Safety Office. Their office is located in Padour Walker. Fees for reprints may apply.
What is my mailing address?

Each student has their own mailbox located outside of the Service Bureau within Perry Campus Center.

 

How to Address Student Mail:

Student's Name

Doane University

1014 Boswell Ave.

Ste: (This will be your individual mailbox number)

Crete, NE 68333

 
What to Bring to Campus
Room assignments are completed and mailed out to new incoming freshmen each summer. Once you receive your letter, you should contact your roommate and coordinate what each of you will bring. Please note that we do not provide student storage on campus.
Doane University Residence Hall Reminders

Dorms with hard-surface floors:

Sheldon Hall

Smith Hall

Frees Hall

Dorms with carpet:

All rooms come with:

Basic cable

Wireless Internet

All residence halls have:

Free laundry services

Computer lab

Kitchen facilities and microwaves
Major items to coordinate with your roommate(s)

Futon or other soft sided furniture - must be newly purchased

Mini-fridge

Television

DVD/Blu-ray player

Gaming consoles

Stereo/radio
Essentials

Power strip/surge protector - no extension cords allowed

Alarm clock

Laundry basket, detergent

Bedding

Pillows and extra-long twin sheets

Shower tote and sandals

Personal hygiene items

Message or marker board

3M or another removable tape

School supplies

Pictures of friends and family

Flashlight and batteries

Eating utensils
Extra items to consider

Personal computer

Dehumidifier

Floor rug

Lamp

Storage containers

Drawer organizer

Over-the-door hooks or hangers

Iron and ironing board

Water pitcher

Basic food such as Easy-Mac, ramen, etc.

Chip clips

Can opener

Hand vacuum and cleaning wipes

Mirror

Plant(s)

Kleenex and napkins

Air freshener

Basic first aid kit

Umbrella

Keurig of coffee pot with an automatic shutoff
Items that are absolutely not allowed

Extension cords

Microwaves

Hot pots

George Foreman Grills

Any appliances that do not have an automatic shutoff

Pets other than fish 

Halogen lamps

Sunlights

Lava lamps

Nails

Candles, incense, anything with an open flame

Wax warmers

Lighters

Tide Pods

Weapons*

Alcohol paraphernalia

Shot glasses

Flasks

Posters promoting alcohol

Decorative bottles

*Doane University prohibits permit holders from possessing or carrying a concealed handgun on the premises unless otherwise authorized by law. Violation of this prohibition is a criminal offense. Pursuant to the Nebraska revised statute, 69-2441.
Fuel your day, your way.
You have a variety of options to keep you energized and ready to tackle your day. Whether you need a bite on the go or have time to sit down for a meal, we've got your bases covered.
Dining Options
The main dining hall, or "The Caf", serves varied menus each week in a traditional dining atmosphere. Choose from a variety of meal plan options.
Crunched for time? The Tiger Den offers on-the-go menu items such as grilled sandwiches, chicken strips, burgers, fresh salads and wraps.
Lakeside Coffee Shop features Starbucks coffee for your afternoon pick-me-up. If coffee isn't your thing, enjoy smoothies, energy drinks, pastries and other snacks.