Article by Liz McCue
Think about who is talked about during Black History Month, said Eric Jones, Smith Hall community director (CD) and interim CD for Hansen Hall. In most high school American History classes, textbooks likely highlighted Rev. Dr. Martin Luther King Jr., Malcolm X, Rosa Parks.
"Maybe Jackie Robinson," Jones said. "There were more civil rights activists, more people who led."
Jones chairs the Diversity, Equity and Inclusion (DEI) Action Team for the Division of Student Affairs and along with Luis Sotelo, vice president of the Division of DEI, will travel with eight students along the U.S. Civil Rights Trail for Doane's 2023 Spring Alternative Break.
It's an incredible opportunity for students to broaden their knowledge of the Civil Rights Movement, and how the work of that movement continues today, to experience new culture and history, and to create connections with communities outside their own.
The U.S. Civil Rights Trail extends across much of the eastern half of the United States, from Topeka to Washington, D.C. From March 11-18, students will visit key sites on the trail in Tennessee, Arkansas, Missouri and Mississippi, serve others through volunteer work and ask questions — of themselves, of society, of U.S. history.
A gift tied up in a bow for the Doane community
The seeds of the trip have been sown for years. It's something that Sotelo has held at the back of his mind basically since he started working at Doane. He first experienced part of the Civil Rights Trail in high school, as a Coca-Cola Scholar visiting the company's headquarters in Atlanta. It left an indelible mark on him, a fire of curiosity and inspiration.
The scholars visited Rev. Dr. Martin Luther King Jr.'s grave, and visited Ebenezer Baptist Church, where King preached. Sotelo said he could imagine King standing at the pulpit.
"It's one thing to read about it. It's another to stand where it happened," Sotelo said.
The experience stuck with him. Fast forward to winter break of 2021, to a solo road trip Sotelo took along the trail. How cool would it be, he thought, if this experience could be shared with others at Doane?
It took some time. But all the pieces for a Doane trip fell into place for spring break 2023.
"It feels like a gift all tied up in a bow that we get to give to students and by extension to our whole [Doane] community," said Leah Cech, director of the Office of Religion and Spiritual Life.
Cech applied in summer 2022 for the Building Interfaith America grant, through Interfaith America. A trip along the Civil Rights Trail was one of the suggested projects for the grant, and Doane's biannual alternative breaks fit right in with the grant's goals of building interfaith community.
Planning a trip, building a curriculum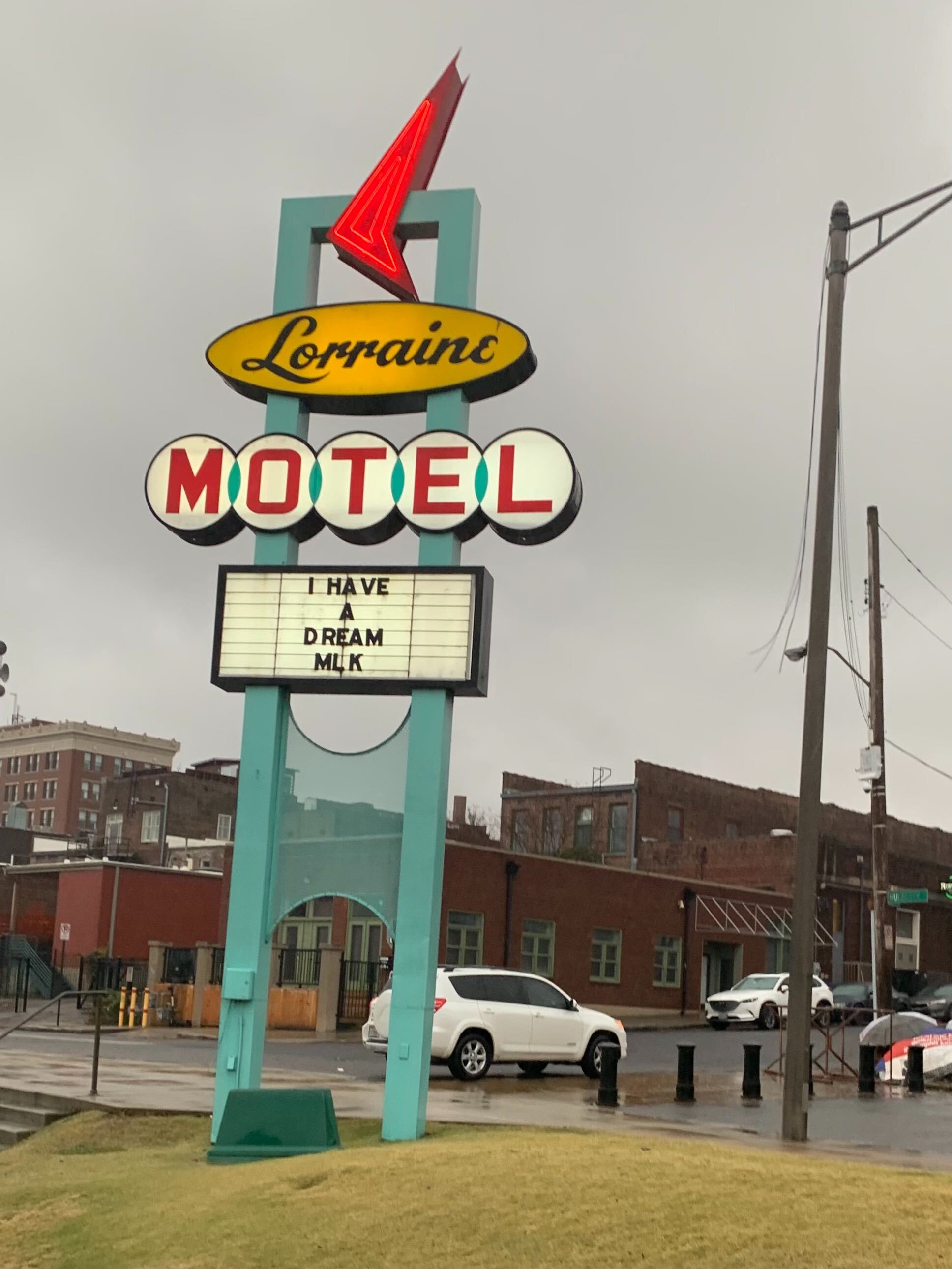 Alternative breaks, which focus on service learning through trips to different cities across the U.S., have been held once each fall and spring semester since 2016. The trips are led by the Office of Career Leadership & Service, but a student site leader coordinates nearly every activity and volunteer opportunity. For both trips during the 2022-23 academic year, that's been Abrianna Miller '23, a psychology and Spanish double-major and editor-in-chief of Doane Student Media.
She likened planning the trip to building a curriculum. Together with Sotelo, Cech, Jones and Nick Knopik, assistant director of leadership and service, they plotted out each day with visits to museums and memorials, historical sites and volunteer work.
The group will visit the Old Courthouse in St. Louis; the National Civil Rights Museum, Claybourne Temple, Beale Street Historic District and Stax Museum of American Soul Music in Memphis; the Emmett Till Interpretive Center and Tallahatchie County Courthouse in Sumner; the Mississippi Civil Rights Museum and Medgar Evers Home Museum in Jackson; Central High School and the L.C. and Daisy Bates Museum in Little Rock.
"I'm really excited for students to really immerse themselves not only in the culture, but in the community," Jones said.
It was also important to Miller to bring the volunteer experiences into the wider conversation about civil rights and faith.
For example, in Jackson, they'll volunteer with the PEARSON Foundation — the acronym stands for People Employing Available Resources to Strengthen Our Neighborhood — which offers in-school and after-school mentoring and tutoring, and faith-based community mentoring, among other outreach programs, scholarships and events. In Little Rock, the group will volunteer with the Celebrate! Maya Project, which promotes the life and legacy of Maya Angelou through public forums, writing, poetry and history workshops, and creative arts workshops.
"I think that will allow a different kind of conversation. If we're going to do this, we're going to do this right," Miller said.
Pack your bags, and leave your bias at the door
Throughout the trip, there's also time built in for participants to reflect and process. After visiting sites, the group will gather for discussions, to talk about what they've seen and learned. And maybe, how it differs from what they thought they knew.
"I want them to not be afraid to ask questions," Jones said. "This is some history they haven't learned. What's taught in books and in school curriculum, it's very stale, it's not broadened."
The group itself is diverse — a good mix of lived experiences, Sotelo said. He and Jones have both previously traveled along parts of the Civil Rights Trail. Some students attending the trip are from the south; some have never been further south than the border of Nebraska and Kansas.
As a Black person, Jones said the opportunity to share his own experiences, and to lead and mentor students as they learn and grow on the trip, is something he's thankful for. He expressed interest in going when the trip was first mentioned to staff of the Division of Student Affairs in the fall.
"This is a starting point for our students to see that Doane is pushing that envelope forward in DEI," he said.
There's also been interest from throughout the Doane community in the trip from faculty and staff, alumni and trustees. Although plans are fluid, readers can likely follow along on Doane.edu and Doane's social media to view stories and photos from students, Jones and Sotelo throughout the trip.
The U.S. Civil Rights Trail also has an interactive trip planner — a good place to start, Jones said, for members of the Doane community interested in building their own trip. Figure out which sites interest you the most, do some research about each location and check your own biases and generalizations, he said.
And bring the desire to learn and grow as a human being, Sotelo added.