On the first day of alternative fall or spring break, it's typically a little awkward as 7-10 students pile into a Doane van for a long drive to the trip's destination. They may not know each other beyond passing on campus. Often, the trips bring together students from different classes and degree programs, said Nick Knopik, assistant director of leadership and service in Doane's division of student affairs.
But no matter what their campus lives look like, students who participate in alternative breaks all come together with a goal in mind: to serve others.
The trips are centered around service activities, volunteering and developing leadership skills, with opportunities for fun along the way. Knopik said students typically volunteer for six hours each day, and use remaining time to explore and learn about the cities they visit.
For the October 2022 break, that city was Rochester, Minnesota. In the past, destinations have included Galveston (Spring 2021), Denver (Fall 2021), and Las Vegas (Spring 2020) all the way back to the first trip in Spring 2016 to Columbia, Missouri. Knopik has led the past three trips.
"We're really fortunate that the cost of these trips for students is really low," he said. "It's intentionally so, so that any student can participate."
Typically, it's just a single deposit for students to attend, in an amount less than what you'd pay for a tank of gas or grabbing a few meals to go from a restaurant. The trips are supported by Doane's Student Congress, and for multiple years have received additional funding from Dr. Amy Vertin '95, emergency department medical director at the Crete Area Medical Center and a member of the university's Board of Trustees. The value of the trips is pretty clear in supporting Doane's mission to build leaders.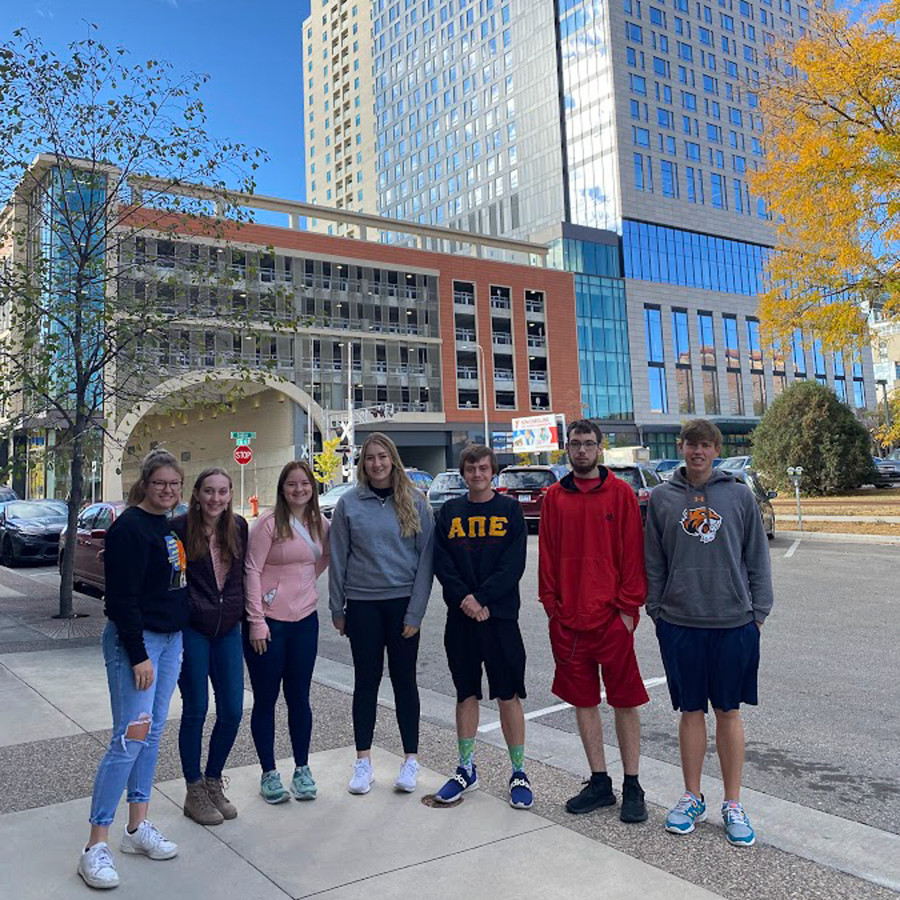 "It can be intimidating to go on a trip, with people you don't know, to a different city," said Abrianna Miller '23. "But it's safe and it's a great way to connect not only with the people you go with, but with different populations and communities."
You learn a lot about yourself on the trips, Miller said, and even if it feels uncomfortable at first, you can really see the growth in yourself when looking back.
Miller served as site leader for the Rochester trip, a paid position through the student-led organization, Doane Serves, which organizes volunteer opportunities for Doane students on campus and in the surrounding community. As site leader, she built relationships with local organizations in Rochester to coordinate volunteer opportunities throughout the trip. It took a lot of cold calls and messages, and some convincing that there were no strings attached — a lot of people thought there was some catch or that the group wanted payment.
"It was very interesting. People were very confused about us just wanting to help," Miller said, and frequently emphasized that the Doane volunteers would be there to help with no expectation of something in return.
The two organizations that took them up on the volunteer offer — Wingspan, a St. Paul-based organization that runs group homes throughout surrounding counties, and Peace Church — provided the students with impactful experiences. With Wingspan, students interacted with residents in group homes for adults with developmental disabilities, and helped prepare homes for the coming winter by raking leaves, cleaning up trees and other lawn and landscaping care.
At Peace Church, they helped run Drag Queen Bingo night, the first held at the church since the COVID-19 pandemic put a halt to group events. The event had protesters outside, so students and other volunteers walked participants and attendees to and from their cars.
"It's that kind of help that they saw as unprecedented, that made it a very awesome experience," Miller said. "Being able to go there and build that relationship, and then help them put on a great event."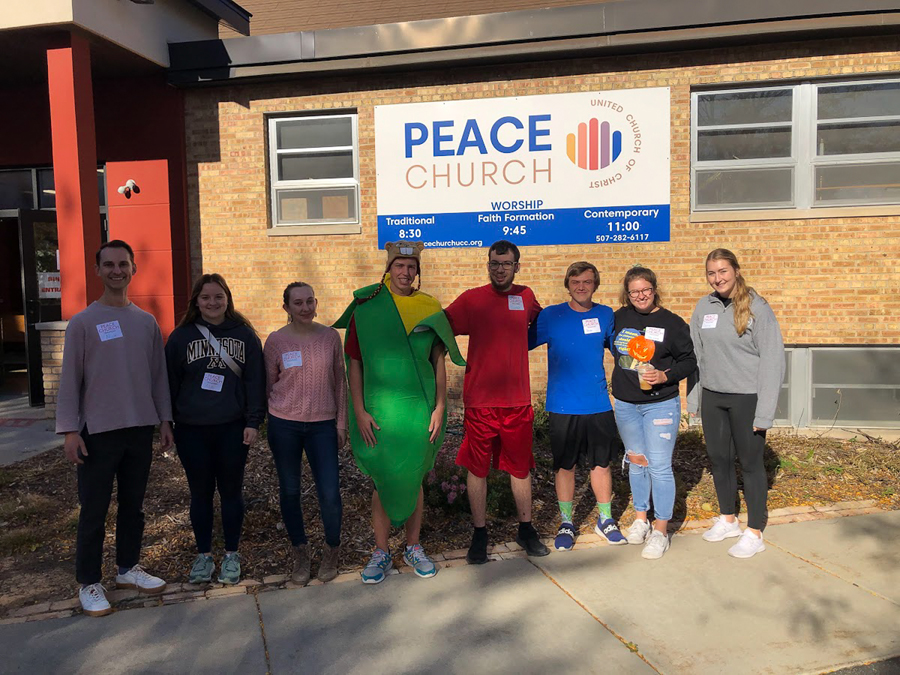 Overall, the volunteer opportunities were a success for the organizations and for the Doane volunteers. But they weren't perfect — something that Miller, in her role as site leader, had to grapple with. She's no stranger to leadership, as editor in chief of the Owl, Doane's student-run newspaper, but the Rochester experience still pushed her out of her comfort zone. She had to lead a group of unfamiliar students, in an unfamiliar place, for five days, while still allowing herself to have fun and enjoy the experience as well.
"Everything didn't have to be perfect, everything didn't have to be cookie-cutter, because things went wrong, like minor things. I struggled adapting to that," she said. "But with the support of Nick and everyone else on the trip, it worked out."
That's a major part of the site leader role, the development of leadership skills that might not otherwise be tested on campus, Knopik said. Students in the role aren't left on an island — Knopik is there as Doane Serves adviser for support, and can step in if needed. But students are encouraged to make decisions for themselves with very little guidance throughout the planning process.
"My leadership skills were very much stretched," Miller said.
But with stretching, she learned how to be more flexible, with herself and with her peers on the trip. With the support of Knopik and the other students, she said, any mistakes or issues got worked out.
It's pretty amazing, given that they all only met a few days before.
"The dynamic between the first van ride and the last van ride changed," Knopik said.
On the seven-ish hour ride back to Crete, students chatted, shared photos and videos on their phones, and even started making plans to hang out together for game or movie nights in the residence halls.
As for Miller, the spring alternative break is already on her mind. In partnership with the university's Division of Diversity, Equity & Inclusion, the trip is open to double the number of students and will be a multi-stop, multi-city experience. The trip will be partially funded through a grant received from Interfaith America through the Office of Religious and Spiritual Life.
"I'm already so excited," she said.