When you walk around Doane's Crete campus, you expect to see a couple of things. Lush greenery from the campus's trees, shrubs, flowers and sweeping lawns. Students, chatting together between classes or on their way to and from the residence halls. Probably a squirrel or two.
But what you likely don't expect to see are translucent sculptures, a ghostly time-lapse of a swimmer disappearing into Doane Lake, a flock of not-at-all-pink flamingos clustered on the sand. The outline of a student playing checkers or a see-through putter lining up a shot into the round table in the Chab Weyers Education and Hixson Lied Art Building (Art/Ed).
"I had a couple buddies, they give [Admissions] tours and were saying it was cool," said Joe Mackin, a junior graphic design major who created the checkers player. "They didn't know it was mine."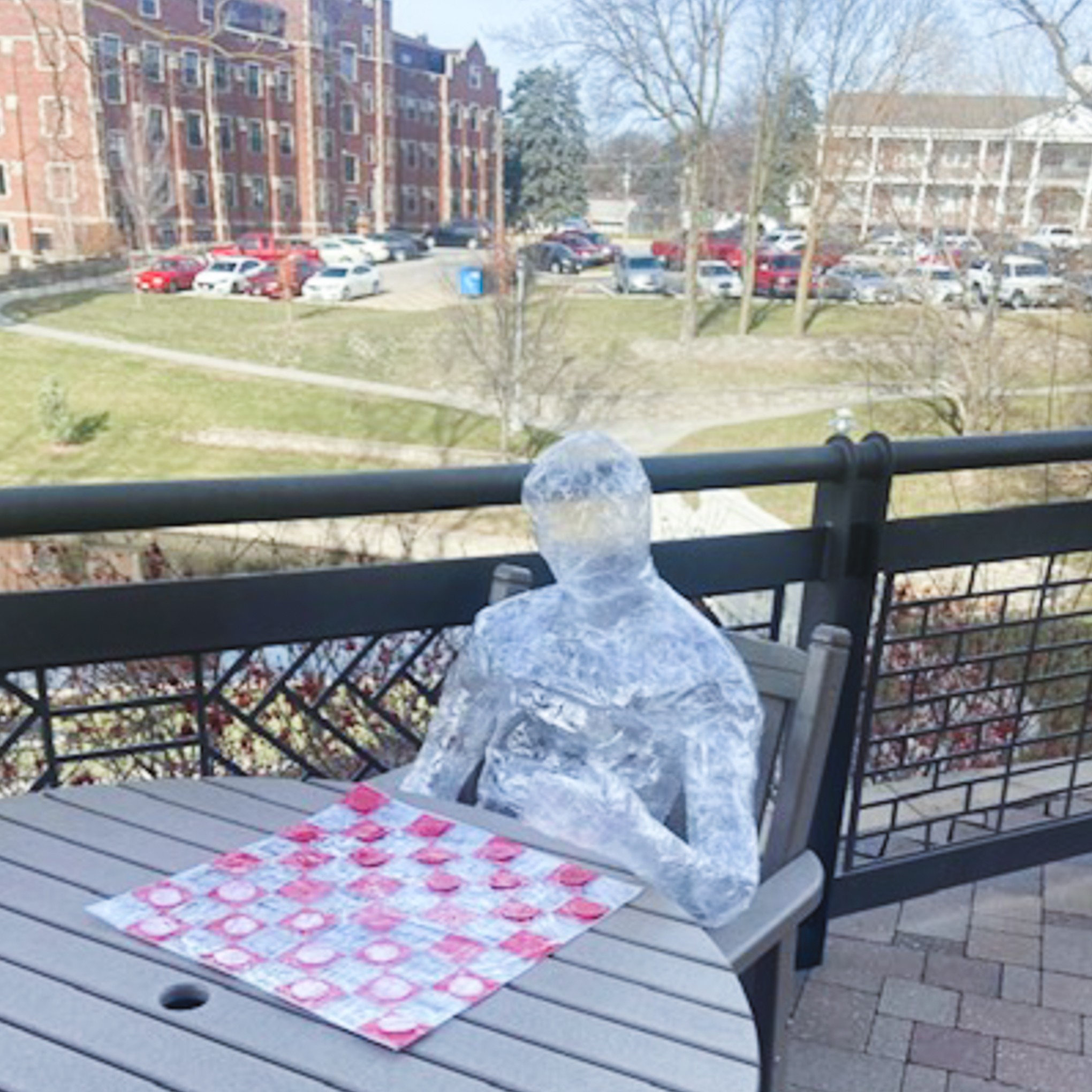 Mackin knew he wanted people to see his installation sculpture, the final project for ART110 Three-Dimensional Design, and crafted it specifically to sit at the patio furniture visible to all coming through the Farley Korff Welcome Center, or on their way to and from Smith and Colonial Halls.
The course is taught by Eric Stearns, professor of art and design. Stearns said it's been about four years since he last had students do the tape project, in part to make each course experience unique for students and because it's often a two-person job to create a tape sculpture. During prior semesters, COVID-19 added a layer of difficulty to that, but measures taken during fall 2021 greatly reduced the number of cases and decreased the risk of the project for students.
"I gave them four projects and the whole class chose the tape project. It seems like they've enjoyed it greatly," Stearns said.
Students got to pick out their own tape after researching examples of other sculptures. This was the first year that a majority chose to use clear packing tape versus an opaque duct tape, Stearns said.
They're given two weeks to build their sculptures, with the class meeting on Mondays and Wednesdays. Students can work alone, or in groups, but the group projects had to be bigger.
That wasn't a daunting task for cousins Maci McCarter and Samantha Knapp, both freshmen.
"He [Stearns] told us we could work together and we kind of looked at each other and said, 'yeah,'" McCarter, a business administration major, said. Knapp is a graphic design major.
Together, they created two tape students, studying quietly in a booth in the Tiger Den with tape laptops, pencils and notebooks, inspired by fellow Tigers who use the space daily for studying and hanging out. It was difficult to get the shapes just right. The tape wouldn't always stay in place or would get stuck on a model, whether that was one of their water bottles, backpacks, or themselves.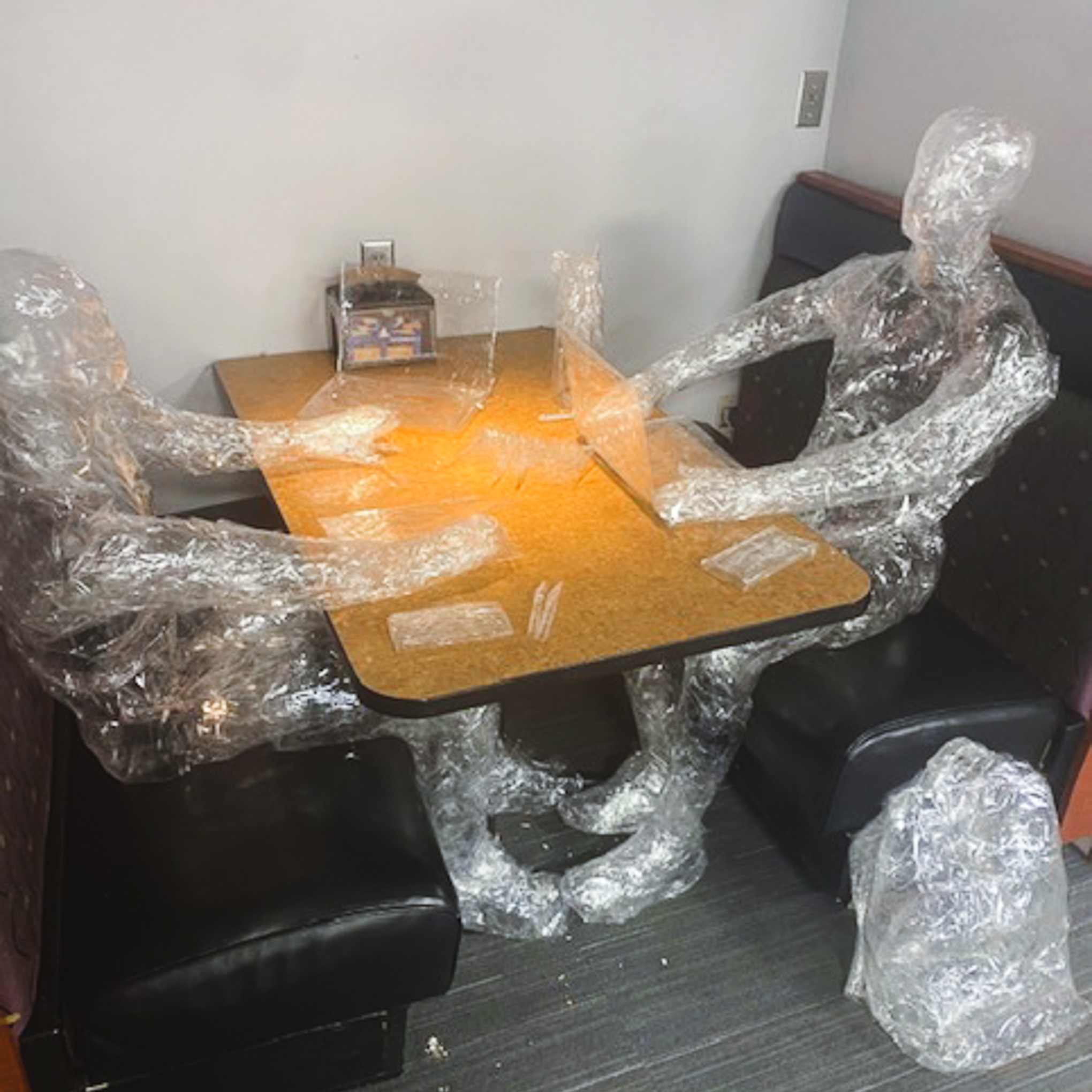 "Something that was exciting was really just seeing our piece come together because we had all the parts, but we weren't sure how it would fully look altogether when we set it up," Knapp said.
They left the sculpture up for a whole day.
"The risk was worth it," McCarter said, after the class had talked about the possibility that comes from creating any type of installation art — that people might mess with it. "Everybody on campus was super respectful towards all the projects."
Mashayla Burnett, a sophomore elementary education major with endorsements in middle school history and coaching, said she knew she wanted to create a sculpture of a swimmer after seeing a similar sculpture during research for the project. But she wanted to take a different approach, to show the process of a swimmer diving into the waters of Doane Lake.
"I never found myself good at art, like the last time I did art was in sixth grade," she said. "I really liked this class. Even if you don't think of yourself as an artist, you can still create something really cool."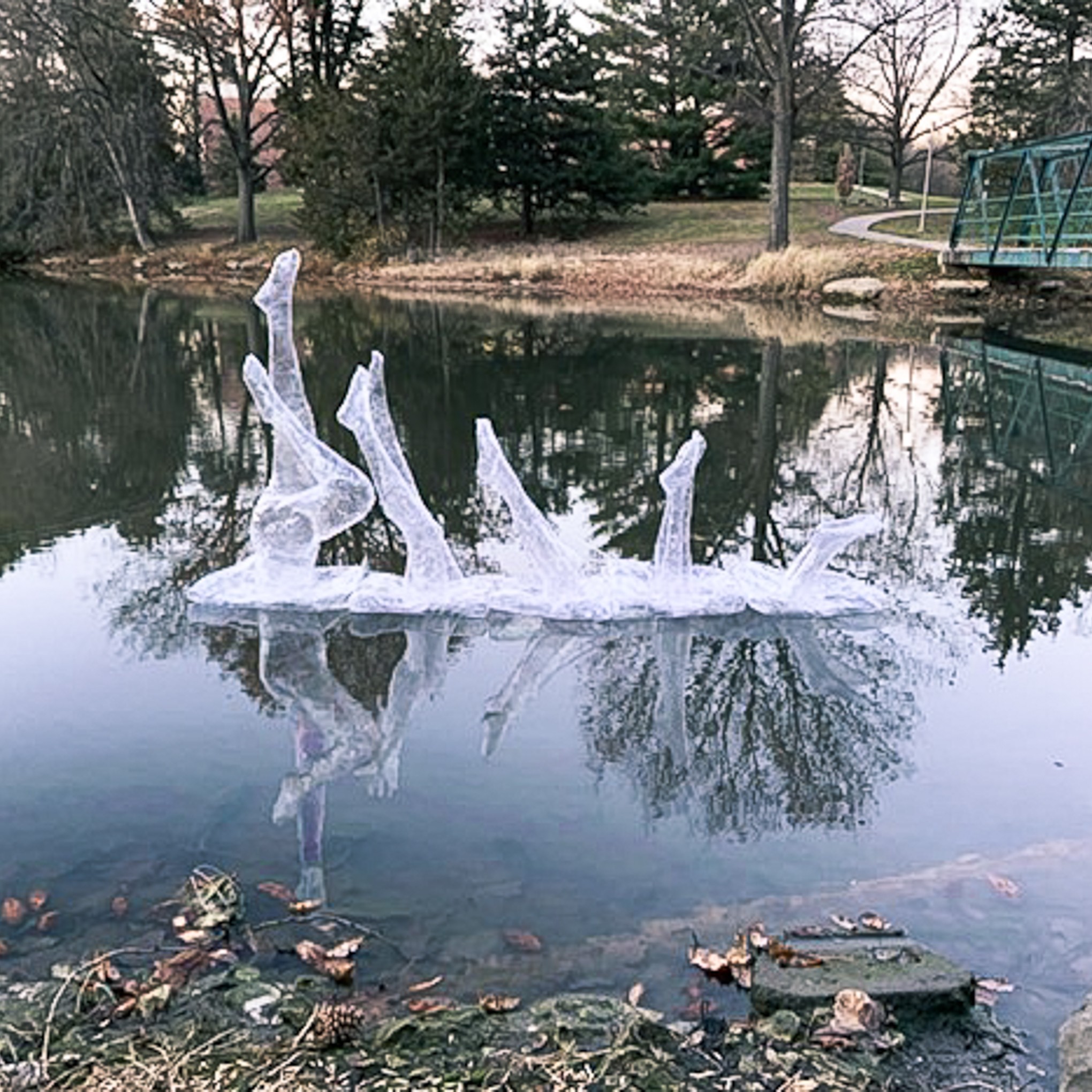 Each project helped build her confidence by challenging her creativity. And Stearns was present to provide support and feedback.
Freshman Derek Story, who is double-majoring in accounting and business administration with an emphasis in marketing, said he thought it would be fun to make a sculpture of a putter, since he's a member of Doane's men's golf team. 
"Professor Stearns gave me the idea of using the circle table in the lobby of Art/Ed. By utilizing this table I was able to integrate my sculpture into the building," he said.
The installation sculpture builds off of assignments and knowledge learned throughout the semester with paper — like how you can manipulate a piece of paper as a 2-D form into a 3-D object — cardboard, plaster, clay and wire.
That wire piece turns out to be pretty necessary in creating a tape sculpture. Students use models, whether a roommate or a parent or an object they own, to wrap tape around. But once they cut the tape off of their model (which is hard enough in itself; McCarter and Knapp said they laugh now at some of the holes in their clothes, and thankfully, not their skin, that resulted from the project) they need to figure out a way for the sculpture to retain its shape.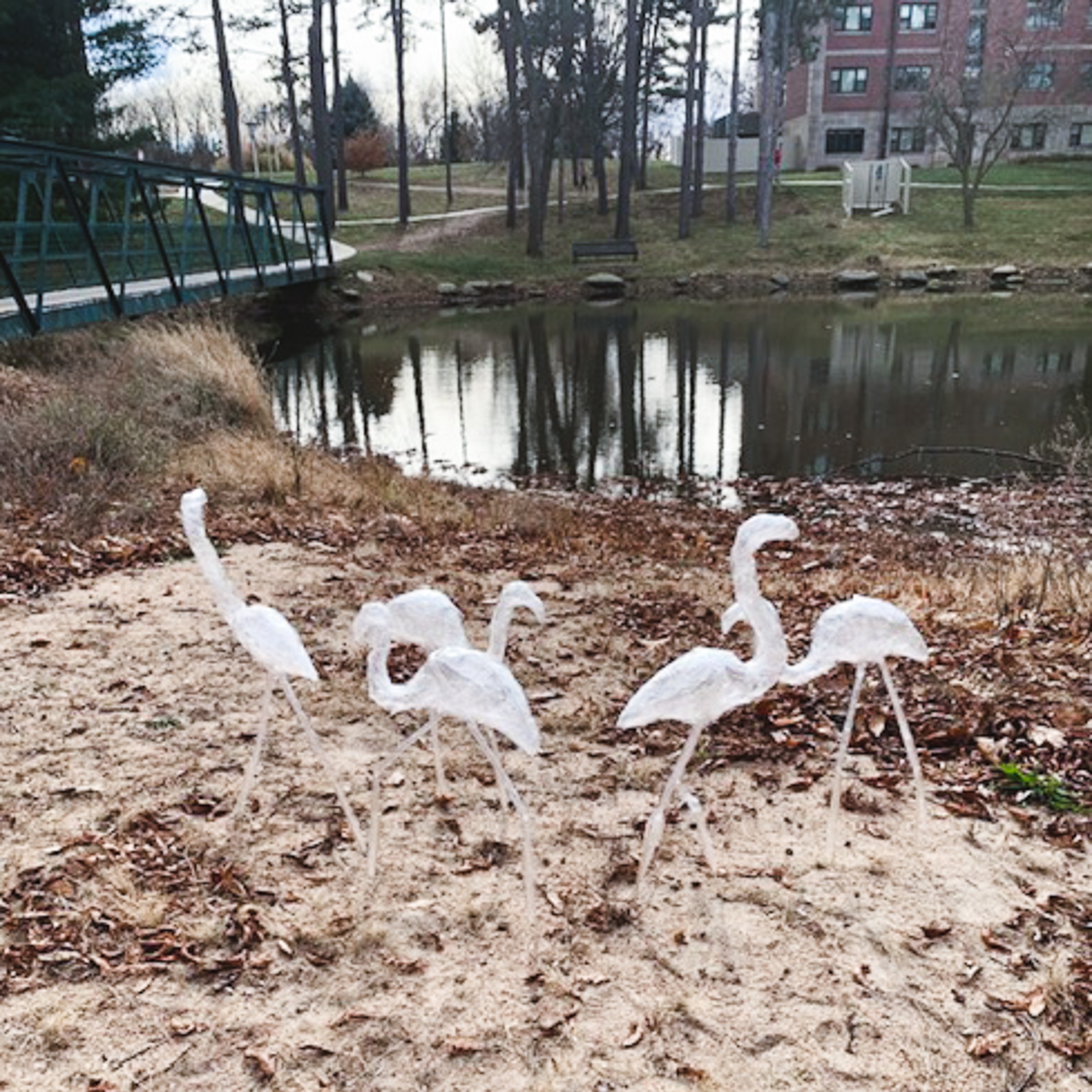 Another example is Lizzy Sand's six tape flamingos, which took quite a few tries to create. Sand said she rejected a couple pieces entirely to get the shape just right.
"Getting the sculpture to stand was another difficulty, but through some helpful suggestions and some trial and error I got the job done," Sand, a freshman graphic design major, said.
The flamingos were inspired by her mom. Their home is dotted with flamingo paintings, flamingo Christmas ornaments, pictures of flamingos from a family trip to the Dominican Republic — so Sand is well-versed in the spindly legs distinctive to the birds. To provide that extra support for the heavier tape bodies, she hid wire inside the flamingos' legs.
So did Story, so his golfer could stay upright.
"Packing tape is not the most sturdy material to build out of," Story said. "The higher your sculpture stood, the more weight the legs were bearing. Trying to get the base sturdy enough to hold the sculpture up was my biggest difficulty."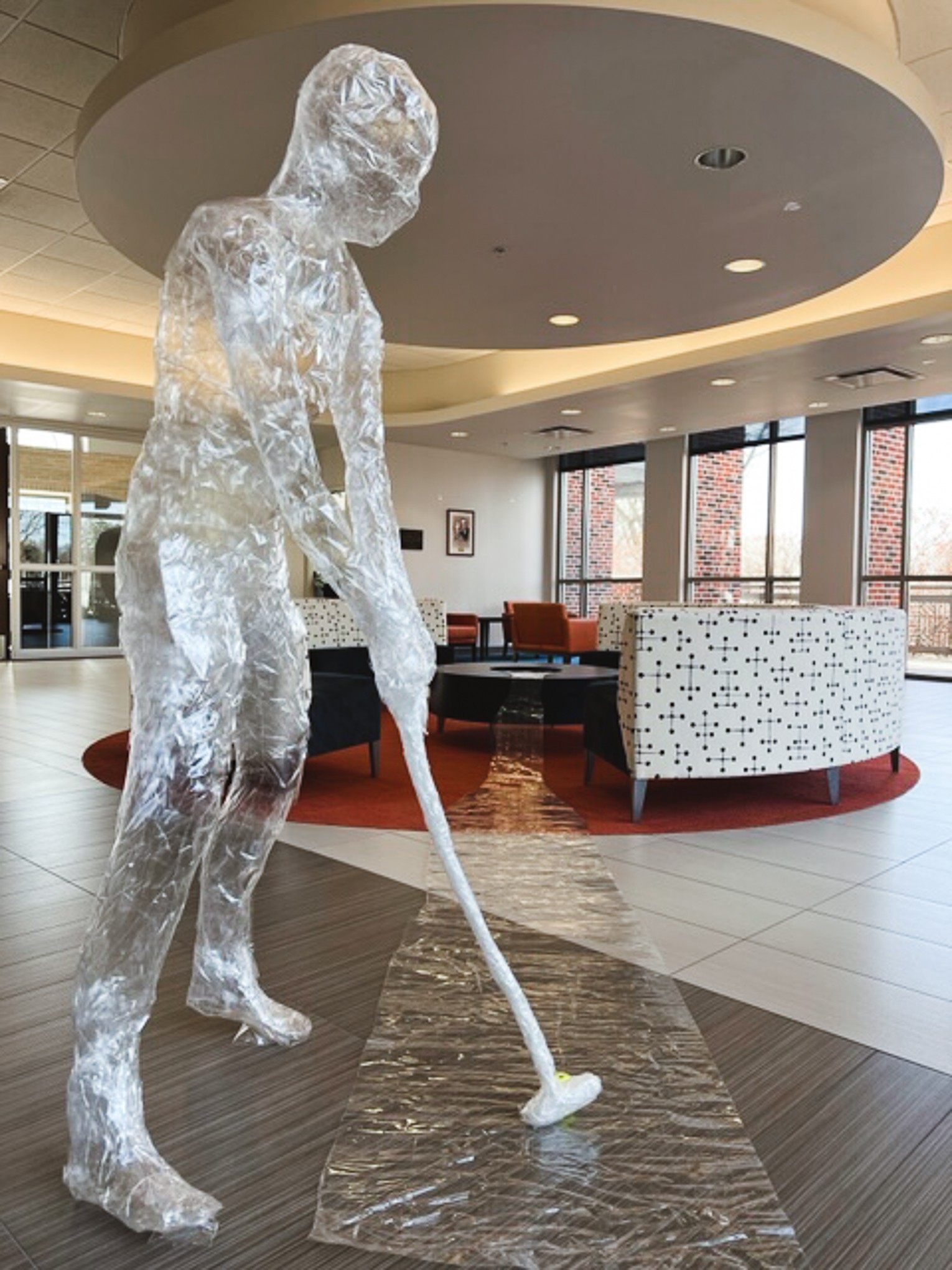 He took the course as an elective, and was excited because he knew he liked building things from his experiences in high school. For him, not only was the class fun, but he enjoyed learning from Stearns and got to make friends he may not have otherwise met as a business major. It also gave him an opportunity to push himself.
"Having creative freedom in this class was hard for me in the beginning, so having classmates there to help me come up with ideas was great. Towards the end of the semester, I started having more creative juices of my own flowing, and so it helped me grow as a person," Story said.
Which is exactly what Stearns hopes to see from students as they finish the semester.
The installation project is always meant as a capstone of the course, an opportunity for students to demonstrate that they know what it means to create something three-dimensional. As a 100-level art class, it's also meant to challenge students' creativity, how they perceive themselves as artists and how they approach art.
"I really did enjoy the class and I know that it has helped me greatly with developing myself as an artist as well as exploring areas of art I had never really worked in before," Sand said.
Like Doane's overall liberal arts curriculum, Stearns's approach to teaching the 3-D Design course goes beyond providing students with knowledge, but encourages them to think critically and be able to apply their knowledge beyond the classroom. And, of course, to inspire passion and interest in subjects they may not have previously considered.
"We've had a lot of minors come from that [3-D Design] and a lot of other beginning art courses." Stearns said