Tiger Bites — April 2023
There's always a lot happening in the Doane community — more than typically can fit into a few long articles or enewsletter blurbs. To catch you up on even more on-campus events, student successes, faculty and staff achievements and alumni accomplishments, we'll begin publishing more short-form content each month, as a way for readers to see more of what makes Doane amazing.
Get caught up this month on:
Saline County Relay for Life

The 2023 recipient of the Carolyn Kollmeier scholarship

Halftime with (President Roger) Hughes

Mind Expo

The 2023 recipient of the Krantz scholarship
Saline County Relay for Life raises $30,000
On Friday, April 14, the work of more than 40 students, faculty and staff concluded with a resounding success — the 2023 Relay for Life event raised $30,016 by midnight. More than 450 people attended the event, which included exhibitions from POYDS Dance Company and Gold Star Martial Arts, a survivor and caregiver walk, luminaria ceremony and more student-focused events as the night went on. 
Marci Fehlhafer, who survived stage IV cancer, spoke to participants along with Aztryd Lima '22, who cared for her grandmother alongside her family. 
The ultimate goal for fundraising is $35,000, and there's still time to donate to Doane & Saline County Relay for Life through June 30. 
Get to see the event for yourself in our recap video and photos.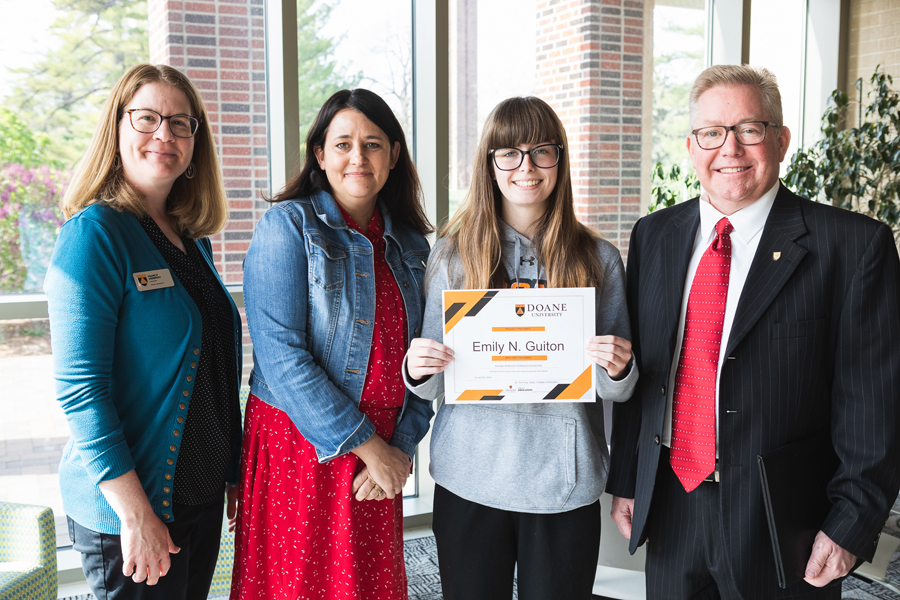 Emily Guiton '24 receives Carolyn Kollmeier '74 Endowed Scholarship 
When Dr. Emily Griesch told Doane junior Emily Guiton to make sure she was in class on the morning of Tuesday, April 25, Guiton thought 'well, it can't be for a scholarship.' She'd already received word from other scholarships she had applied to — and it wasn't the word she had hoped for. But instead, she and her classmates walked into Room 240 in the Chab Weyers Education & Hixson Lied Art building to an open Zoom meeting, Director of Planned Giving Thom Reeves '88 and Financial Aid Counselor Nancy Murphy. 
Guiton had in fact received one of those scholarships — the Carolyn Kollmeier '74 Endowed Scholarship, which was created in 2022 to provide support and mentorship to a to-be senior majoring in education with an emphasis in English Language Arts. 
Kollmeier, now a resident of Texas, completed Doane's Education Teacher Certification Program and graduated cum laude with majors in speech communication and theatre. She created the endowed scholarship in the hopes of furthering students' love for the subjects they'll teach and lifelong learning, and to give them access to someone who has been in education for nearly half a century. 
"Emily has been an absolute pleasure to work with throughout her time at Doane," said Dr. Emily Griesch, assistant professor of education. "She is clearly a leader amongst her peers in education and always brings a positive presence to each classroom session. She has such a bright future as an English teacher ahead of her and we are proud of the students she serves in the classroom each day."
Guiton is from Auburn, Washington and while at Doane has been involved in women's soccer and the Omega Psi Theta sorority (a sisterhood she shares with Kollmeier.
Halftime with (President Roger) Hughes
Have you wondered about the construction progress of Doane's newest residence hall? We have, too! So with the help of Joe Nerud, project manager for Sampson Construction, we took a walk through the building with Doane President Dr. Roger Hughes in April. Come along with us in the first Halftime with Hughes video.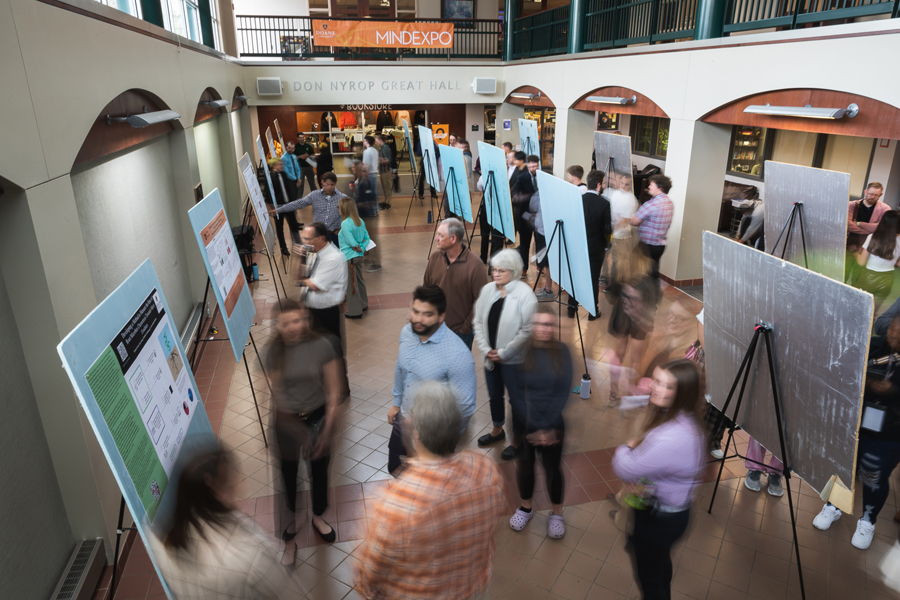 2023 Mind Expo shows off student research
Around 60 Doane students majoring in a variety of programs from bio-chem to sociology, primarily seniors and juniors, shared the results of their on-campus research projects on Thursday, April 20. In the morning, students set up posters in Nyrop Hall to talk about their work to peers, faculty and staff on their way through Perry Campus Center. That afternoon, oral presentations were given in the conference rooms of the same building.
The event is highly anticipated each year as an opportunity for students to showcase their research skills to not just peers and professors, but prospective students and even future employers. 
Senior Jack Krejci is majoring in chemistry, but spent 10 weeks last summer participating in physics research in Germany through the International Research Experiences for Students (IRES) program, which is funded through the National Science Foundation. That research was on solar panels, and inspired his senior chemistry research project: "Exploring corrosion tendencies through contact angles." In layman's terms, do metals corrode more or less if a drop of saline solution forms a tall bead on the surface or if it spreads out. 
The experiences showed him that no matter where he goes after Doane, the research skills he learned as a Tiger help set him apart from other undergraduates. 
"You'll find opportunities and you'll make opportunities," he said. "You can find your place wherever you go." 
Seniors Cierra Meyer and Jaelynn Scott, both biology majors, spent part of their summer researching with Dr. Brad Elder, exploring methods of hiding homes from mosquitoes. Mosquitoes track CO2 and body odor to find prey, and venting CO2 away from homes is an effective way to reduce the risk of exposure to mosquitoes and subsequently, mosquito-borne diseases. 
Scott chose to pursue this project both because she was interested in the topic and because she enjoyed learning from Dr. Elder. Meyer was also drawn to the project because of its practical implications on everyday life. But while you would think setting up an experiment to catch mosquitoes in Nebraska wouldn't be difficult, they faced challenges (i.e. pesticides) in setting up a location for their experiments and figuring out how to adjust their experiments when data wasn't going the way they wanted. 
"Patience is key," Meyer said. "You have to be very flexible." 
Scott said the project helped her gain skills like time management and communication, too, in working a second campus job over the summer while conducting nightly research. Because of their experiences at Doane, both students hope to pursue their master's degrees and continue in research. 
Crete High senior announced as 2023 recipient of Krantz Scholarship
Congratulations to Miguel Alarcon, who was announced as the 2023 recipient of the four-year Michael W. Krantz Scholarship! A short ceremony was held at Crete High School on Wednesday, April 26 to recognize Alarcon. The scholarship was created to establish a path for Saline County students to become first-generation college students at Doane — just like Krantz, who graduated in 1983 from Doane after spending time in the military and workforce before pursuing his degree in business. 
At Crete High, Alarcon was involved in cross country and track and field, theater and music, National Honor Society, student council and FBLA, among other activities. He hopes to continue in track and field at Doane, and possibly theater and choir. Alarcon intends to study computer science.