In the 20-plus years since Doane Forensics began, the university has regularly placed in the top 20 for team sweepstakes at the American Forensic Association National Speech Tournament (AFA-NST). Students frequently make it into out rounds — the quarter-, semi- and finals rounds at national tournaments in individual events.
It wasn't until 2022 that Alexandria (Ali) Moulton '24 took home a national championship title, the team's first. Moulton received first place in poetry interpretation, as a sophomore. The team took 18th place overall.
There's pressure on all to achieve even more in 2023. But they're well on their way — with nine events already qualified for nationals, and more in the works.
Let's get into more detail about what that means for the team as they prepare for the state tournament, the last few qualifying tournaments and finally, national tournaments, including AFA-NST in Santa Ana, California.
*Are you unfamiliar with forensics? Scroll to the bottom for a little background info on competitive speech!
Meet the team
Doane's forensics team is small, with eight total students. But they're mighty.
Typically, it takes placing in the top three rankings in an event at two separate tournaments to qualify that event for nationals. Placing in the top three at a district tournament means an automatic qualification.
"At districts, we qualified [for nationals] every event that we brought," said Olivia Vore '24, including a duo interpretation they and Moulton pulled together in just three days before the tournament.
Yeah, they're that good.
Of course, Vore and Moulton have been in competitive speech since high school (Vore actually began competing in middle school.) They've put in the work, several times over. They're also roommates, and, especially for a duo, it's definitely advantageous to be close.
It's not just them, though — the entire team is close.
Madison (Maddy) Ramey '26 said she was a little worried about being the only first-year on the team when she first arrived on campus. Her fears were soon assuaged, though. 
"Everyone was really quick to help me transition to college. We've found our own team bonding," she said.
Like teasing Director of Forensics Nathaniel Wilson about not listening to Taylor Swift (he does like Swift, for the record.) The team also frequently sees each other outside of tournaments and practice, in psychology and communications classes, for example. Several team members have psychology majors or minors, and Wilson is also an assistant professor of practice in communication.
Since the start of the COVID-19 pandemic, more tournaments are now held asynchronously online. But there's nothing like a good 14-hours-both-ways drive to Austin, Texas for the Hell-Froze-Over (HFO) tournament to really get to know people. Ramey, Moulton, Vore, Wilson and Jennifer Torres, assistant director of forensics, did just that the weekend of Jan. 14.
Ramey broke both of her events, a P.O.I. and prose interpretation, to final rounds at HFO — a first for any first-year team member, Wilson said.
"Obviously, it's a stressful activity," he said. "But overall, they've been very focused, they've been very calm. They've been very, very supportive of each other. And that's done so much to create a good environment for all of the work."
Along with Ramey, Moulton and Vore, Erik Rodriguez '23 and Dani Avalos '24 are also active team members, competing in tournaments and qualifying events for nationals.
Three other students are part-time, meaning they're not as active in competition, but are still working on at least one event and will likely attend tournaments. Blair Kampovitz '25 is currently serving as team manager, and Trey Porter '23 and Cassie Kessler '24 joined to gain additional public speaking experience.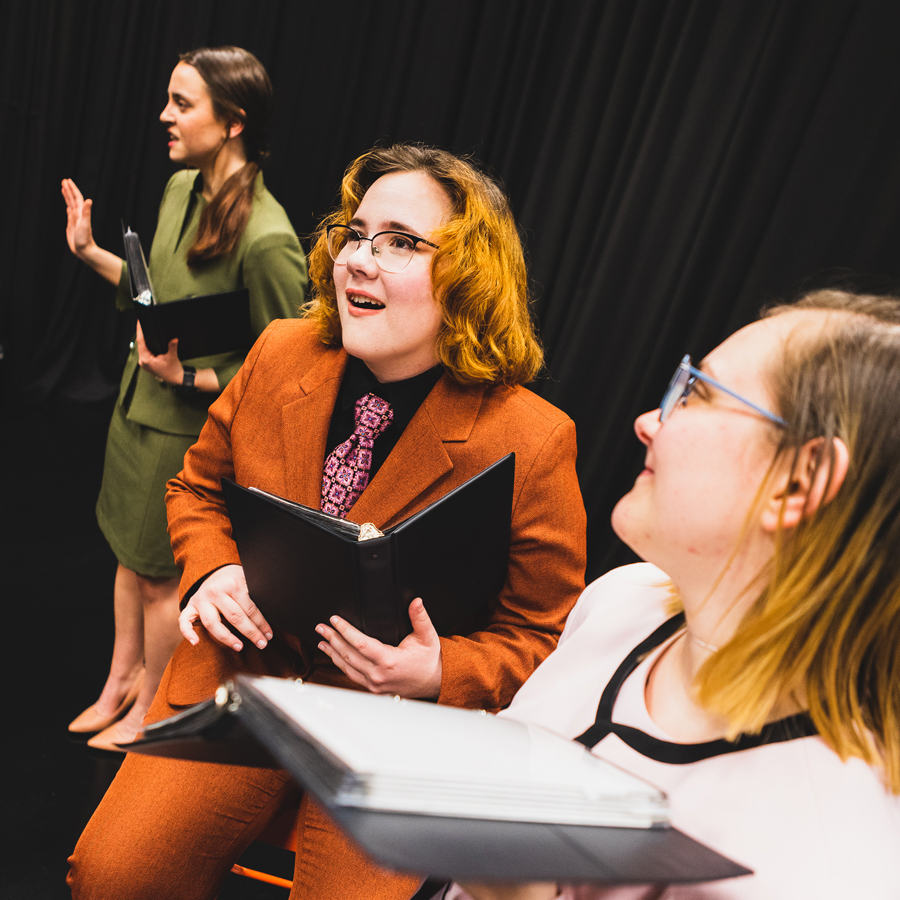 The next steps
Now that the team has completed HFO, their next big competition is the state tournament on February 11. Doane will host a tournament the next weekend, and co-host one with Concordia University in early March — but there are only a few other tournaments before AFA-NST in April.
That's the challenge in the early part of the spring semester — to do as much work as possible on researching and writing speeches, craft characters and cut scripts, and polish up events completed in the first semester that haven't yet qualified, before opportunities to qualify run out.
"One of the things we recommend a lot is to do as much work as you can those first two weeks of the semester," Wilson said. "Then as classes ramp up, you already have it up and ready, and you're just polishing and ready for performance at that point."
Through early March, students will focus on getting new events up and qualified. But after that, as nationals approaches, it's time to dust off each qualified event and figure out how to freshen it up or make it better.
Take the events that Moulton and Ramey took into finals rounds at HFO, a larger tournament with many of the same competitors, coaches and judges that will attend nationals.
"So, what are we going to do to make sure that, come nationals, it's still unique and novel for the audience," Wilson said.
In some cases, that means taking feedback from judges' tournament notes to see how other people interpret an event as a whole, or how pieces of the event are understood differently. In other cases, particularly for public address events, it means incorporating recent events or policy changes.
"In so many other activities, you would want that consistency over multiple races, performances, whatever, and it's a little bit of the opposite in forensics," Torres said.
The team has qualified nine events total:
Ramey has qualified her Program Oral Interpretation (P.O.I.) & Prose Interpretation.

Moulton has qualified her Informative and DUO interpretation with Vore.

Vore has qualified their Prose Interpretation, Dramatic Interpretation and DUO Interpretation with Ali.

Avalos has qualified her Prose Interpretation and Poetry Interpretation.

Rodriguez has qualified his After Dinner Speech. 
Additionally, Porter is working on a dramatic interpretation and Kessler is working on a persuasive speech.
Sharing and building personal connections
Like their teammates, Vore has already started working on two additional events — an informative speech and poetry interpretation.
"The info is something that Nathaniel (Wilson) and I have talked about since pre-season," Vore said, about non-binary identity.
Whether a public address event like informative or an interpretive event, there's nearly always a personal connection to the topics and themes, something that makes forensics incredibly special to students and coaches.
Like the informative that Moulton has qualified, on augmentative and alternative communication (AAC) devices. She uses her own AAC device, a tablet, during the speech. Her nationals-winning poetry interpretation focused on disfluency.
Or Ramey, whose P.O.I. is about how there's a perception in running that the skinnier you are, the faster. But any and all body types can be good at running. She's a member of Doane's track and field and cross-country teams.
For Rodriguez, his ADS was inspired by his commute to work over the summer.
"With gas prices reaching almost $5, I thought I would spend the majority of my paycheck on gas alone," he said, driving 10 miles to and from his job.
A lot of people join forensics because they want to advocate, Ramey said.
"We support each other," she said, to claps from Vore and Moulton (the three were interviewed together.)
That's also why many of the teams that compete locally — Hastings College, Concordia University, the University of Nebraska-Omaha and -Lincoln — cheer each other on at district and national competitions.
"It's really exciting to see the other Nebraska schools do well. You see them so often that you memorize their pieces," Vore said. 
*What is Forensics?
Don't worry, there's usually no blood spatter analysis or DNA gathering — although both forensic science and forensic speaking are rooted in legal evidence, reason and argument (the American Forensic Association has a solid synopsis of this history.) In this instance, it's public speaking.
There are typically 11 collegiate events, broken down into interpretive events, public address events and limited prep events. These definitions are abbreviated from the National Forensic Association's bylaws.
Interpretive events include:
Dramatic interpretation, which uses selections of dramatic material (plays, scripts, etc.) oriented around a single theme or thesis. 

Poetry interpretation, which uses excerpts from poems (or materials with poetic elements) oriented around a single theme or thesis. 

Prose interpretation, which uses excerpts from prose (short stories, novels, essays, etc.) oriented around a single theme or thesis. 

Program of Oral Interpretation (P.O.I), which uses excerpts from multiple genres of literature oriented around a single theme or thesis.

Duo interpretation, which is a performance by two individuals, using selections of any genre of literature or published material. It's not acting, though — there's no prop usage. 
Public address events include:
After Dinner Speaking (ADS), which is a speech designed to entertain about a single topic through humor. 

Persuasive speaking, which is a speech designed to influence an audience through attitude or action. 

Informative speaking, which is a speech designed to provide detail and in-depth information about a topic.

Communication analysis, sometimes called rhetorical criticism, which is a speech focusing on communication theory and using it to analyze an artifact or event. 
Limited prep events include:
Extemporaneous speaking, which provides each student three questions addressing events related to domestic or foreign policy. Students are given a half hour to prepare a 7 minute speech answering one of the questions with points arguing why the answer is correct. 

Impromptu speaking, which provides students with a word, phrase or quote. Students are given up to seven minutes to prepare and present a speech.