Sophomore Alexandria Moulton is Doane University's first-ever American Forensic Association National Speech Tournament (AFA-NST) champion, in poetry interpretation. The tournament was held April 1-4 at the University of Nebraska-Lincoln.
Because of the COVID-19 pandemic, AFA-NST was one of the first times Moulton, a psychology major, had competed in-person at a collegiate tournament.
"I had a lot of emotions, nerves and excitement," she said, throughout the tournament and upon learning she was a national champion. "Getting up there and doing my performance for so many people was, well, there were a lot of people."
Senior Walker Stuhr, an engineering major, also reached quarterfinals in his event, after dinner speaking. The team as a whole placed 18th in the team sweepstakes.
Stuhr and Moulton were joined by teammates Olivia Vore, Dani Avalos, and Erik Rodriguez. All five members of Doane forensics qualified one or more events for the national tournament, and each performance in the preliminary, quarter-final, semi-final and final rounds contributed points toward sweeps.
"It's hard to put into words the gravity of making it to out rounds at nationals, let alone making it all the way to the final round and then winning," said Nathaniel Wilson, director of forensics and assistant professor of communication.
Students compete at tournaments — all but one of them virtual during the 2021-22 season — from the start of the academic year through March. To become qualified for the national tournament, they have to either receive a top placement in their event at a minimum of two tournaments or place in the top three at their district tournament. Nebraska is in district four, which includes schools in North and South Dakota, Minnesota, Wisconsin and Iowa.
Moulton's win is significant to Doane, as the team's first national champion in an individual event. It's also significant to her personally. Moulton initially began competing in forensics while in high school at Alma Public Schools to fight anxiety.
"I have a stutter, and it's something that, my speech has been one of my biggest insecurities," she said.
Making it to AFA-NST and seeing the Doane team excel in the face of much larger schools with more competitors to rack up points was mind-blowing, Moulton said.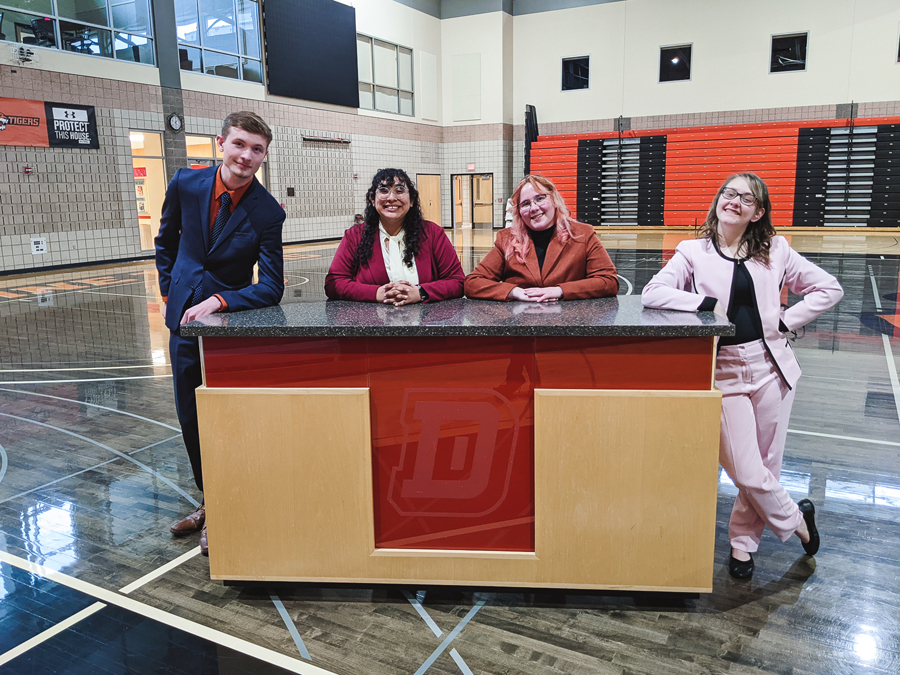 Seeing Moulton's poetry interpretation was also impactful to many in the audience, from Doane's coaches, Wilson and Assistant Director of Forensics Jennifer Torres, to her teammates, Doane alumni and administrators who attended, competitors and judges.
"For me personally, watching in the final, I was so struck by how quickly Ali has evolved as a performer, like the level of confidence and power she's developed," Wilson said. "To see her in a room that big, and even as a subtler performer, just kind of hold the audience in her hands. When she paused, the whole room was there with her. That was magical to watch."
There are 11 different events in collegiate forensics, including prose, drama, duo and poetry interpretation, persuasive and informative speaking, and a couple events prepared on the spot within a given period of time. Participation involves not only public speaking and performance, but strong academic rigor in research and writing.
Take Stuhr's event, after dinner speaking (ADS), as an example. The speech is written by the competitor and intended to be humorous. Stuhr wrote his on space law, and it qualified for nationals within just three tournaments at the start of the season, the first of five separate events that he prepared and performed.
Because the ADS qualified so early, Stuhr had a lot of edits to make at the March retreat held by the team to prepare events for AFA-NST and other national tournaments. And much had changed for space law in that time, between Chinese and Russian politics and developments by SpaceX. 
"It gave a lot of fodder to my jokes, but also made me readjust the focus of my speech," Stuhr said.
Like Moulton, Stuhr has been doing forensics since high school, and even slightly before at Boone Central Schools.
"It was really nice to end my senior year, making it to quarterfinals with my after dinner speech," he said.
The Doane Forensics Team will hold a showcase of all their events at 4:30 p.m. on Wednesday, April 27, as part of We Build Leaders week before the inauguration of Dr. Roger Hughes as the university's 13th president on April 30. It will be open to the public, and held in the Gaylord Hall Recording Studio on Doane's Crete campus.