Our nontraditional and graduate students are some of the hardest-working Tigers you'll meet. While they earn their degrees, most of them maintain other responsibilities, such as working full time or parenting. And their effort and execution don't falter in the classroom, whether that be online or in person.
Meet our class of 2023 Featured Tigers, leaders in all aspects of their lives!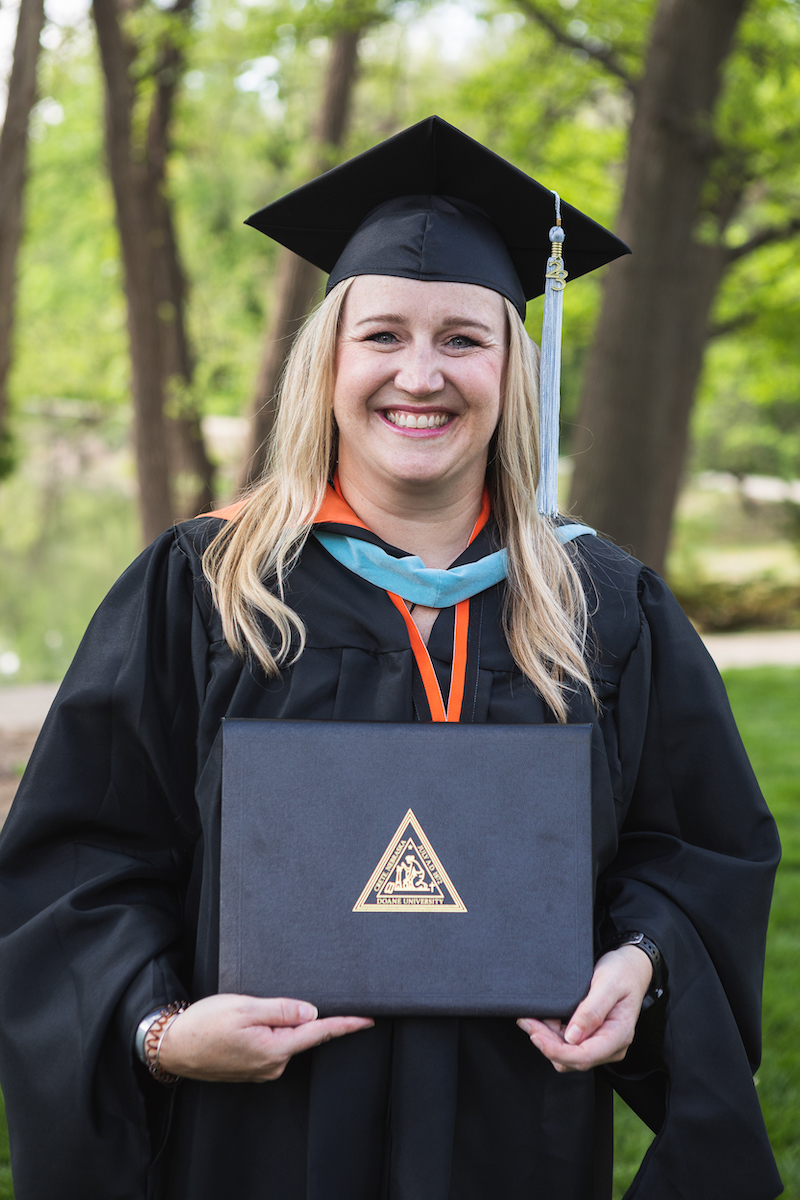 Name
Jocelyn Crabtree '23E (she/her)

About
From Lincoln, NE

Degree
Master of Education in Educational Leadership

First off — congratulations! How do you feel as you head into the next phase of your life?
I am very excited to be finishing my second masters. I accepted a new role for next year (Coordinator at The Career Academy), and am looking forward to joining their team and using the knowledge I have gained through my educational experiences.

What's your next step after graduation?
Starting my new position at The Career Academy.

How has attending Doane prepared you for your next steps?
The EDL program at Doane has been a great opportunity that has given me first-hand experiences through practicum hours. It required me to get out of my comfort zone and seek out opportunities that required me to stretch my skill set. The cadre environment allowed me to collaborate with other like-minded individuals in order to grow as well.

What do you consider the best part of your Doane experience?
The people I got to experience my program with, my fellow Cadre 44 members. I am very thankful to have a group of individuals that helped push each other to the finish line.

What will you miss the most about being a Doane student?
I will miss the dedicated time to collaborate with my cadre members.

Who was a major influence for you during your education here, and how have they helped you?
Our Cadre 44 members as well as our instructors, Kris, Alan and Michelle. They have been champions for me throughout the program and I would not have all of the experiences I have had without their help and leadership.

What is something you're proud of achieving or accomplishing while at Doane?
I am proud of being hired in a leadership role halfway through the program and still managing to finish the program strong, despite the increase in responsibilities. I am also just proud of being able to manage my time as a mom and wife through it all. Despite having the heavy workload, I was still able to be an active part of my kids' activities.

What advice would you give to incoming students?
Set dedicated time to complete your work each week otherwise it will pile up! Get to know your fellow Cadre members. Trust the process and enjoy the ride!

Finishing a degree is tough to begin with, but especially so in recent years — what has helped you overcome challenges you've faced along the way?
My family has been my biggest supporters through it all. They were always understanding and they are my reason for pursuing another advanced degree. I also think the Cadre mentality of "we are in it together" helped. We all leaned on each other for guidance and our instructors were great supports as well.

Finally — what are you most excited about for your future?
Learner is one of my top gallup strengths, so I am excited to continue to learn and grow as an educator in order to make a positive impact on those around me.