Marcy Haas '18L, of Lincoln, received the Exceptional Service Award, which recognizes alumni who have provided extraordinary service to forward the cause of Doane University through their volunteer efforts. Haas is one of nine Doane alumni recognized during the 2022 Alumni Awards Banquet on Oct. 9. Alumni who receive these awards exemplify the ideals taught at Doane, through their leadership and service throughout their careers and lives.
Bio written by Liz McCue, communications manager.
Marcy Haas '18L is a lot of things. A veteran of the U.S. Navy. A mother of two — Matt (22) and Chris (14). An entrepreneur. A first-gen student. An incredible baker. A Doane alumnae.
She isn't someone who lives with regret over opportunities missed or paths not taken.
"I invest in myself," Marcy said.
She's had a list of goals to accomplish, starting with leaving her hometown in Alabama to explore the world.
"I encourage everyone to do that before returning home," she said. "I was able to experience a lot of different cultures, and see diversity."
Marcy served in the Navy as a mechanic for anti-submarine helicopters and Yeoman for a decade. She traveled in the U.S., to Hawaii, to Germany and elsewhere, and found a love for Japanese and Vietnamese cuisine. That was something she noticed; no matter where she went, food always brought people together.
So it should come as no surprise that she now operates her own bakery — Sweet Things By Marcy. It took a little journey to get there, though.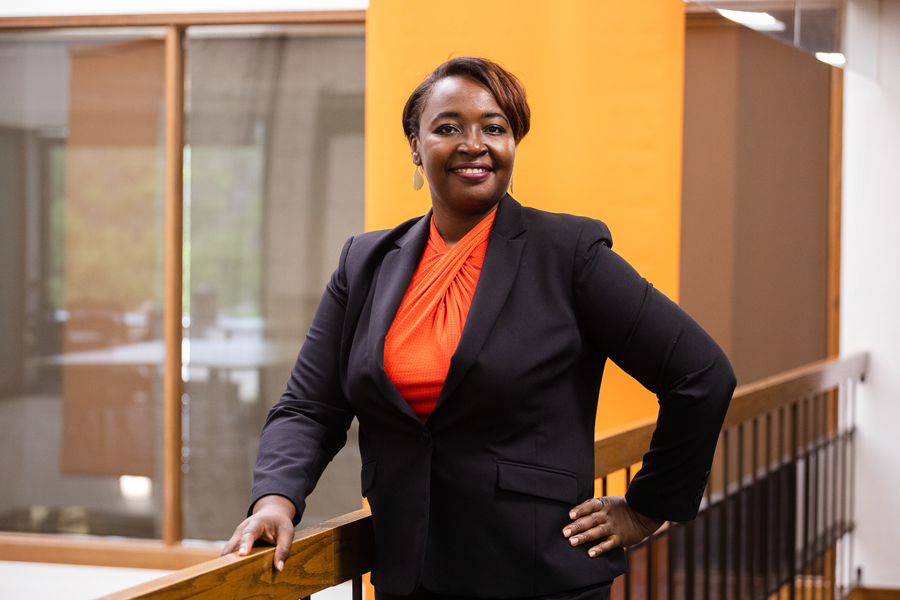 Marcy first moved to Lincoln in July 2015. On her list of goals? Receiving a college degree, and being the first in her family to do so. She completed an associate's degree at Southeast Community College, and promptly entered Doane for her bachelor's degree in business administration with a specialization in human resource management.
Prior to enrolling at either institution, Marcy was faced with a tough choice, to pause her education and go home to be with her mother, who had cancer, or continue working toward her bachelor's degree. But her mother made the decision for her, and encouraged her to accomplish her goals.
A few months after graduation, she and her husband got married. They bought a house. And she started a new job with the federal government — another goal on her list. But Marcy realized she needed a change in 2020.
"I felt kind of closed in during the pandemic," she said.
Her husband got diagnosed with cancer (which is now in remission), needed two hip replacements and had a staph infection following one of his surgeries. Marcy was no stranger to stress, but this time was different. She had no control over these events.
But she could control baking a cake. Or zucchini bread. Or cupcakes. Marcy baked so much that she started leaving cakes and breads on her front porch for neighbors to come by and pick up. It didn't take long for someone to say, 'why don't you sell these?' Marcy's friends took up the charge, writing up a menu for her, a list of tasks to establish her business.
And Sweet Things by Marcy took off. In September 2022, she went all in on the business.
"It's all simple recipes that my mom used to make," she said. "It grounds me. And I feel like I can feel my mom in the kitchen with me."