Doane University's Bachelor of Science in Engineering degree program has been accredited by the Engineering Accreditation Commission of ABET, the global accreditor of college and university programs in applied and natural science, computing, engineering and engineering technology. This accreditation also applies retroactive coverage to graduates starting from Oct. 1, 2019. 
ABET accreditation assures that programs meet standards to produce graduates ready to enter critical technical fields that are leading the way in innovation and emerging technologies, and anticipating the welfare and safety needs of the public.
"Our engineering alumni have already proven that a degree from Doane prepares them for success, with a significant number of our graduates receiving job offers even before moving off campus," said Dr. Roger Hughes, Doane president. "With the international recognition that comes from ABET accreditation, our students and graduates will have even more opportunities."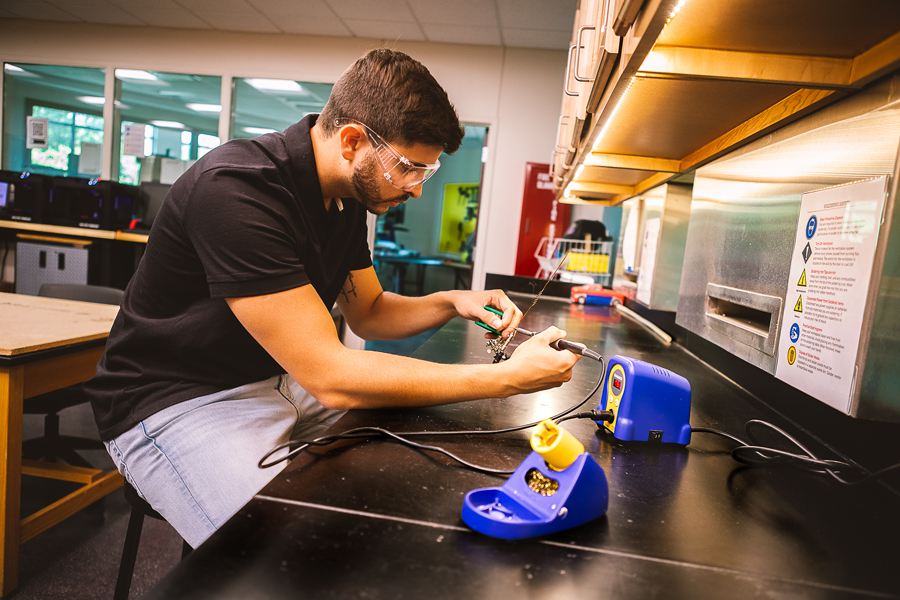 Sought worldwide, ABET's voluntary peer-review process is highly respected because it adds critical value to academic programs in the technical disciplines, where quality, precision and safety are of the utmost importance.
Developed by technical professionals from ABET's member societies, ABET criteria focus on what students experience and learn. ABET accreditation reviews look at program curricula, faculty, facilities and institutional support and are conducted by teams of highly skilled professionals from industry, academia and government, with expertise in the ABET disciplines.
This is the seventh year of Doane's B.S. in Engineering program, which was first offered as a degree program on Doane's residential Crete campus in fall 2016.
"As a private institution with small class sizes and faculty dedicated to undergraduate education, we are in a unique position to develop students into leaders for modern engineering practice," said Dr. Joel TerMaat, assistant professor of engineering and chair of the engineering and physics department.
Throughout Doane's program, students are challenged to learn and apply theoretical concepts alongside critical thinking, leadership, teamwork, ethics and human-centered design. The curriculum is interdisciplinary — students learn key skills in engineering while studying other subjects, such as art, theatre, sociology and history, which helps them identify the "big picture" and make connections between technology and society.
Project-based learning and internships also provide students with authentic engineering experiences that prepare them for success in their careers.
 "Our program is rigorous and challenging, but also prizes personal mentorship and real-world experiences. We encourage students to ask why, and to discover for themselves how to improve their designs from identifying flaws and learning from mistakes," said Dr. Cale Stolle, assistant professor of engineering. "Internship evaluations consistently praise our students for their work ethic, willingness to learn, readiness to engage projects and their ability to connect with peers and supervisors to work together."
"Our incorporation of these professional skills throughout students' collegiate experiences, in and out of the classroom, sets our graduates apart to employers," TerMaat said.
ABET is a nonprofit, non-governmental organization with ISO 9001:2015 certification. It currently accredits 4,361 programs at 850 colleges and universities in 41 countries and areas.
More information about ABET, its member societies and the accreditation criteria used to evaluate programs can be found at www.abet.org. 
For more information about Doane's B.S. in Engineering, please visit doane.edu/programs/engineering.