Article by Sara Hinds
Love it or hate it, February is the month of love.
On Valentine's Day couples and the staunchly single advertise their love of partner and self. On the pop-culture bred Galentine's Day, female friends brunch and brag about their strong platonic kinships. 
Upon first glance, Doane is Love Week offers the same sugary, sweet feelings with activities like cookie decorating and a Build-a-Bear-like workshop where students stuff tiny versions of Thomas to display in their dorm rooms.  
But there's an urgency to its history — and future. Where the other holidays are rooted in the card company Hallmark and TV show Parks & Recreation, Doane is Love transpired from a protest by the Westboro Baptist Church.
In 2015, the Doane Owl published an article supporting LGBTQIA+ students. In April of that year, the Supreme Court ruled in Obergefell v. Hodges the legalization of same-sex marriage under the 14th Amendment. 
After the article ran, the Westboro Baptist Church protested Doane. From there, a one-day counterprotest in 2015 has flourished into a weeklong inclusive celebration now led by PRISM (People for the Rights of Individuals of Sexual Minorities)
But the event's future faces threats from beyond campus. And not just the event, the very people it stands to celebrate in the LGBTQIA+ community. 
LB 574 advanced to the full Nebraska Legislature the week following Doane is Love. The bill would ban Nebraskans under the age of 19 from receiving gender-altering medical treatment.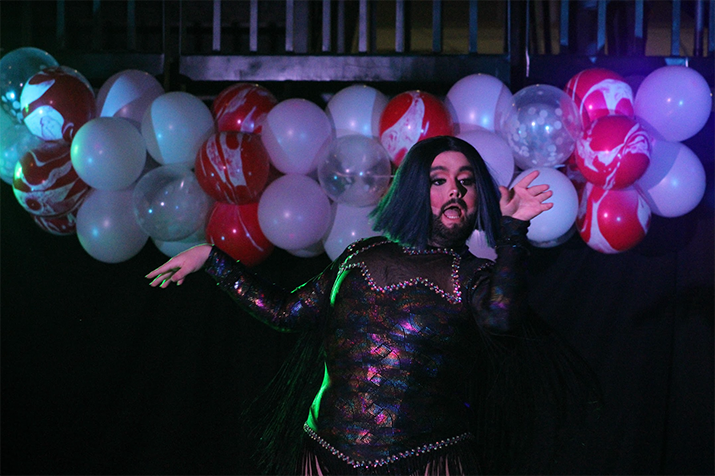 And multiple states are drafting legislation that would ban drag performances at schools, colleges and public property.  
Doane Is Love isn't merely a celebration of love, Doane assistant professor Amanda Irions, Ph.D. said. 
"I think it's a determination and I think it's a bravery," she said. "When we are facing existential threats everywhere we go from individual people and from the state, why wouldn't we celebrate who we are?"
Just last year during Doane is Love, three students in PRISM (the group that heads up Doane is Love) were called slurs. 
"As much as I wish everyone would be nice people, it's just not always possible," senior PJ Ramsey said. Ramsey, who goes by they/them pronouns, is president of PRISM. 
"The sad fact is that queer people have to desensitize themself to some degree; there's not much we could do."  
While the group and members' identities face pushback, pressure and prejudice from every angle, the bubble that is PRISM is a safe space bursting with acceptance and expression.
"It's nice to know that I have that bubble and that family to go back to where everybody is accepting; that's what PRISM is," Ramsey said.
They joined PRISM freshman year as a means to find that acceptance after being out for three years. 
"I came from a high school that is literally nicknamed cow pie high, because it's out in the middle of nowhere," they said. "So there wasn't a lot of acceptance. There were two people, maybe, that were out."
Junior Rachel Mittlieder, PRISM's secretary, joined by way of Ramsey. In search of a community to keep her tethered to Doane, she met Ramsey through Greek life, who invited her to a PRISM meeting.
"I've never really acknowledged that part of myself," Mittlieder said. "It was nice to have a space to talk about it and see all these different people that come from all different walks of life and the different interactions that we have."
Interactions that include impromptu dancing and electric sliding after last year's drag show or decorating in the rain and adorning a frozen campus with pride flags. 
Doane is Love encourages involvement of everyone on campus: faculty, students, staff, allies, and most importantly, anyone who isn't comfortable coming out yet. The hope, Ramsey said, is they'll feel more accepted to come out in the future.
Doane is Love is PRISM's magnum opus. And Ramsey took special care to ensure it continues to be after they graduate.  
For the first time, PRISM collaborated with faculty-led groups this year. This distributed the event planning and execution — and guaranteed structure in years to come. 
Campus Advocacy, Prevention, and Education (CAPE) Project hosted a workshop titled "Love Shouldn't Hurt." The Division of Diversity, Equity and Inclusion division co-hosted a drag party with PRISM. The Student Programming Board hosted the post-celebration, a stoplight dance party. 
Other events included sex education trivia and a pronouns and trans identity workshop led by Irions, who also serves as PRISM's faculty adviser.
Even with all that, Mittlieder and Ramsey already have ideas for future PRISM events that include fundraising, incorporating ally-friendly resources and community outreach. 
"We're here, we're queer," Ramsey rhythmically chants. 
Mittlieder takes the bait. "We're here, we're queer, we ain't goin' nowhere!" she finishes as Ramsey laughs.