By Sara Hinds
The year 2022 is also a big anniversary for Title IX. The landmark law that paved the way for women receiving equal opportunities in education — from admission to athletics and every stop in between — is celebrating 50 years.
No person in the United States shall, on the basis of sex, be excluded from participation in, be denied the benefits of, or be subjected to discrimination under any education program or activity receiving Federal financial assistance.    
    45 C.F.R. § 86.31  
 
Before its passage in 1972, women at Doane competed in the Women's Athletic Association (W.A.A.). Members sold concessions at men's football and basketball games, planned overnights for themselves and played volleyball, basketball and football among other sports. 
Jennifer Kennedy-Croft said, a former Division 1 soccer player for the University of Connecticut, has experienced — and worn — a thing or two that highlight the lack of support women's athletics have historically received. In high school, she and her teammates sported old, hand-me-down boys' uniforms.
Now in her seventh season as head coach for the women's soccer team at Doane, she's encouraged about making up for lost time.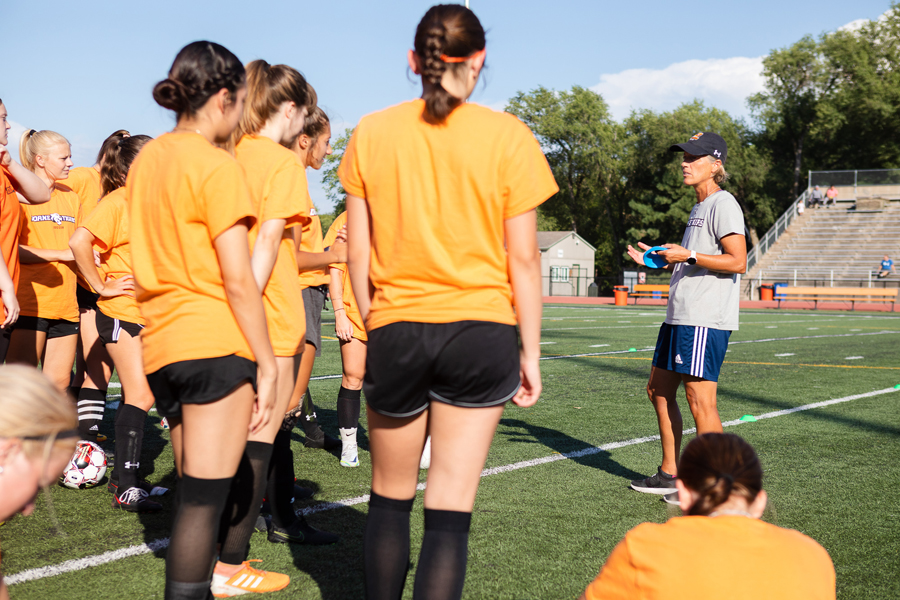 "I have seen the changes in athletics, I've seen how far we've come. Not just in equity in facilities and in pay, but just in general in the excitement of the sports." 
And she'll get the chance to be the woman leading the change when she serves as Senior Woman Leader, alongside her coaching duties, heading into the 2022-23 academic year. The new role comes from recent National Association of Intercollegiate Athletics (NAIA) legislation that encourages representation by placing women in leadership positions within college sports administrations.
It's "a voice at the table" Jen said. And a step in the right direction toward progress that still has a ways to go. 
She'll represent gender equity in leadership positions within education and serve as a role model for her daughter and female athletes. And she intends to honor the work of women who've "fought and fought really hard" for even just the basics of a sport while in the same breath saying, "hey, we still have things we can work on here."