English
Using language to form connections
College of Arts and Sciences
Location: Crete
Degree Type: Undergraduate
The English major at Doane University is designed to help students shape their passion for reading and writing in an academic course. Students develop their writing and communication skills, practice original research, and refine their critical thinking abilities - skills employers and graduate programs covet.
We designed the English program to give students the flexibility to determine which classes they want to take within set areas. The major requires fewer credits than many other majors, allowing students to explore elective and combine their English major with other majors it minors of interest to them.
Class sizes are small, ranging from five to twenty (5-20) students, and taught by full-time faculty. Because we are a small department, we have the opportunity to work closely with students. Faculty often lead students in several courses over their four years at Doane. By becoming familiar with students writing, and way of thinking, we can give targeted feedback on students' coursework and next steps for their professional plans; thanks to our close proximity to Lincoln and Omaha, we organize events for students to build upon the work we do in the classroom.
A degree in English makes students uniquely qualified for professional positions because of the skills developed through analyzing texts, conducting original research, and writing. Recent graduates of our English major have excelled in positions as teachers, social workers, and lab research technicians. Others have gone on to attend law school, graduate programs in writing and literature, or library science.
Internships

Doane students may participate in month-long or semester-long internships gaining hands-on work experience for college credit. English students have completed internships at organizations such as, The Mary Riepma Ross Film Theatre, NEBRASKAland Magazine, and the Prairie Schooner. 
Emphasis Areas

Writing Emphasis

The English program's Writing Emphasis will engage you in various rewarding experiences both in and out of the classroom. The program's goals are to prepare you for a fruitful writing life and equip you to succeed as a writing professional in a wide range of career fields.

The comprehensive approach to your development as a writer is one of our program's distinguishing features. By immersing yourself in Doane's writing, you will expand your creative perspective and hone your craft as a storyteller while also discovering techniques and sharpening practical skills that employers value. The arrangement of our curriculum, which is taught by professional writers and active scholars, will allow you to enjoy a creative writing curse every semester if you desire, which will enable your work to blossom into finished stories ready for publication in Xanadu, our student literary magazine, as well as other student publications on campus. You will interact with accomplished writers who visit the campus every year as part of our Lucille Cobb Memorial Lecture Series. You might also follow in the footsteps of past writers here whose creative work was celebrated with our annual Marianne Clarke Writing Awards.

These activities may be the first important steps of an exciting journey as an author in the evolving world of literary publishing, graduate study, law school, or as a writer in the following industries: 

Film and Media
Business
Government and Politics
Communication
Public Relations
Health Sciences
Education 
Information Technology
and many more

Whatever path is yours to follow, you will develop the creative tools and intellectual flexibility necessary to adapt to an ever-changing economic and social landscape. Our program's flexibility makes it an ideal partner with many other majors and minors, allowing you to explore opportunities beyond our program, thereby expanding your portfolio of knowledge and abilities for life and work after your time at Doane. 
Faculty & Staff
Hannah Allfree
Elementary Education, class of 2020
I love the education program so much because everyone has such a passion for what they're doing. It was just a perfect fit.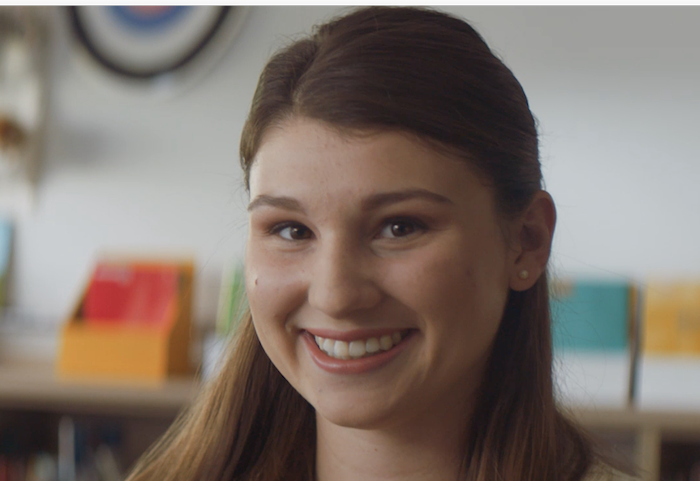 Excellent Advising
One of the most important college experiences is engaging and learning in your classes. At the Doane Learning Center, our students have free access to academic counseling and support to exceed in their studies.
Affordable Education
At Doane University, we reward students for their achievements both in and outside of the classroom. Through scholarships, grants, work-study, and on-campus employment, our students look forward to starting jobs, not payment plans.

Rich Campus Culture
With over 60 student-led clubs and organizations, including a Student Programming Board that sponsors competitions and guest appearances, our campus is a community. From Athletes to Zumba enthusiasts, there is a place for you at Doane University.