Students in Dr. Russ Souchek's EVS 201 Environmental Sciences class spent a period learning about climate change — including how demand for electric vehicles has made availability wider and costs lower. Then they got behind the wheel themselves.
George Gudgel, a junior strategic communication major, puts on his mask before getting into the driver's side of a Tesla sedan. Gudgel is one of 11 students in Dr. Russ Souchek's EVS 201 Environmental Sciences class, which spent a period learning about climate change and then test drove the two Tesla's shown in the image. The electric vehicles are owned by Dr. Don Cox, a retired electrical engineer and Stanford University professor.
Article by Liz McCue
Every other year, Dr. Russ Souchek teaches EVS 201-Environmental Science. It's a key general course for the environmental studies program and covers topics from biomes and ecology, to water and soil quality and human impact on the environment. The course is also optional for multiple major and minor programs, including agribusiness and biology.
For Souchek, teaching the course isn't just a way for students to learn about the environment, but to gain experiences and understanding they can take with them for years to come. A camping and kayaking field trip on the Niobrara River typically kicks off the semester. Recently, the class spent a period learning about climate change and what is being done to limit it — and then test drove a couple of Tesla electric cars.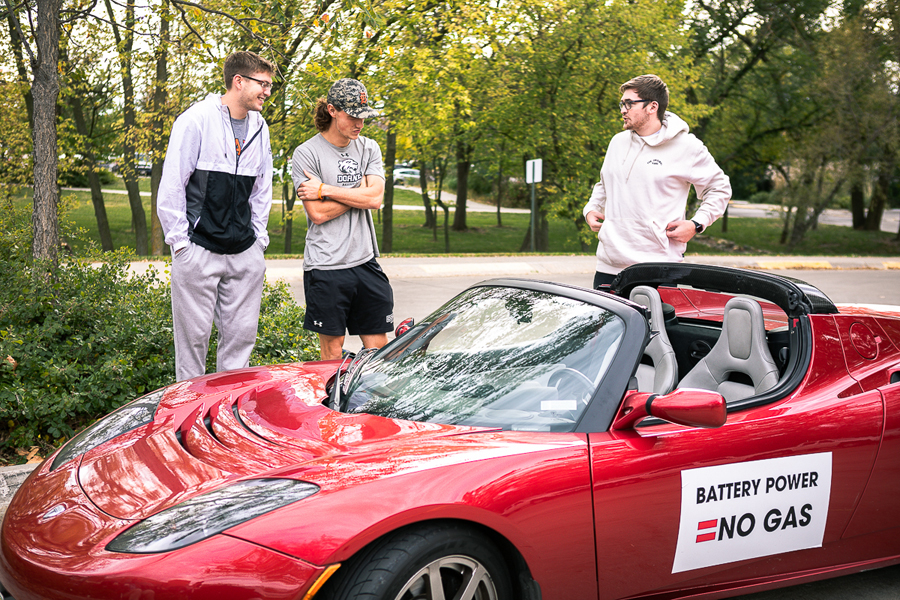 Three Doane students admire the 2008 Tesla roadster that students were able to test drive as part of the EVS-201 class.
"It was interesting learning about the high demand for electric vehicles," said Cameron Quick, a senior agribusiness major with an environmental science minor. "But it was crazy driving it."
Quick took a 2008 Tesla Roadster, owned by Dr. Don Cox, a retired electrical engineer and professor, for a spin around Crete. In fact, many Doane students who have taken EVS 201 in the past decade have driven one of Cox's four Teslas.
There's a bit of a story behind this Doane experience. About six or seven years ago, Souchek sat at the same table as former state senator Ken Haar at a fundraiser. They got to chatting about Souchek's classes at Doane and Haar's interests in conservation and climate change, when Haar said, 'oh, I know this guy.'
That guy would be Cox.
The Nebraska native received his bachelor's and master's degrees from the University of Nebraska in 1959 and 1960, and his doctorate from Stanford University — all in electric engineering. He worked at Bell Labs in the 1980s, one of the first companies in the U.S. to produce mobile phones, then returned to teach at Stanford. He retired, came back to Nebraska, and returned to teaching as an adjunct or visiting professor at UNL.
With him came his passion for electric vehicles, which he frequently brings to local campuses to provide students with a hands-on experience after learning about climate change from Haar. It's not a light issue in Nebraska, which has seen both more frequent and intense floods and droughts, and a rise of at least one degree in average temperature across the state, according to a 2016 document produced by the Environmental Protection Agency. This document also showed an average temperature increase of two degrees for Nebraska's panhandle region. 
"Think about when you change the thermostat by two degrees in your own home," Haar said, during a presentation to the 11 students in the course.
Haar spoke about how changing consumer demands were contributing to reductions in investments in fossil fuels and reductions in costs for clean energy tech in energy storage, paving the way for more accessible solar panels and electric vehicles. Throughout his lecture, he was adamant that there is always hope to slow climate change and adapt to existing changes.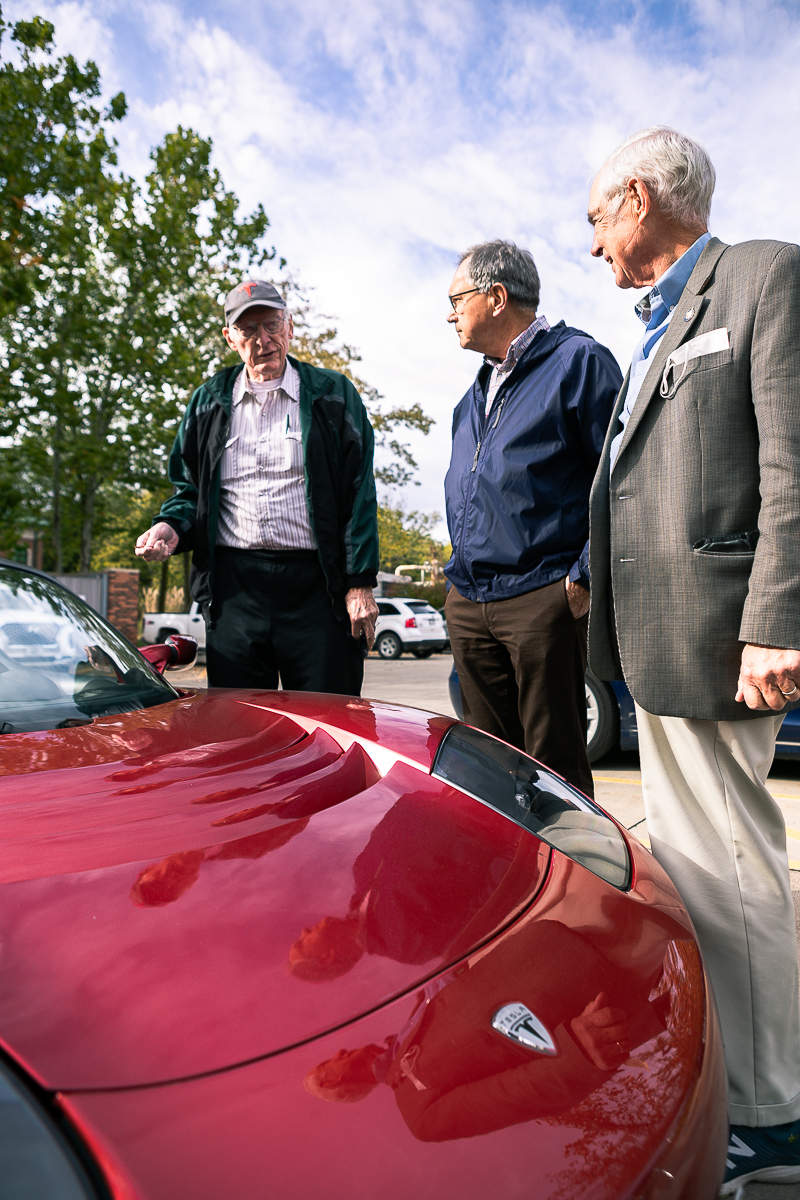 (L-R) Dr. Don Cox, Dr. Russ Souchek and Ken Haar stand next to Cox's 2008 Tesla Roadster. Cox, a retired electrical engineer and professor, has brought vehicles to Souchek's EVS 201-Environmental Science class for students to drive every other year for the past 6-7 years. Haar, a former Nebraska state senator, also presents to students about climate change.
At the end of Haar's lecture, he placed students in groups of three for a short activity before they headed to the Haddix Recreation and Athletic Center parking lot.
Using a climate change solution simulator developed by MIT's Sloan School of Management and Climate Interactive, En-ROADS, students (as well as this writer and a reporter for the Doane Owl, who were visiting the class for the event) were charged with reducing a predicted temperature increase of 6.4 degrees Fahrenheit by the year 2100. By adjusting sliders for different energy solutions — such as increasing subsidies for efficient buildings, placing higher taxes on coal, planting trees — students could reduce the overall temperature in the simulator.
The class was given around 20 minutes to play with the simulator, then give a short presentation about what they changed, what surprised them and what they found challenging with the activity.
Junior Jackson Stensgard said the simulation was an interesting experience. He's an environmental science major and enjoyed listening to the group presentations, seeing what other students changed and how it impacted their results.
Stensgard stayed after class to learn more about electric cars from both Haar and Cox, like how newer models use regenerative brakes that actually return a charge to the batteries, and how repair costs are much lower over time because there are fewer moving parts to break. Cox has put 120,000 miles on his blue sedan and it still has the original brakes, for example.
And of course, it made an impression to sit behind the wheel.
"I've never been in an electric vehicle before," Stensgard said, and took the opportunity to drive both models. 
"You could put that he still has a Tesla smile on his face," Haar added.