One banner hangs on the wood wall in Butler Gymnasium on Doane's Crete campus: "Men's Wrestling 2021 GPAC Duals Champions."
A deep navy mat on an adjoining wall echoes the team's most recent accomplishment: GPAC Champions.
And a group of eight Doane wrestlers gather along the opposite wall.
Orange light sticks outline half of one of the wrestling rings and two large lights set the stage.
The wrestlers take turns stepping onto the floor mats, offering the cameras a series of poses and wrestling moves, which turn into blowing kisses and coordinating backflips as they become less camera-shy.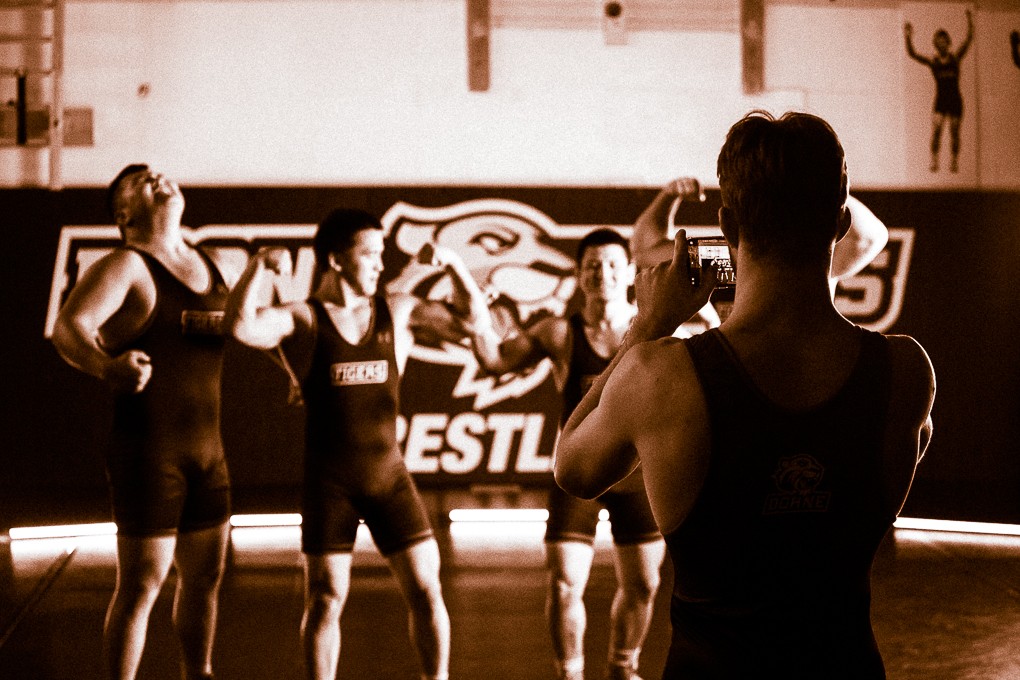 Those not on camera are hyping up their teammates while "Hollaback Girl" by Gwen Stefani booms from a speaker.
Dana Vote, Doane's head wrestling coach, stands underneath the shadow of the balcony overhang during the shoot. He lets his team shine in the literal spotlight, and chuckles at their goofy alter egos the camera brings out.
He walks toward the mat to jokingly warn the marketing team staff wielding the cameras that his guys will continue to flex in front of the cameras all afternoon. 
Despite hamming it up for the cameras, grounded is the perfect word to describe the Doane wrestling team. And the program's humble beginnings justify this word choice.
"Thirty months ago, there were four kids left," Coach Vote remembers after his hire in March 2019. "Our first team meeting we had four kids at the meeting."
The program was rebooted in 2013 for the first time since the 1970s. The season before Coach Vote became head coach, the team won one dual, placed seventh of nine at the GPAC Championships and 35th of 49 at the NAIA National Championships.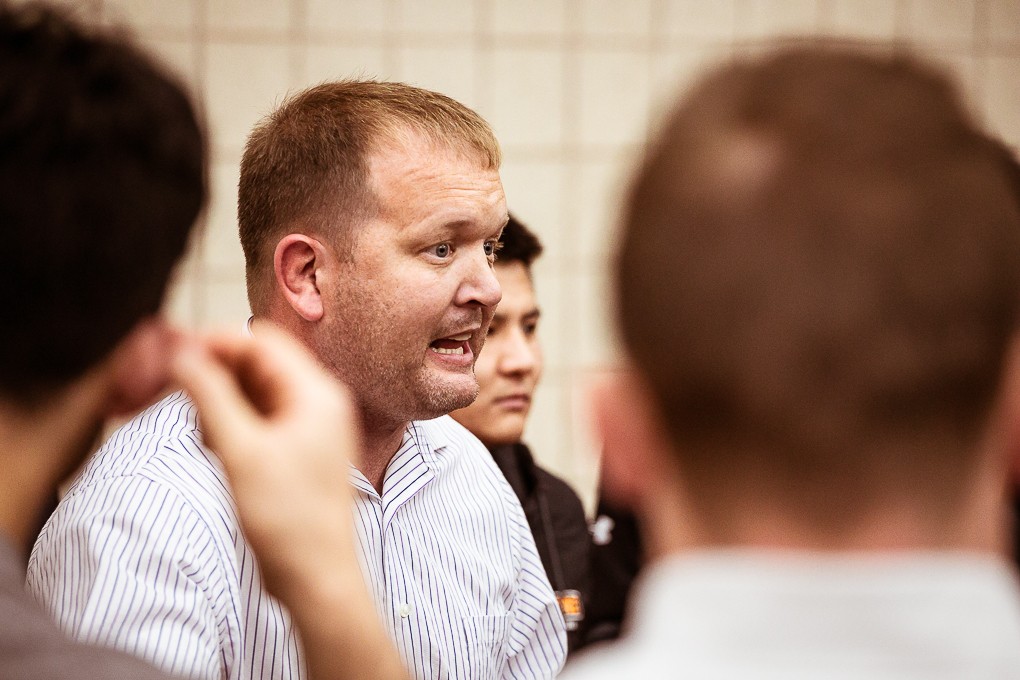 Fast forward to last season, Coach Vote's second season as Doane's head coach. The team went 15-2, won the conference for the first time in school history and sent six wrestlers to nationals where two were named All-Americans and Baagii Boldmaa won his second national championship.
Yet the team and coaching staff don't feel pressure to top the previous season's success.
"We don't want to create barriers that don't need to [be there]," Coach Vote says. "We want to control the things we can control. We can control our emotion[s], we can control our effort and our attitude and we can be grateful for opportunities."
It's the age-old "trust the process" line, but with a twist. Because there's room for fun in the process with this team. Most practices start with a game of dodgeball.
"I used to think wrestling was about doing as much as you can everyday," Daniel Vargas said. "Since coming to Doane I've learned that having fun and recovery are just as important and [I] put a lot less pressure on myself."
Last year, Vargas placed fifth in his weight class at the NAIA Championships and became Doane's first All-American in the weight class of 125 pounds.
As a senior this year, Vargas admits he feels pressure after his dominant performance last year, but breathes easy knowing his team will have his back no matter the outcome.
"The wrestling team at Doane has the best chemistry of any team I've been part of," Vargas agrees. "[It] makes the hard parts about wrestling a lot easier and makes me want to go out and score as many team points as I can for my brothers. We are constantly joking around and do a lot together outside of wrestling."
In fact, one of Vargas's favorite wrestling memories is his teammate Bradley Antesberger pinning his opponent to help Doane win its first GPAC dual championship.
They're each other's hype men – evident by their hoops and hollers during the photoshoot. Coach Vote calls the whole team a family and the wrestlers themselves a "band of brothers."
"The Doane program we have right now is a special group," Coach Vote says. "I feel that we have the talent and ability to be the best team that I've ever been a part of."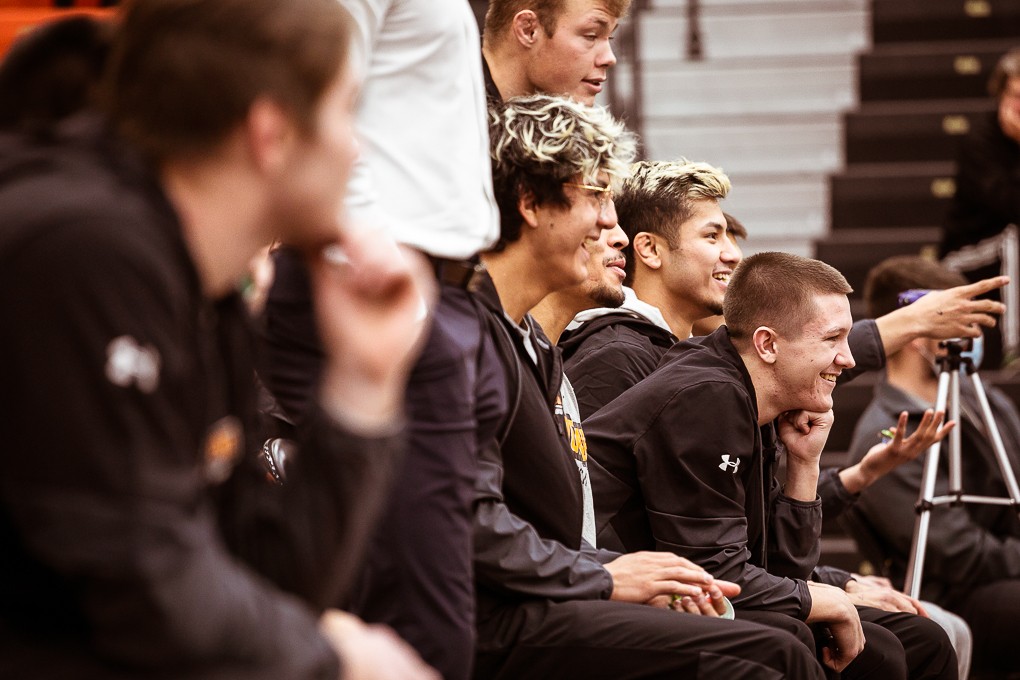 And that isn't just coach speak. Conference championships have followed Coach Vote as a head coach. He's won four conference championships as head coach at Concordia University and one his first year at Midland University. Combined with Doane's recent championship, that's six conference championships as he enters his ninth season in the GPAC.
What makes Doane and these wrestlers stand out among his half dozen championship teams is the quicker progression of growth and success. And he credits that to the buy-in from the administration, student body, coaching staff and of course, the wrestlers.
The extra attention entices "pressure" to reenter the chat. But the players reframe how they define the word.
Tristan Zamilpa says "pressure is privilege."
"If no one cared if we won or lost that might reflect badly on us," the junior wrestler in the 149 weight class says. "But to have the university and a lot of fans and families believing in us to do well in the GPAC and nation is an honor more than pressure in my opinion."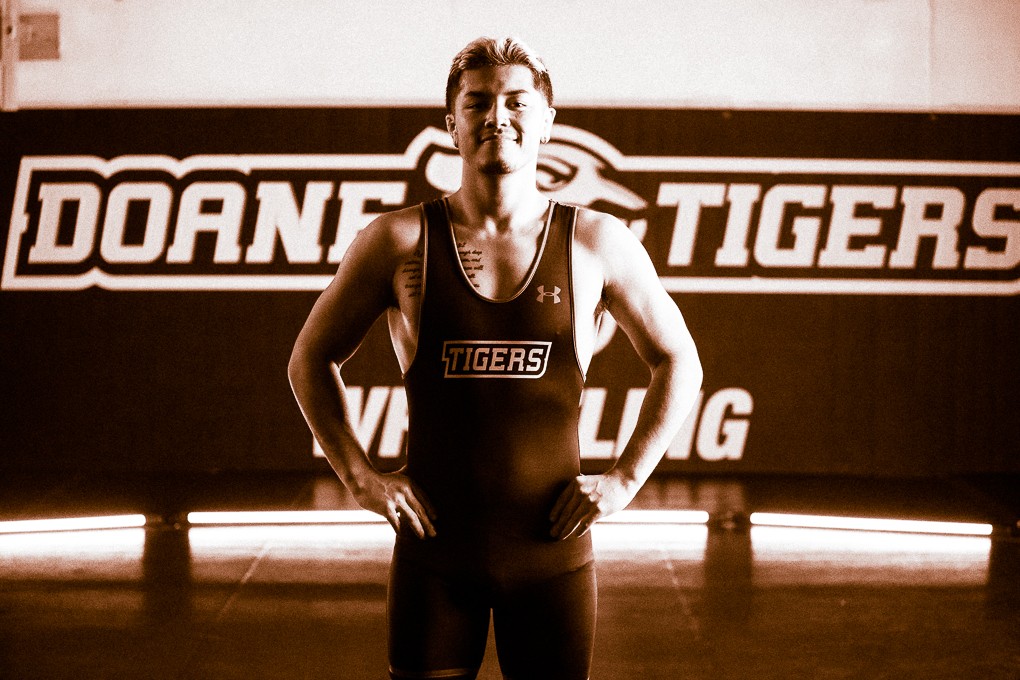 Zamilpa started his collegiate wrestling career at Midland and was the only freshman to qualify for nationals. But he stopped wrestling for the next two years due to mental health reasons, before starting up again and transferring.
"Since coming to Doane I think I've grown a lot in all those ways because I felt that I put a lot of this pressure on myself coming out of high school to try to be all these things in wrestling," Zamilpa says.
Two returning national championship competitors acknowledge that since coming to Doane, their view on wrestling has matured. They know how to balance fun and discipline. And as a result they've eliminated the pressure to achieve a specific result.
And then we have two-time returning national champion Boldmaa – only the second national champion in Doane's wrestling history.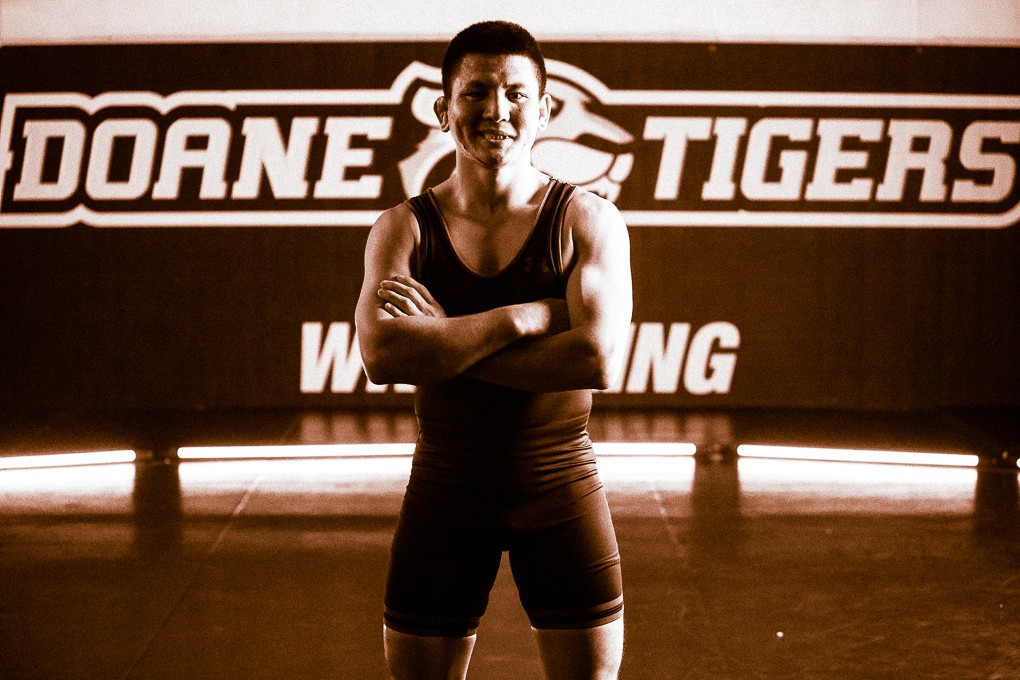 The pressure to win a third and fourth championship is obvious. Even to Coach Vote, who calls the senior a "cornerstone" of the program.
"He's a once in a lifetime kid," Coach Vote says of the senior. "I'll probably never coach another guy that can compete for four national championships."
But Coach Vote has also noticed the 141-pounder grow into a vocal leader on the team and shift his focus from individual success to team growth.
"I think he enjoys the challenge," Coach Vote says." [And] I think the thing that's helped him too, is he's made it more about the team than himself."
Additionally, Boldmaa mentions that he sees wrestling success as the relationships he builds through the sport and the man he becomes.
"I feel like I have grown a ton as a person since joining the wrestling team at Doane," Boldmaa says. "It has given me a lot more confidence in getting out of my comfort zone and meeting new people."
People who have become brothers.