It'll be two years next month that Artisan Mark Coffee + Goods, located at 1144 Main Ave., has offered citizens of Crete and students at Doane a taste of a bigger city without the travel time. 
After moving to an acreage outside of the city with her family several years ago, owner Elayne Woods Jones '13L found herself missing the coffee shops she had frequented while living elsewhere. It was a sentiment echoed by other residents — she'd met multiple people who regularly drove to Lincoln for a dose of caffeination. So she decided, why not bring that to Crete? 
"Now that I'm making a home here, I wanted this," Woods Jones said. 
She purchased and renovated the 1888 building with her family, keeping distinctive features like the warm brick walls and large windows that look out on Main Avenue. Artisan Mark is on the first floor, and her photography studio is on the second. Woods Jones is a self-professed coffee snob, so one of her first steps was getting connected to good coffee beans from Archetype, a small-batch roastery in Omaha with shops in the Blackstone and Little Bohemia districts. The beans are both used in Artisan Mark's brews and stocked for sale.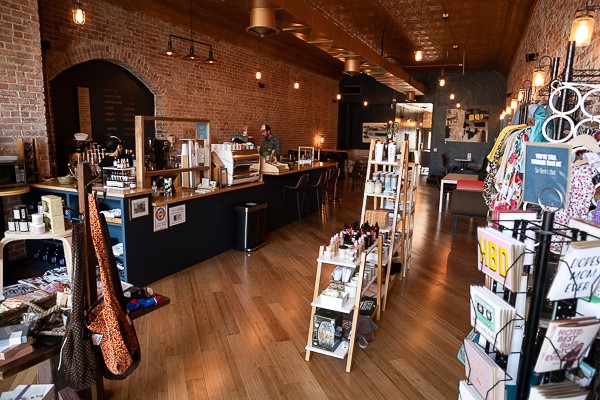 Along with Archetype, Artisan Mark incorporates products from other Nebraska companies in its menus and for sale, like Artemis Teas (Omaha), Burbach's Countryside Dairy (Hartington), Wax Buffalo (Lincoln), and Aria Rose Bath Co. (Lincoln). If it's not local, Woods Jones said she prioritizes stocking merchandise from small and women-owned businesses.  
"As much as I can, I really want to support other local artists," she said. "That's where the 'artisan' comes in." 
Woods Jones also takes pride in training staff at Artisan Mark on how to brew and mix a variety of coffee and tea drinks, from shots of espresso, to a dirty chai, to mochas, breves and flavored lattes. 
"I like to think I'm teaching a skill, to [help students] get jobs as baristas in the wider world," she said, teaching both the technical aspects of brewing coffee and customer service skills that can be applied to a wide variety of jobs.
The shop really is oriented toward students, too, to provide a place off campus to study, work, meet with friends and grab a bite to eat. Woods Jones hopes to return to setting longer hours, and to eventually serve lunches. The building has a kitchen currently used to create decadent baked goods, and in the future, soups, salads and sandwiches. 
All food prepared is also gluten-free. Woods Jones has celiac disease, so having a location in Crete where she can safely eat outside her home is important to her, as is accommodating others. For example, drinks using plant milks instead of dairy don't incur an additional cost — it shouldn't be a punishment for someone to have a food allergy or intolerance, she said. 
Hours will change throughout the year, but can easily be checked on Artisan Mark's Instagram. Students who want to have a group study session at the shop can also reach out to reserve the space beyond normal hours, too.