Article by Isabel Henson '23
On March 31, Doane's Writing Center and Academic Success Center (ASC) hosted a writing marathon — a journey that took five students, ASC Academic Specialists Rachel Jank and Blake Tobey, and Writing Center Director Jeremy Caldwell across central Nebraska. The group left Crete for, first, Chance's "R" Restaurant in York, then the Plainsman Museum in Aurora and finally, the Crane Trust Nature & Visitor Center in Alda.
The purpose of a writing marathon, Caldwell said, is to commit yourself to the writing process and embrace your identity as a writer. It's a low-stakes entry into writing, he said, and builds community along the way.
Take Drew Pennington '23, who used the marathon as inspiration to write a song. The experience taught him that he writes best when secluded and given the space to express himself.
At the first stop, Chances "R", Jank used the opportunity to write about the 1932 building, describing the opulence in its interior: solid woodwork, golden sinks, etched glass, upholstered benches, Tiffany lamps, stained glass and leaded windows.
"How much money was poured into creating such elegance, decades ago, in the middle of the plains, the middle of America," she wrote. "…All this gives the folks who came here the feeling they were coming someplace special with their families and business partners."
The group's second stop, the Plainsman, took students and staff even further into Nebraska's history. Exhibits included a real sod house, a one-room schoolhouse still with its original chalk drawings from its final day of service in 1954, the Victorian-era Bates House, and history of Nebraska's Native Americans, wildlife and settlers.
In between stops, in the van, the group filled the miles of flat Nebraska landscape with storytelling, laughter and getting to know each other.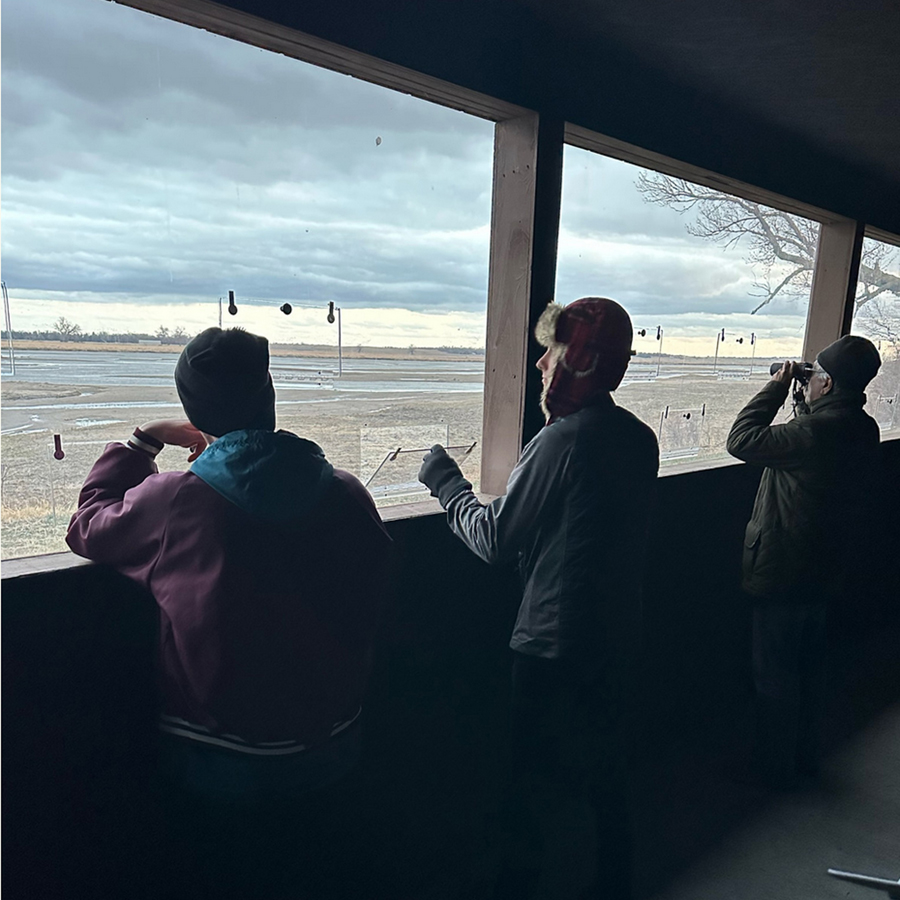 Finally, they reached the Crane Trust, a habitat conservation nonprofit located on the Platte River. A tour began with an educational video inside the visitor's center, followed by a quarter-mile hike to a blind on the river's edge. From the blind, across the river in the fields — the group observed the cranes eating leftover corn to bulk up for their flight north and performing their mating dance, which, from a distance, looks like popcorn kernels popping.
The whole experience was a lesson in natural history — cranes are among the oldest species of bird on the planet, with fossils dating back at least two million years according to the Nature Conservancy. The birds have made this migration from Mexico to Canada each year throughout that time, and it's one of the biggest migrations on the planet.
"Going out to the blind was a once in a lifetime experience," said Grace Deines '23. "Being able to watch the sandhill cranes do their migratory dance and just witnessing them in general was a dream and something I will never forget."