It's been 35 years, but the six men of Quad Two remember many of their Doane experiences like they happened yesterday. Experiences like staying up to finish homework together, the tiny television tuned to late-night reruns of dog races. Giving subtle — and not-so-subtle — challenges to each other to get better grades, run further and faster, add that extra weight during lifting.
Experiences like realizing at the end of their first year on campus that they would be the ones Black students in the incoming class would look up to. And that the gestures made by mentors, coaches, professors and friends that may have seemed small to others left a truly lasting impact on all of their lives.
That impact was a driving force for them — André Davis '89, Tony Tolliver '88, Jerry Gamble '88, Dexter Hoskins '88, Steve McAlester '88 and Jerall Moreland '89 — to create the NexTus Scholarship. Four of the six alumni visited campus on April 22 to speak about the scholarship, meet with students and employees, and see old friends.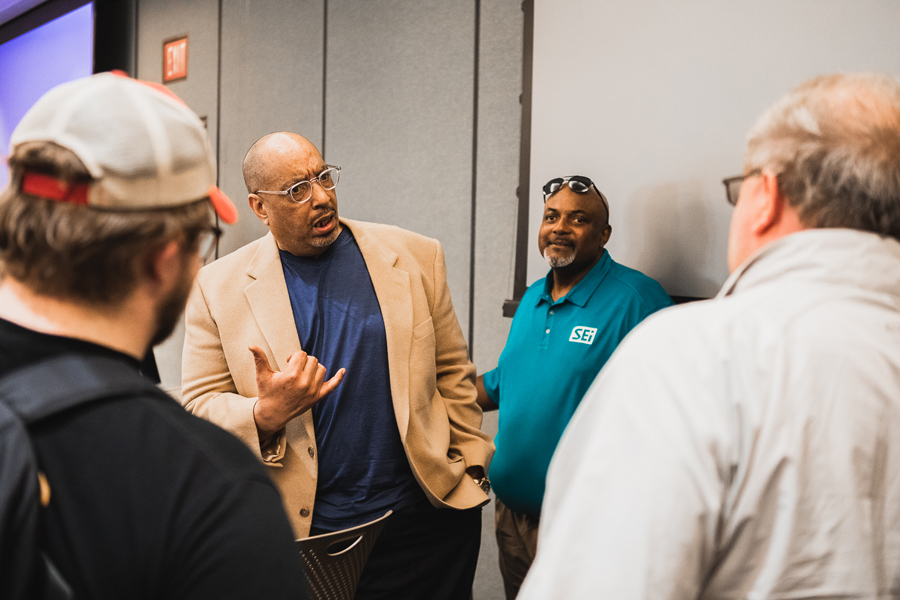 The name stems from a combination of three words: next, us and nexus.
"So think about what a nexus means. It means connection, it means relationship, it means joining," Tolliver said. "And 'us' is in the middle of that. That means us as a Black man, as Black students, as Doane alumni. We wanted to do something for people who look like us who had an experience like us that they weren't anticipating."
Take Tolliver for example. During his time at Doane, he fell and broke a tooth — but was unable to pay for a dentist to fix it and considered dropping out. Instead, Marty Fye, then an admissions counselor and currently vice president for advancement, located some funds through the college to cover Tolliver's dental work.
Fye was only a couple years older, but started as an advisor and remained a friend with all six men throughout the years. That friendship culminated in a trip back to campus several years ago. In speaking with Fye, they learned there were many other instances where the college had stepped up to support students, but there wasn't a specific fund for it. And from there, the idea for the NexTus scholarship was born.
"For many kids of color that are coming to schools like this out of state, et cetera, we can't rely on an account…there are no funds sitting anywhere you could pull money and go, 'hey, you know, car broke down,'" Davis said.
Most of the six were first-generation college students, and most held multiple jobs throughout their time on campus. But if something came up beyond the $20 or so they had to get through each month — that was it.
And those challenges still present themselves to students today, particularly students of color and first-generation students. There are no college funds. There are no generational resources to pull from, either.
"If your family wasn't able to assist you, I mean, what do you do? That can be very stressful," Hoskins said. "It's gratifying to us to be able to help out in that perspective."
The NexTus scholarship has already been awarded to several students who faced unforeseen circumstances — one additional scholarship was presented to sophomore Jaelynn Scott during a luncheon held while the four men were on campus on April 22. The scholarship is awarded to minority students studying on Doane's Crete campus on an as-needed basis.
Donations can be made to the scholarship by calling Doane's Office of Institutional Advancement at 402-826-8256 and asking for Fye or Julie Rasgorshek, executive director of the Doane Fund.