When Doane University's presidential search committee started looking through applicants in early 2021, they had a tall order ahead of them. Constituents including the Board of Trustees, current students, faculty and alumni had weighed in with a laundry list of characteristics Doane's next president needed to have.
Resilience. Fundraising experience. An academic. A people pleaser. Someone who could grow enrollment. Someone who could connect with alumni.
"Dr. Jill Smith '70, former search committee chair, said to me, 'I think they want us to hire Jesus,'" said Paul Schelstraete '74, a member of the Board of Trustees and presidential search committee chair after Smith stepped down.
"We waded through resumes. Some were current, former presidents. Some were provosts. Some lawyers and bankers. And one football coach."
Almost a year and a half later, on Saturday, April 30, the Doane community held a ceremony to inaugurate Dr. Roger Hughes '82 as the university's 13th president. Hughes, who returned to Doane after 40 years of coaching football, most recently as head coach for 10 years at Stetson University, did more than check the boxes.
He brought the question: How can we do it even better?
It's a mindset that Hughes learned growing up in Crawford, Nebraska, working cattle with his father, and carried with him throughout his education and career. He graduated from Doane College in 1982, and received his master's and doctorate at the University of Nebraska-Lincoln, where he was part of the Husker football coaching staff under Dr. Tom Osborne.
From Nebraska, he made his way to coaching staffs as an assistant at the University of Wisconsin-Whitewater, Cameron University and Dartmouth College. Hughes served as the head football coach at Princeton University as well, prior to moving to Stetson.
"I think it says a lot about a person, how many people follow you when you leave," said Dr. Matt Wilson, senior director of development for athletics at Embry-Riddle Aeronautical University and keynote speaker at the Saturday ceremony.
Wilson and Hughes worked together at Stetson — Wilson was actually on the hiring committee that chose Hughes to remake the university's entire football program a decade ago, and quickly became close. Lance Leipold, head football coach at the University of Kansas, also spoke during the inauguration ceremony — he found a lifelong friend in Hughes after meeting him while coaching at the University of Wisconsin-Whitewater.
Wilson asked audience members who felt they had been influenced by Hughes, as colleagues, as a coach, as friends and teammates, to stand. Nearly two dozen people did.
"To be better individuals, we must become better teammates," said Maddison Hughes '18, quoting a statement she not only heard but observed her father embody throughout her life.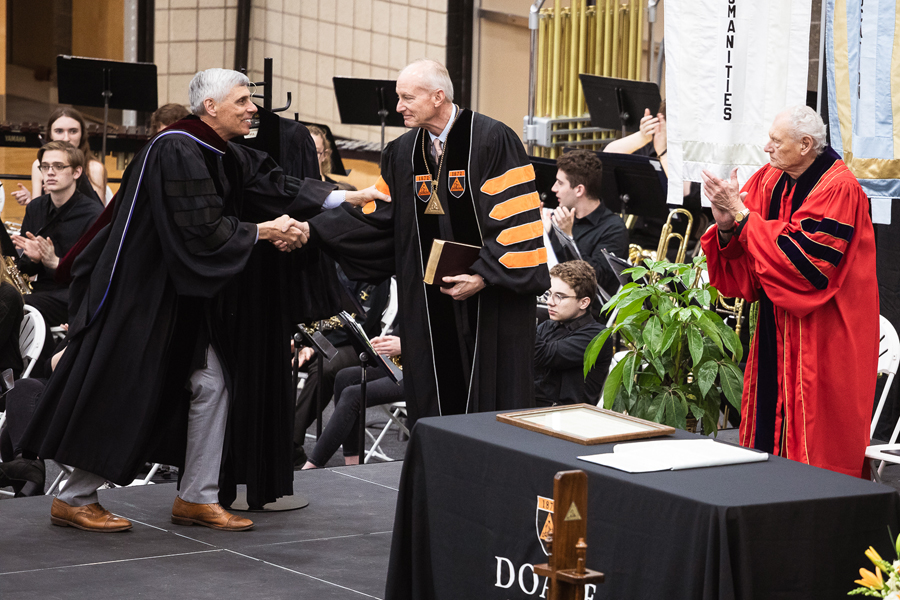 Due to COVID-19, Hughes's inauguration ceremony was actually held toward the end of his first year as the university's president. From his first week in office in June 2021, he emphasized to the Doane community that his door was open — that he wanted to be accessible to all, if not always available.
During the year, he held listening tours to get to know staff and faculty, met with students and traveled to alumni events. He encouraged the creation of a staff council along with the existing faculty council.
In short, he didn't ease himself into the role. He jumped right in.
"Roger as a leader is going to be listening, going to ask a lot of questions," Wilson said. "'How do we do it better,' [the question] drives him on a daily basis."
With his second year in mind, Hughes ended his inauguration speech with a call for the Doane community — to adapt. To look for opportunities to form new partnerships. To face the challenges coming to higher education across the country. And to remember that, to some degree, Doane has already done all of this, on a much shorter timeline when first encountering the pandemic.
"Sure, we can do it alone, but together, we're stronger," Hughes said.
Schelstraete said, as he was looking through resumes, he gave a call to Joe Glenn, Doane's head football coach from 1976-79. What did he remember about Roger Hughes?
He couldn't catch a cold, Glenn told him, but he was always helping his teammates. One day at practice, Glenn asked Roger to take off his helmet, and put a whistle around his neck instead.
"For a kid from Crawford who couldn't catch, I'm glad he caught on at Doane," Schelstraete said.