Featured Tigers is a monthly series wherein the spotlight shines on a few students, alumni, faculty and staff from our Crete, Lincoln and Omaha campus locations. These individuals stand out in the best way — as talented and driven leaders. This month, we're highlighting our 2023 Alumni Award winners.
Builder Award winners Dr. Barbara Cole '63 and Michael Krantz '83
Educator of the Year Dr. Chad L. Denker '93, '97E, '01E, '14E, '19DE
Exceptional Service Award winners Tonya O'Neel '13L and Michael Rapp '76
Honor D Award winner Don Partridge '83
Paul Kersenbrock Humanitarian Award winner Jessica Alexander Cochnar '06
Platt Music Award winner Scott Morris '05
Young Alumni Award winner Nicole Tegtmeier '13
View all Featured Tigers here.
Dr. Barbara R. Cole '63 — Builder Award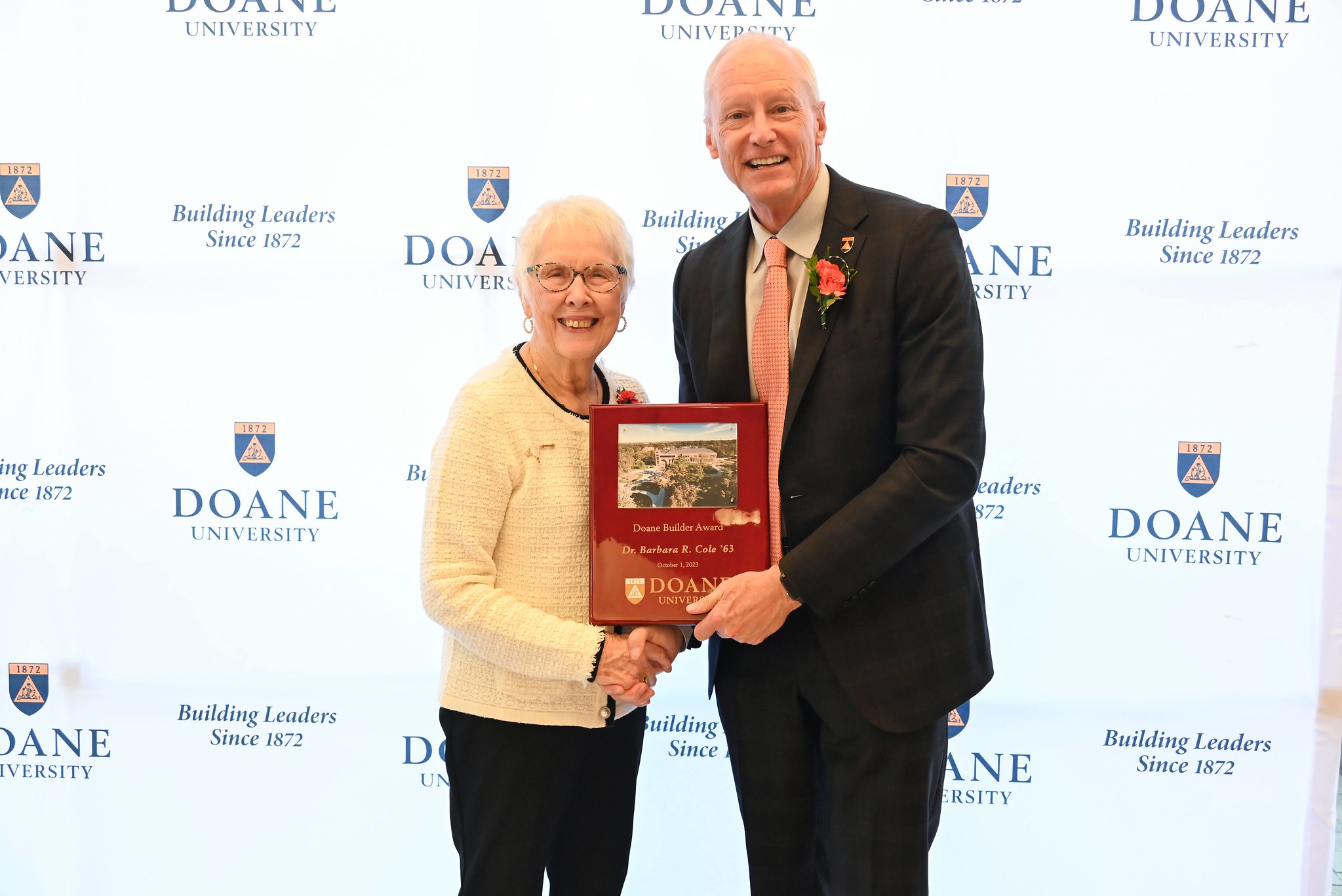 Barbara Cole came to Doane from Gaylord, Kansas, in 1959. A biology major, Barbara became heavily involved on campus through organizations like Alpha Lambda Delta, Cardinal Key, Frees Hall Council and Gamma Phi Iota sorority. She was also named the Duchess of Homecoming court, was on Doane Relays Court, May Fete Court and was named a Doane Scholar, graduating magna cum laude.
After graduating, Barbara attended the University of Kansas School of Medicine, receiving her MD in 1967. After her residency at KU, she moved to St. Louis for a post-doctoral fellowship in Pediatric Nephrology (the treatment of kidney diseases in children) at Washington University School of Medicine in St. Louis and St. Louis Children's Hospital. She joined the Pediatric faculty there and remained until 2001. In addition to her many professional administrative responsibilities, Barbara led an active research program, taught many students, residents and fellows, advocated for quality improvement and medical care, and cared for many patients with kidney diseases.
During her career, Barbara rose through the ranks of Associate Professor to Head of Pediatric Nephrology, became the first female President of the American Society of Pediatric Nephrology (ASPN) in 1988 and served as the President of the Children's Hospital Medical Staff (1999-2001). She would receive the ASPN Founders Award for lifetime achievement in 2006. Upon her retirement, St. Louis Children's Hospital named "The Barbara R. Cole Annual Quality Award" for her. This award goes to the department that establishes the most effective quality improvement project each year.
Barbara has always kept Doane in her heart, and Doane has been blessed through her years of continued involvement. In 1973, Barbara received the Doane College Young Alumnus Award, honoring her demonstration of and lasting commitment to the highest ideals of excellence after graduating. In 1990, Barbara received the Faculty Award for Distinctive Scholarship, which honored her creative contributions, accomplishments and leadership in scholarly pursuits and endeavors. In 2008, she joined Doane's Board of Trustees, where she has dutifully served to this day.
Barbara previously described how the late Dr. Katherine Buell, a professor at Doane, was a major inspiration to her as a student and throughout her professional career, stating: "I found an accomplished woman of science who was also a pianist, had taught herself Latin and Greek, and who had done essentially what she wanted to do," Barbara wrote. "Further, she was a good teacher who took such delight in the subject matter, and her enthusiasm was infectious. Reflecting on her success, I began to think that I could do what I really wanted to do, and that was medicine."
Today, Barbara is receiving Doane's Builder Award, presented to an alum who has distinguished themselves and Doane through outstanding achievement, professional accomplishments, community service and a continued relationship with Doane. This award is the highest award an alum of Doane can receive, and we confidently can state that, much like Katherine Buell, Barbara Cole has made her mark on Doane, her communities and countless lives. And that's a real, lasting legacy.
Barbara was married to the late John L. Quigley Jr., DMin. They moved to the coast of South Carolina in retirement. She has two step-children and one grandson who lives in St. Louis.
Michael W. Krantz '83 — Builder Award (presented posthumously)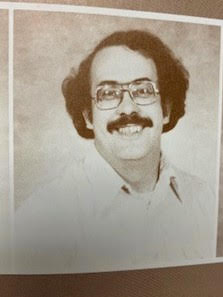 Michael Krantz didn't immediately go to college. Instead, he went into the military and then into the workforce for a number of years before deciding to get his degree. He was a first-generation, non-traditional student — which made completing his degree from Doane at age 32 all that much more of an accomplishment in 1983. And why he established a scholarship fund to support future Doane students graduating from schools within Saline County.
Krantz graduated with a degree in accounting and went on to become the business manager of Peter Kiewit Construction for 14 years. He worked on projects from coast to coast — New York City, Phoenix, Omaha, Las Vegas and the Pacific Northwest. While at Doane, Krantz met his wife, Geralyn Semerena, who completed her degree in 1985. The two lived together in Omaha until their deaths just three months apart in 2001.
Although the Krantz Scholarship was initially given just to graduates of Crete High School who were also first-generation college students, eligibility was expanded to include all graduating high school seniors in Saline County, with a preference for first-generation students. The first Krantz scholarships were presented to Anna Flores '19 and Sergio Casteneda '19 in 2015. Since then, the scholarship has provided $5000 annually — $20,000 over four years — to 14 students pursuing their Doane education.
Dr. Chad L. Denker '93, '97E, '01E, '14E, '19DE — Educator of the Year
Written by Jose Villalpando '23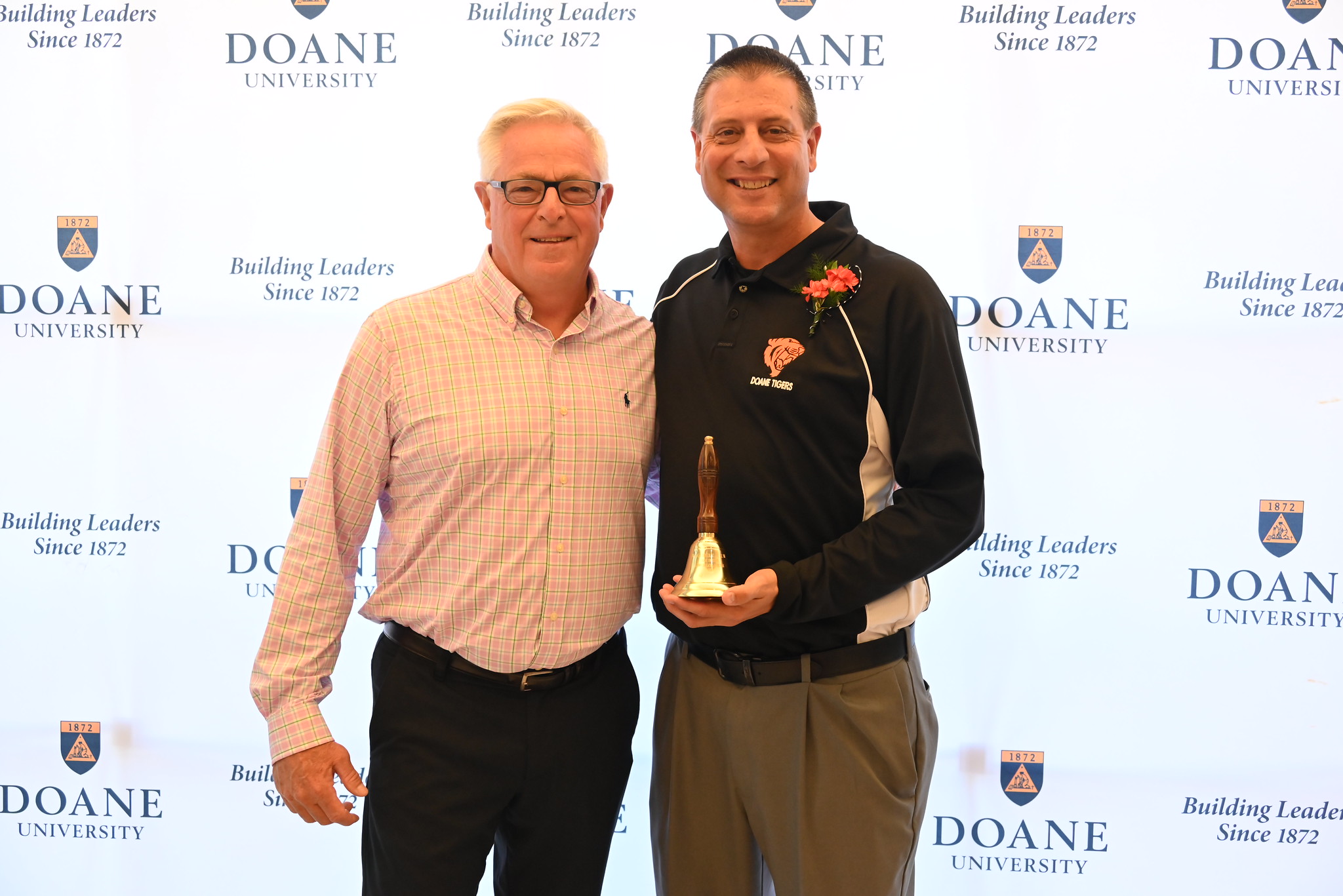 Dr. Chad Denker is known for going above and beyond. Case in point, he's a five-time Doane graduate.
He's known since high school that he wanted to be an educator. Denker lost his best friend in a car accident just before the start of his senior year in high school, and the support he received from teachers and staff made a lasting impact on his life.
"Several teachers and coaches, along with the superintendent, helped me get through a very difficult time in my life," Denker said. "Because of that, I knew I wanted to be a teacher and coach and eventually a school administrator so that I could return the favor."
Once at Doane, Denker found his place in the classroom and on the track and field team. He came back, again and again, because of the people – the peers he met in each cadre, the professors and coaches.
"By the end of the two or three years, you not only had a degree but a network of friends and colleagues that you could rely on for help and advice," Denker said. "Coaches like Fred Beile, Dave Dunnigan, and Ed Fye created an environment in which members of the track team felt like family, not just teammates."
Now, Denker is the superintendent for David City Public Schools, a position he has held since fall 2013. Over that decade, Denker has seen to various improvements to the school district including an all-day preschool program, a walk-to-read/walk-to-math program for students to approach subjects at their own pace, three facility projects totaling more than 12 million dollars, and more.
"I have always wanted to leave a school and have people say that I left it in a better position than when I arrived," Denker said. "My goal has been to make our school the best it can be so people want to work here and people want to send their kids here."
Even through all the accomplishments while under his leadership, Chad doesn't like to take full credit.
"I'm fortunate enough to have a good team that is involved behind me. This award is not just mine, but theirs as well," Denker said.
As a final note, he thanks Doane faculty and staff for their helpfulness in preparation for his career. One day, he says, he hopes to return to Doane in some capacity.
Denker lives with his wife, Chantel '98 (Hilpert). They met at Doane and recently celebrated their 27-year anniversary. Together they have three boys, Clayton, Caden and Cohen.
Tonya D. O'Neel '13L — Exceptional Service Award
Math isn't Tonya O'Neel's strongest subject. But her can-do attitude helped her pass Mr. Grothen's math composition class and maintain a 4.0 GPA in her Doane undergraduate career.
Tonya dubs this knack of hers, "find a way, make a way."
It's how she's finished four half-marathons and raised money for the Children's Cancer Research Fund as part of the Great Cycle Challenge. How she earned her bachelor's degree in human relations while working full time. And it's what makes her an exceptional servant leader.
Since graduating in 2013 from Doane's Lincoln campus, Tonya has been involved in the university in some capacity. Most recently, she served on the Doane Alumni Council from August 2014 - June 2022. During that time, she served in various roles including social media ambassador, secretary, vice president and president.
She's also participated in Doane's Champions Club, Educator Recognition Program, Postcard Project, One Day One Doane and other events.
Even now, with her Alumni Council days behind her, Tonya feels connected to Doane.
She said her faculty and peers transformed her into who she is today, professionally and personally. And the skills she developed as an undergraduate — "such as building interpersonal relationships, research, writing and meeting deadlines" — permeate into her career today.     
"The best part of my Doane experience is the lifelong relationships," Tonya said. "I have met some of my closest friends at Doane and am blessed to hand off the torch to my best friend's nieces, who have attended [or] are attending Doane all of the way from Las Vegas."
Originally from Lincoln, Tonya works at Fiserv as a senior proposal manager. She recently earned Association of Proposal Management Professionals certification.
Tonya said she "was surprised, honored and grateful" upon learning she received the 2023 Exceptional Service Award. And from here, she'll only continue finding and making ways to serve her family, friends, community, career and Doane.
Dr. Michael F. Rapp '76 — Exceptional Service Award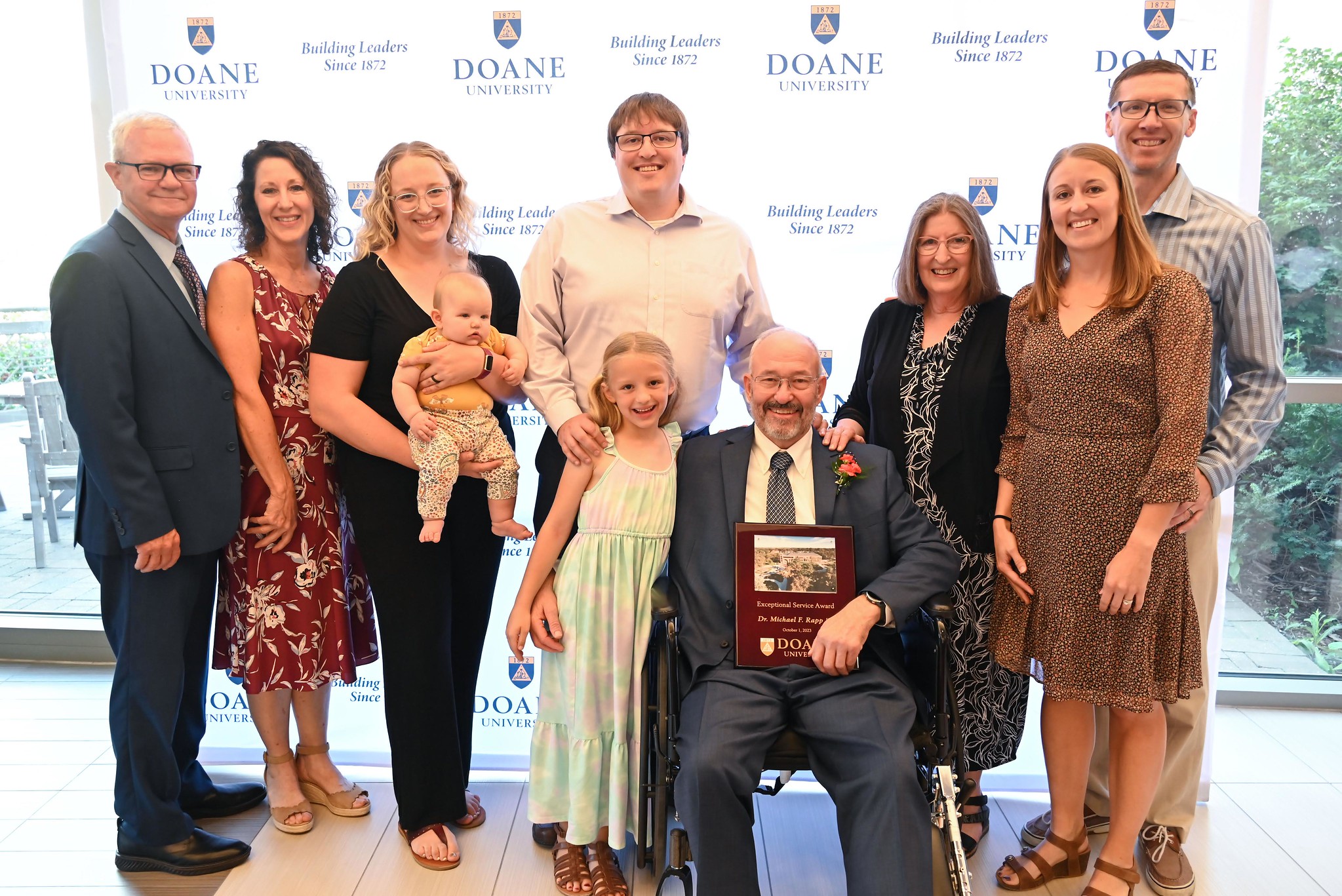 Michael Rapp, a Crete High grad, credits his education from CHS and Doane for helping prepare him for the successes and challenges he'd face in his professional life.
At Doane, Michael majored in biology and natural science while participating in wrestling, Student Congress and Delta Kappa Pi fraternity, among other activities and honors. It was also at Doane where he would meet his lifelong partner, his wife, Jody Rehm Rapp '76.
After graduation, he worked toward his graduate degree from the University of Missouri but was accepted into medical school before completion. He received his MD from the University of Missouri School of Medicine and then completed his residency at Southern Illinois University.
Michael's career, which began in humble beginnings as a high school teacher, would see him advance from an ear, nose and throat surgeon to serving as the chief medical officer at Saint Elizabeth's Medical Center in Lincoln. In 2019, he was beginning to look forward to retiring and spending more time with Jody on their fourth-generation farm in Denton while also looking to travel and spend more time with their kids and grandchildren. However, once it became clear that COVID-19 was beginning to spread, retirement would be put on hold.
"Jody told me I could not in good conscience retire with the disaster looming, and I agreed," Rapp said. "We decided together to do everything we could to help mitigate it."
As the chief medical officer at CHI Health St. Elizabeth, Michael was appointed the hospital's COVID liaison, which landed him on a committee to assist Lancaster County in creating, implementing and carrying out strategies to combat COVID. Through this role, he would become the point of contact for proposed initiatives for Dr. Gary Anthone, the chief medical officer for the state division of Public Health, and Dr. Tom Safranek, the Nebraska state epidemiologist at the time.
Governor Pete Ricketts and Dr. Anthone soon asked Michael to oversee TestNebraska at a time when there were minimal treatment options and no vaccine, but when testing was vital to attempt to contain the disease. Fortunately, the CHI leadership was in agreement with the endeavor. This $28 million project started in St. Elizabeth's lab, and along with TestNebraska, would perform the largest PCR testing in Nebraska's history.
Fast forward through many sleep-deprived days, through mass vaccination clinics at Pinnacle Bank Arena — where Michael was one of the first physicians reviewing intake forms and administering the vaccine — and in May of 2022, retirement became a reality.
"The pandemic energized Jody and I with the opportunities it offered to help the community and state," Rapp said. "The Crete [and Doane] education system prepared me for the most challenging and energizing time in my career, right when I was burnt out. With that foundation, I was able to do something very significant that impacted many lives."
The Nebraska Medical Association named Dr. Michael Rapp the 2022 Physician of the Year for his leadership in Nebraska during the pandemic. Today, Doane proudly presents him with the Exceptional Service Award — not just for his COVID contributions to the community, but for his ever-present demonstration that at Doane, we build leaders.
Don D. Partridge '83 — Honor D Award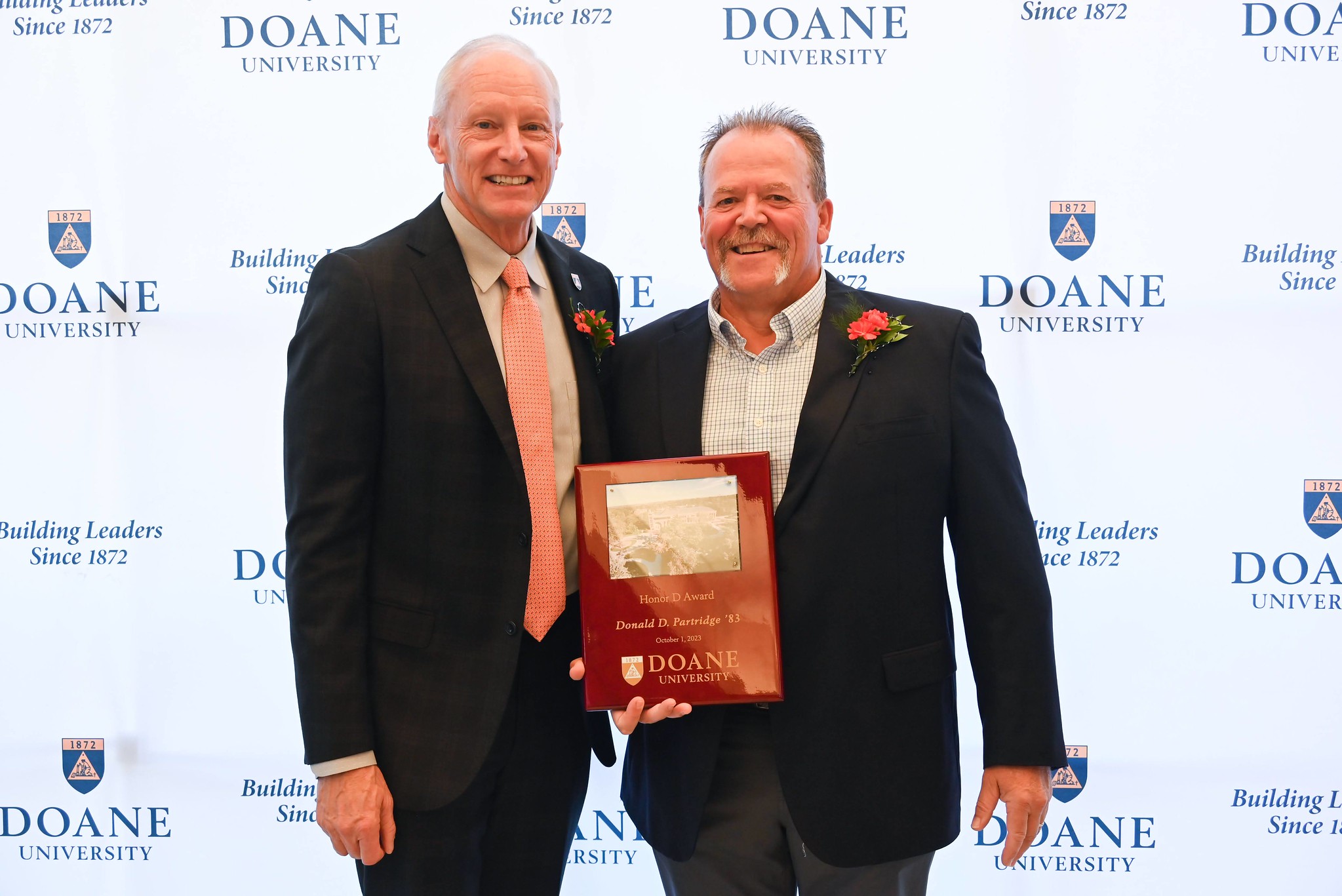 "Shock, surprise [and] wonder" were Don Partridge's immediate thoughts.
"Not sure what exactly I did," the 1983 grad thought. Honor D recipients are a prestigious alumni group of Doane student-athletes, defined by excellence in their sport and continued excellence and service in their lives today.
Much to Partridge's bewilderment, he comfortably fits in.
The Wood River native and his family recently moved to Ashland from Wahoo, where he and his wife, Susan, raised their four children. It's a short drive from Omaha where he serves as President of Bobcat Equipment group of Nebraska. His location has been named one of the top Bobcat dealerships in North America for seven straight years.
He was as successful on the track and field, helping Doane win eight conference titles, four in indoor and four in outdoor.
Partridge gleaned more than just the tendency for success from his time at Doane. He runs a line from campus through every aspect of his life.
"[I] always worked hard and tried to help others achieve what they wanted," Partridge said. "The reality is the lessons from Doane athletics got me here. Coaches that motivated and teammates that pushed each other to be best. The discipline to win. The feel of family that never leaves you."
While at Doane, Partridge also participated in football and Sigma Phi Theta fraternity. He majored in business administration.
"I am very grateful," Partridge said of his Honor D award. "[I] never dreamed [of] this."
Don and Susan have four children: Shelby, Brock, Madison and Luke. Luke is a senior at Doane who holds the second-longest hammer throw in school history and is an NAIA All-American. Don also brews "really good beer" — ask him about it!
Jessica L. Alexander Cochnar '06 — Paul Kersenbrock Humanitarian Award
Since the age of five, Jessica Alexander has found comfort on stage, dancing and acting. At this point, you can call it a home.
Jessica studied theatre at Doane, where she also was involved in the dance team, Phi Sigma Tau and Alpha Psi Omega.
In her current role as artistic director at Class Act Community Playhouse, she's inspired to curate a safe environment for kids spackled with an energy and passion for the arts she gleaned from Doane theatre professor Rob McKercher.
In more ways than one, Alexander has drawn on her Doane experience in her career. Within the span of three years, she transitioned from a new employee at the children's musical theatre, to managing then ultimately buying it.
"[My Doane experience] gave me the confidence that I needed to become someone that was in charge of staff, and working with kids and their families," Alexander said.
In 2016, Alexander turned the theatre into a non-profit. She always strived to balance running a business — let alone a theatre ("there is not always a lot of money in theatre" she said) — with creating a welcoming space for families and kids.
With non-profit status, the theatre is allowed to apply for grants, accept donations and work with corporate sponsors. Her husband, Michael Cochnar (a 2010 Doane graduate), serves as Class Act's managing director and executive producer.
"While running the theatre I have always kept my goal of creating an accepting atmosphere for any kid who enters the program," Alexander said. "We want all of the kids to have their shining moment on stage. Every role in a script is important or it wouldn't be written. That's the philosophy I teach."
"I love to be the person who opens up creativity and confidence in kids, regardless of their experiences or obstacles that they may have in their lives," Alexander continued. "On stage, they get to be whoever they want to be."
Alexander mentioned some of the children identify as part of the LGBTQIA+ community or struggle with mental health. She discovered the "magic of theatre" at a young age, and has made it Class Act's mission to create that opportunity for others.
"These kids find their home on stage as well, and it is so important to give them a place where they feel they can thrive. It is what I take pride in and it is what I lead my team in teaching with all of our students and programs."
Jessica and Michael live in California with their three children, Ophelia, Imogen and Marrs. She holds an MFA from New School University.
Scott M. Morris '05 — Platte Music Award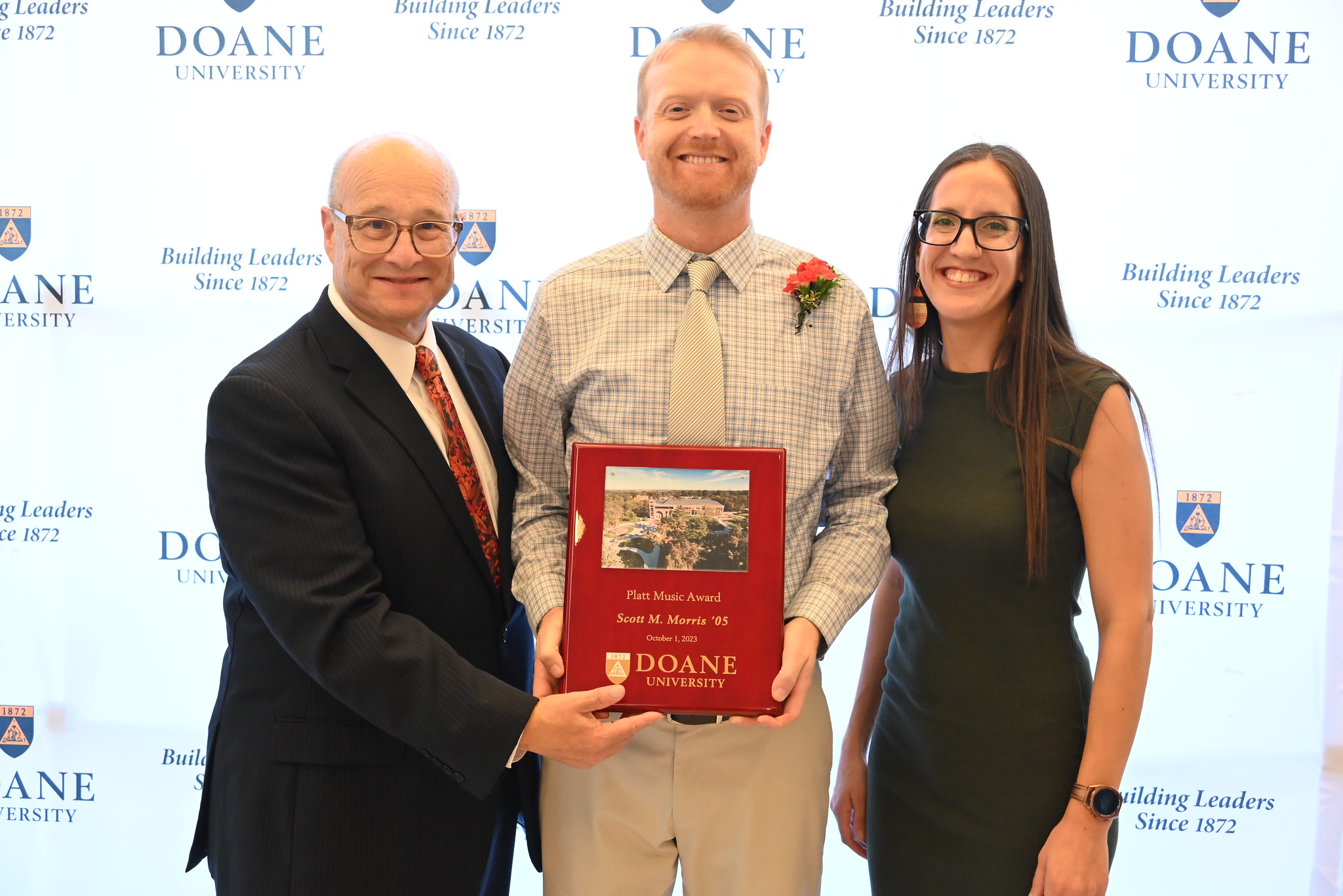 Scott Morris remembered admiring recipients of the Platt Music Award. In his mind, it was presented to Doane alumni who were veterans in music education and performance. Knowing the legacies of previous award winners, he hadn't considered that he could be among them.
"I was surprised at first," Morris said, after hearing he had received the award.
He's one of several Doane grads in his immediate family. He graduated in 2005. In years since, Morris has been an adjunct faculty member at Doane, providing instruction to the university's concert and jazz bands. He started working at Kiewit Middle School in 2019 as a band and general music teacher.
In March 2023, the Kiewit Jazz Band was one of just eight bands and ensembles selected to perform at the Nebraska Music Education Association's Capitol Concert Series — as in, the band played inside the Rotunda of the Nebraska State Capitol to state senators and the public.
Morris is also a musician outside of the classroom, taking his saxophone out to play in Omaha-area bands. He also started a record label with a colleague, Mr. Furious Records, which is based in Lawrence, Kansas.
Nicole J. Tegtmeier '13 Lawson — Young Alumni Award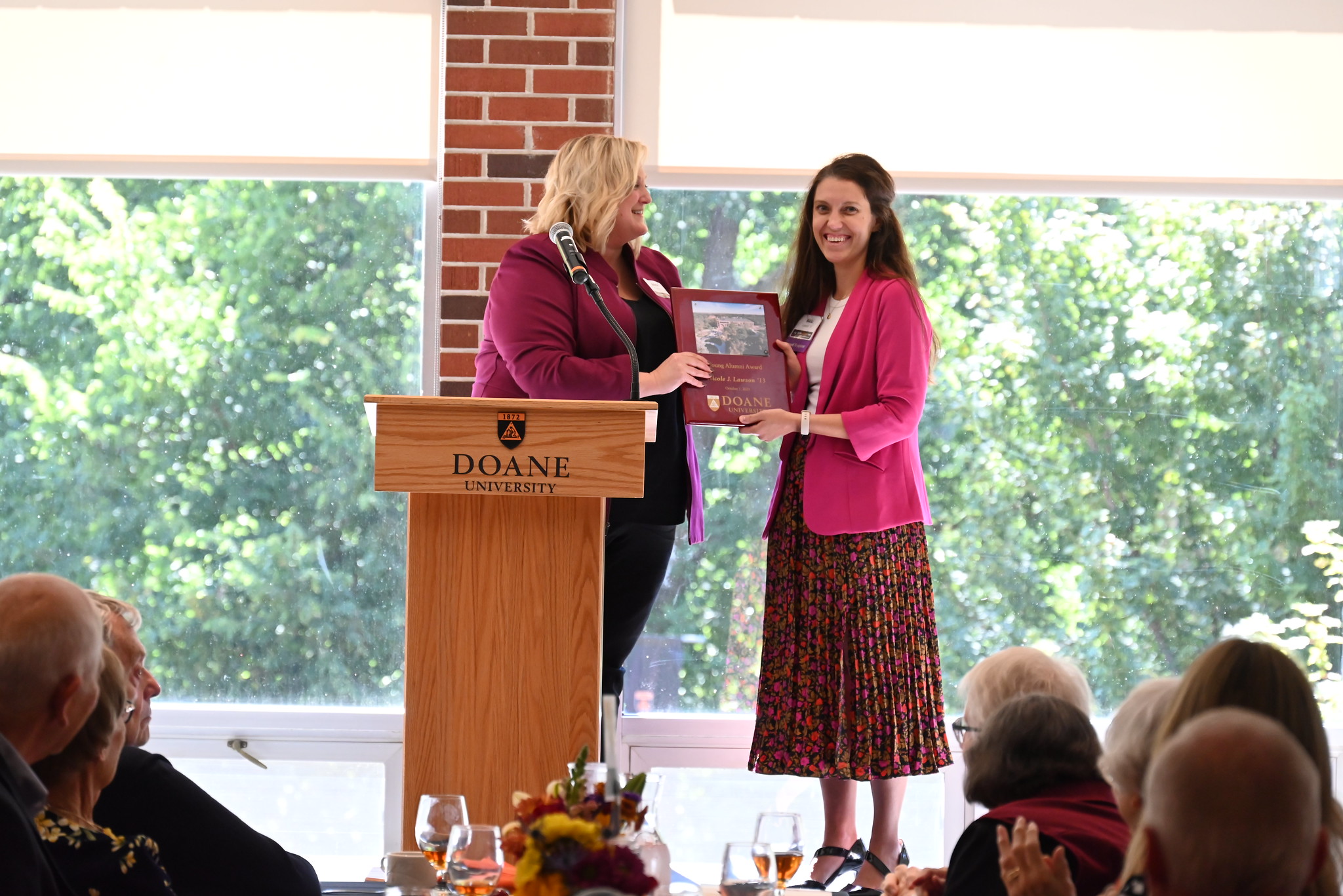 At each step in her career, Nicole Tegtmeier Lawson has relied on her Doane education, from entering law school, to being elected as Seward County Public Defender, to her current position as an assistant public defender for Douglas County.
"Doane gave me the knowledge and confidence I needed to go out into the world and succeed," she said.
Lawson's role in Douglas County focuses on juvenile cases, providing legal representation at no cost to parties who cannot afford a private attorney when accused of misdemeanor or felony charges. It's not uncommon for her cases to require challenging and difficult decisions related to juvenile delinquency and neglect.
Lawson is the recipient of the 2023 Young Alumni Award for her work as a public defender.
"I was completely honored," she said, upon being informed of receiving the award. "There are so many deserving people that I went to school with, so this is very much an honor."
She currently lives in Omaha, with her husband, Matt Lawson, and two children, Niarie and Cairo. At Doane, she majored in political science and Spanish, was a member of Gamma Phi Iota and participated in both Relay for Life and the Doane Ambassadors. It isn't just her education that has stayed with her over the past decade, but the relationships she built on campus.
"My friends and I live all across the United States now, so seeing one another isn't as easy as walking down the hall. But I cherish the days when we were able to do that," she said.
She and her husband actually met (in a roundabout way, Lawson said) because of a friend made at Doane.
"My four years at Doane will always be a highlight for me. From the friendships I made to the things we were able to accomplish, I very much cherish the time I spent at Doane and am honored to receive this award," she said.