Our nontraditional and graduate students are some of the hardest-working Tigers you'll meet. While they earn their degrees, most of them maintain other responsibilities, such as working full time or parenting. And their effort and execution don't falter in the classroom, whether that be online or in person.
Meet our class of 2023 Featured Tigers, leaders in all aspects of their lives!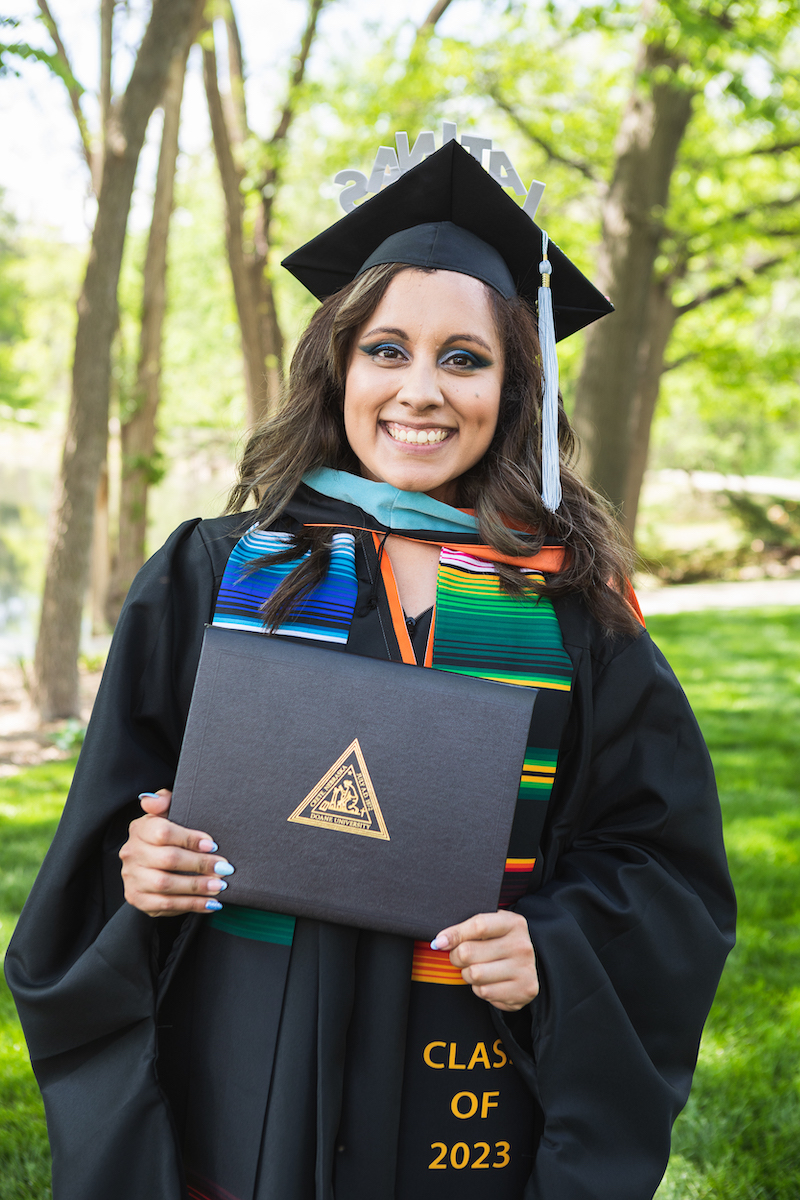 Name
Noemi Arias Saldana (she/her)

About
Hometown: Crete, NE
Currently live: Papillion, NE

Degree
Master of Education in Educational Leadership

First off — congratulations! How do you feel as you head into the next phase of your life?
As a first-generation student, I never thought I would be completing a master's program. I am part of the 8% of Latinas with a master's degree and I am proud of it. All the hard work I put in these last two years was worth it, especially knowing I am motivating other students of color. I am excited to see what opportunities come my way.

What's your next step after graduation?
I will continue to work as a 4th grade teacher at Betz Elementary in Bellevue, Nebraska. I am currently applying for the Ed.S program at Doane.

How has attending Doane prepared you for your next steps?
Attending Doane's Educational Leadership master's program has enabled me to experience more hands-on opportunities, such as having an insightful internship as a summer school principal at Crete Elementary and gaining a firm understanding on how to create a cohesive environment with all stakeholders involved.

What do you consider the best part of your Doane experience?
Creating relationships within Cadre 45! It would have been a tough two years if I did not have all the support from my classmates on this journey. The professors were always supportive. Huge thank you to Dr. Perkins for believing in me!

What will you miss the most about being a Doane student?
Hopefully this is not the end of my journey at Doane, and in a few years I'll be able to go through another graduation with a new degree!

Who was a major influence for you during your education here, and how have they helped you?
My parents were my biggest influence on furthering my education. With them not pursuing a secondary education, their values on post-secondary academics were instilled in me from a young age and is still driving me to pursue my Ed.S. and Doctorate degrees.

What is something you're proud of achieving or accomplishing while at Doane?
As cliché as it sounds, I am most proud to have the honor of walking across the stage to accept my master's in front of my friends and family. I would not be the person I am without their support.

What advice would you give to incoming students?
In all honesty, follow your dreams. If you want it, go for it! Be prepared for a lot of hard times in the process, but also know that the end game is worth it.

Finishing a degree is tough to begin with, but especially so in recent years — what has helped you overcome challenges you've faced along the way?
My support systems are the main reason I am able to graduate. My friends, family, advisors and colleagues have been outstanding with support and encouragement every step of the way.

Finally — what are you most excited about for your future?
The fact that so many doors have been opened with many more opportunities to come is absolutely a surreal feeling to me. I hope to one day find myself in an athletic director position on a collegiate level, where only a few Latinas are seen.