Our nontraditional and graduate students are some of the hardest-working Tigers you'll meet. While they earn their degrees, most of them maintain other responsibilities, such as working full time or parenting. And their effort and execution don't falter in the classroom, whether that be online or in person.
Meet our class of 2023 Featured Tigers, leaders in all aspects of their lives!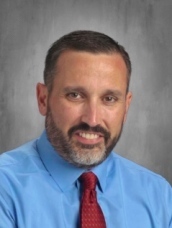 Name
Curtis Thomas '23E

About
Hometown: Plattsmouth, NE
Currently: Lincoln, NE
Moving to: Fairbury, NE

Degree
Education Specialist (December 2022)
Master of Education in Educational Leadership (May 2023)

First off — congratulations! How do you feel as you head into the next phase of your life?
I am excited to go out and apply what I have learned through my classes and experiences at Doane and use what I have put into practice in my current job as I start a new professional role.

What's your next step after graduation?
I have been named the Jr./Sr. High School Principal for Fairbury Public Schools, and my family and I are excited to start this new journey in our lives.

How has attending Doane prepared you for your next steps?
I have developed an understanding of what is expected of school leaders and built a strong network of colleagues and friends I will be able to call for help for the rest of my career.

What do you consider the best part of your Doane experience?
The best part of my Doane experience is the relationships I have built with my classmates and the knowledge that I will always have others I can count on for help and ideas.

What will you miss the most about being a Doane student?
I will miss the opportunities to connect with my classmates and find out what is happening in their lives. We will still be in touch, but I will miss seeing them and hearing from them on a regular basis.

Who was a major influence for you during your education here, and how have they helped you?
My teachers, professors and colleagues all helped me learn so much about the roles, responsibilities and what goes into making quality educational leaders. I want to thank all of them for their help and time. I especially want to thank Dr. Josh Fields and Dr. Cindy Gray for their patience with me in their specialist Cadre. Kris Morrison, Alan Eighme, Michelle Phillips, and Dr. Bess Scott helped keep me on track and motivated to finish my master's degree in educational leadership. Finally, I couldn't have gotten through both programs without my friends and colleagues Rachel King, and, especially, Beth Seegebarth.

What is something you're proud of achieving or accomplishing while at Doane?
I am proud of the fact that I was able to complete two degree programs while being a dad, husband, school counseling leader, coach and so many other things all at the same time.

What advice would you give to incoming students?
Don't be afraid to try something new. The worst that can happen is that it doesn't work out how you thought it would, but other doors will open when you trust the process.

Finishing a degree is tough to begin with, but especially so in recent years — what has helped you overcome challenges you've faced along the way?
My wife and kids have been supportive of me and believed in me from day one. They had no doubt I could complete everything and cheered me on, even when I wasn't sure of myself.

Finally — what are you most excited about for your future?
I am excited to take on a new challenge and a new role in public education. I have met many of my future colleagues already and am excited to begin working with them. I have held so many roles in education already in my career, and I am looking forward to seeing what this new challenge holds for my family and I.