Our nontraditional and graduate students are some of the hardest-working Tigers you'll meet. While they earn their degrees, most of them maintain other responsibilities, such as working full time or parenting. And their effort and execution don't falter in the classroom, whether that be online or in person.
Meet our class of 2023 Featured Tigers, leaders in all aspects of their lives!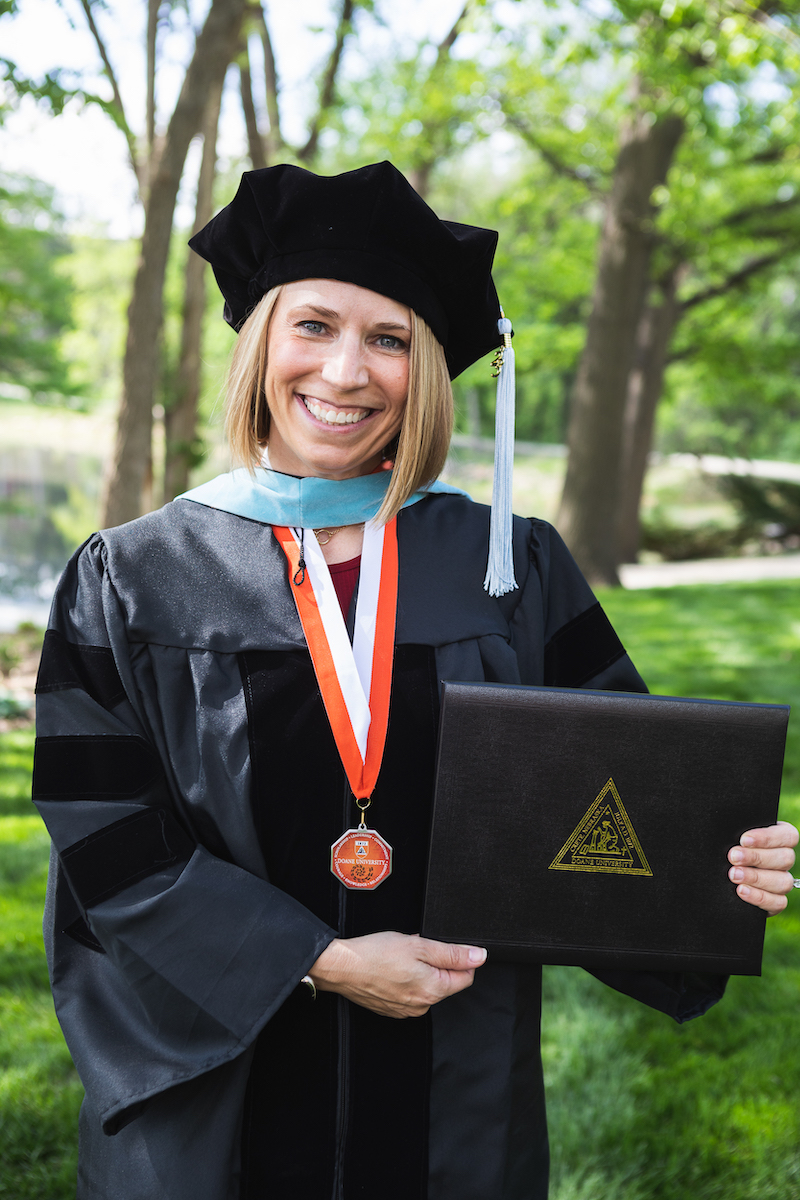 Name
Anna Thoma '23DE

About
Originally from New Ulm, MN; now live in Papillion, NE

Degree
Doctorate of Education
Dissertation: Leading Spiritually: Public School Leaders Promoting Collective Teacher Efficacy

First off — congratulations! How do you feel as you head into the next phase of your life?
I am excited to have completed a terminal degree and know that there isn't any door that will be closed to me based on my level of education!

What's your next step after graduation?
I will continue to serve in my capacity as a building administrator while adding the role of lead adjunct for Doane University's Educational Leadership Cadre 49 in Omaha. I am so excited to take on this new role for Doane!

How has attending Doane prepared you for your next steps?
I have become a more confident leader in knowing what I value and who I am. I look at things through a more critical lens to make certain that decisions we are making are what are best for students and our organization.

What do you consider the best part of your Doane experience?
The cadre members who became great friends and colleagues. I gained another group of people to lean on for advice, encouragement and humor!

What will you miss the most about being a Doane student?
The people I got to interact with each weekend!

Who was a major influence for you during your education here, and how have they helped you?
Dr. Teresa Perkins: there were a couple of times I thought about quitting and knew I had to reach out to Dr. Perkins to gain better perspective. She was and continues to be an unwavering support, inspiration, and role model to me! I'm blessed to call her a mentor and friend!

What is something you're proud of achieving or accomplishing while at Doane?
Earning my doctorate and allowing my children to experience that with me: through the process, at my defense and at graduation.

What advice would you give to incoming students?
Trust the process.

Finishing a degree is tough to begin with, but especially so in recent years — what has helped you overcome challenges you've faced along the way?
Having a support system, especially the one walking the journey with me. The cadre program is especially helpful in creating a sense of belonging and efficacy.

Finally — what are you most excited about for your future?
Discovering what's next!