Our nontraditional and graduate students are some of the hardest-working Tigers you'll meet. While they earn their degrees, most of them maintain other responsibilities, such as working full time or parenting. And their effort and execution don't falter in the classroom, whether that be online or in person.
Meet our class of 2023 Featured Tigers, leaders in all aspects of their lives!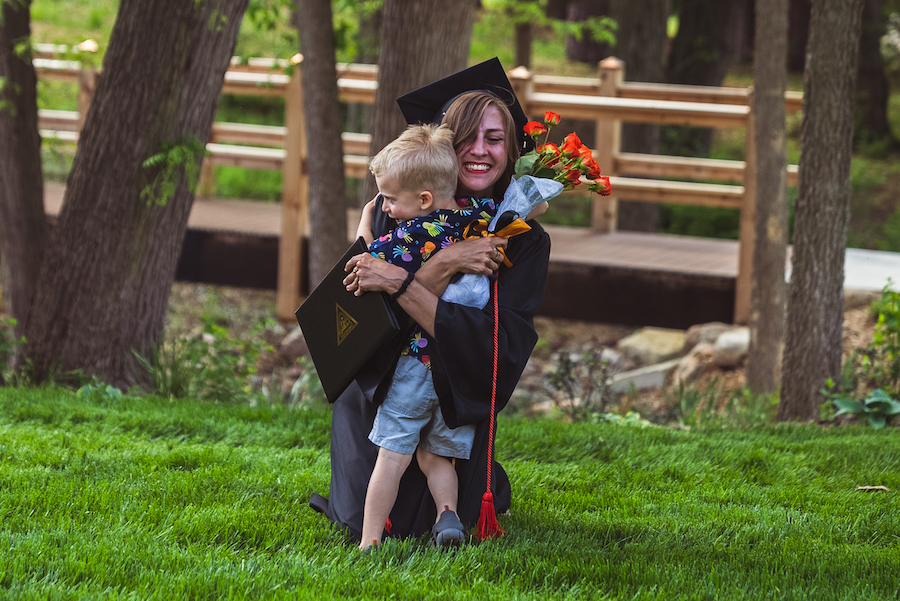 Name
Alaina Popp '23L
About
From Lincoln, NE

Degree
Bachelor of Science in Liberal Arts Studies (triple emphasis in natural science, social sciences and humanities)
First off — congratulations! How do you feel as you head into the next phase of your life?
Excited and proud of all I've overcome on my educational journey to earn my degree.

What's your next step after graduation?
Enjoying time with my son, Dean, before figuring out the next step in my career journey.

How has attending Doane prepared you for your next steps?
Doane provided with me a renewed confidence in my abilities, talents and leadership skills. The liberal arts education Doane provides has made me a well-rounded professional and better prepared me for whatever comes next in my education and career.

What do you consider the best part of your Doane experience?
The faculty I got to learn from were the best part of my Doane experience. They take the time to get to know you personally, help you discover your strengths, and then grow those strengths even more. I know whatever I do next, the faculty I have learned from will always be there to support and guide me.

What will you miss the most about being a Doane student?
As I work at Doane currently I'm fortunate to still see the staff and faculty everyday. What I'll miss most is the assignments that helped me grow and challenged me to think of things in a new way or see things from a new perspective. I'll also miss the engaging classroom discussions, especially in Charlena Miller's and Chris Brady's classes.

Who was a major influence for you during your education here, and how have they helped you?
Angie Klasek was the most influential person on my Doane journey. She was always there to listen, help problem solve, and provide inspiration and encouragement. Being a single mom made taking in-person classes a true balancing act. Angie understood this and was able to offer a level of flexibility for completing classes that no other institution other than Doane's Lincoln campus [location] could provide. Without Angie in my life, cheering me on, I never would have had the confidence to earn my degree. She truly changed my life.

What is something you're proud of achieving or accomplishing while at Doane?
During my time at Doane I consistently took an overload of courses each term and was able to finish my degree six months earlier than anticipated, concluding my undergraduate career with a 4.0 and graduating Summa Cum Laude. As a single mom who works full time, this is a huge personal accomplishment that I'm proud of.

What advice would you give to incoming students?
You can do this! At Doane you will be surrounded by supportive faculty, peers and staff. Don't let the fear or anxiety of returning to school hold you back. You're capable of great things and Doane's Lincoln campus [location] will help you reach your goals and dreams! I'm a proud Doane leader, and you can be too.

Finishing a degree is tough to begin with, but especially so in recent years — what has helped you overcome challenges you've faced along the way?
The staff and faculty at Doane became my support system and my family. Without their guidance and encouragement it could have been easy to give up. I never could have done this without them, especially after Angie's passing. Kelsee Meissner, Ann Koopmann, Charlena Miller, Chris Brady, Lucas Kellison, Josef Kren, Gina Hansen, Tere Francis, and Lorie Cook-Benjamin helped me succeed and overcome all obstacles.

Finally — what are you most excited about for your future?
I'm most excited to see what doors my Doane degree can open for me and stepping into my next journey, whatever that may be.