Margery Joan Hall Davison '49, who lives in Beatrice, received the 2022 Platt Music Award for outstanding achievement in music. Recipients are selected by the music department. Davison is one of nine Doane alumni recognized during the 2022 Alumni Awards Banquet on Oct. 9. Alumni who receive these awards exemplify the ideals taught at Doane, through their leadership and service throughout their careers and lives.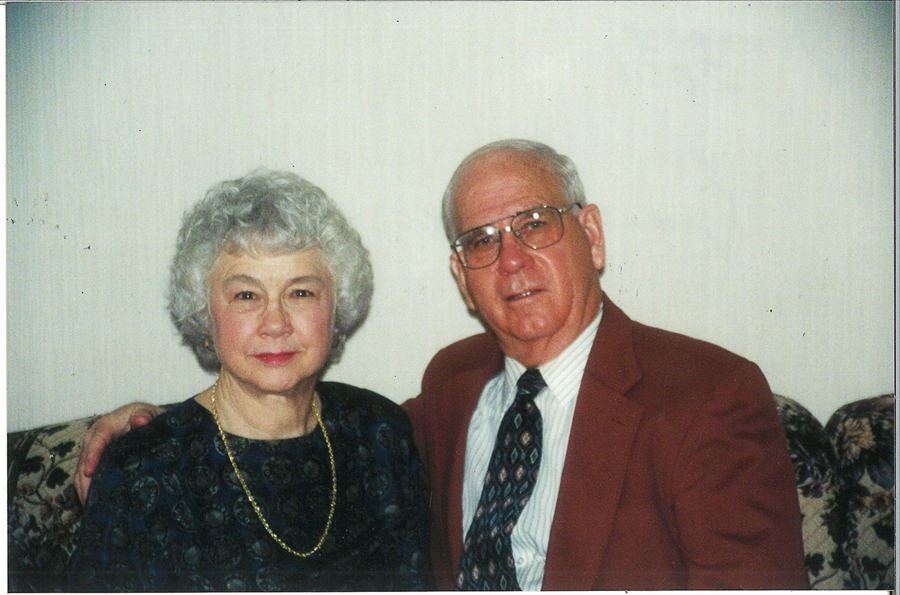 Bio written by Sara Hinds, copywriter.
At age 95, you've experienced a full life. But Margery "Joan" Hall Davison '49 can still be surprised.
"It's not over till it's over," she said, chuckling. "No matter how old you are there's still wonderful days ahead."
One of those days turned out to happen during a semi-regular weekly lunch with her two daughters, Annette and Diane.
It was a call from Doane announcing she was the recipient of the Platt Music Award.
To her it may have come as a surprise, but not to anyone who knows Joan (pronounced Jo-ann, i.e., doesn't rhyme with her alma mater). Which is quite a few people, as she's taught music for 33 years in schools and only just this year retired from offering private lessons.
"I really found a lot of satisfaction in that career, and I know it was the right thing for me to do, " Joan said of her career as a music teacher.
"But I just kind of mosey through life and let things fall as they would," she added laughing.
Her lifetime passion for music was no accident, though. At the age of 5 she accompanied her mom to a music store in downtown Denver. They returned home, her mom with a new piano and Joan with a half-size violin. And they played, her mom sitting at the piano, Joan waving her bow across the violin strings.
Her parents always encouraged her music abilities through her school years. Joan took private lessons as her school didn't offer an orchestra. In fact, she didn't play in a group until her freshman year at Fort Hays Kansas State University. She transferred to Doane the fall of 1946 after her parents moved from Kansas to Beatrice, Nebraska.
One of her favorite memories — and her legacy at Doane — is of reviving Omega Psi Theta sorority after nearly 20 years, with her roommate Pat Parsons.
After earning her degree in music, Joan moved back to Beatrice for an elementary school instrumental music teacher job.
"I was a little nervous at first," Joan chuckled.
She was in charge of teaching all the string instruments from bass to viola and every brass, wind and percussion instrument in between. Thankfully, at Doane, music majors focused one semester on each of the four instrument families.
When she retired from public school teaching in 1988, she carried on her private lessons, amassing nearly 30 students at one point. And she just stepped away from all lessons in 2022.
And she still thinks of her students fondly, recalling them by name and instrument and length of time, proudly sharing how they could play concertos on violin or advancing to the level of playing at weddings.
The music hasn't stopped for Joan, as she is president of Cosgrove Music Club, which is celebrating its 100th year this year. It's a role she's held many times throughout her membership, joining the same year she graduated Doane and started teaching.
The invitation-only club is comprised of music educators and performers who meet once a month to perform, learn about composers and spread the joy of music.
Not just a lady of the fine arts, Joan is an active member of Centenary United Methodist Church in Beatrice, where she directed the children's choir for 14 years. She served as president or volunteered with multiple organizations and was named as Professional Woman of the Year in 1981 by the Beatrice Chamber of Commerce.
"I just feel that to be a well-rounded person is what I wanted to portray in my teaching," Joan said. "I know these kids aren't gonna go out and be music teachers — some of them will, some of them [will] be professional."
"I just wanted to have the kids enjoy music and put it in their lives," she continued. "And feel that it does something to enrich their lives."
It's sure enriched Joan's life.
Joan and the late Jerry Davison married in 1952. The couple have two daughters, Annette and Diane, two grandchildren and two great-grandchildren.
Joan's Doane days: 1948 Homecoming Duchess; reactivated Omega Psi Theta as a Doane student and was president; president of Cardinal Key.