Dr. Marco Pedroza '12E, '14E, '21DE,  of Lincoln, received the Educator of the Year Award, presented to alumni who have made outstanding contributions in the field of education. Recipients are selected by the education department. Pedroza is one of nine Doane alumni recognized during the 2022 Alumni Awards Banquet on Oct. 9. Alumni who receive these awards exemplify the ideals taught at Doane, through their leadership and service throughout their careers and lives.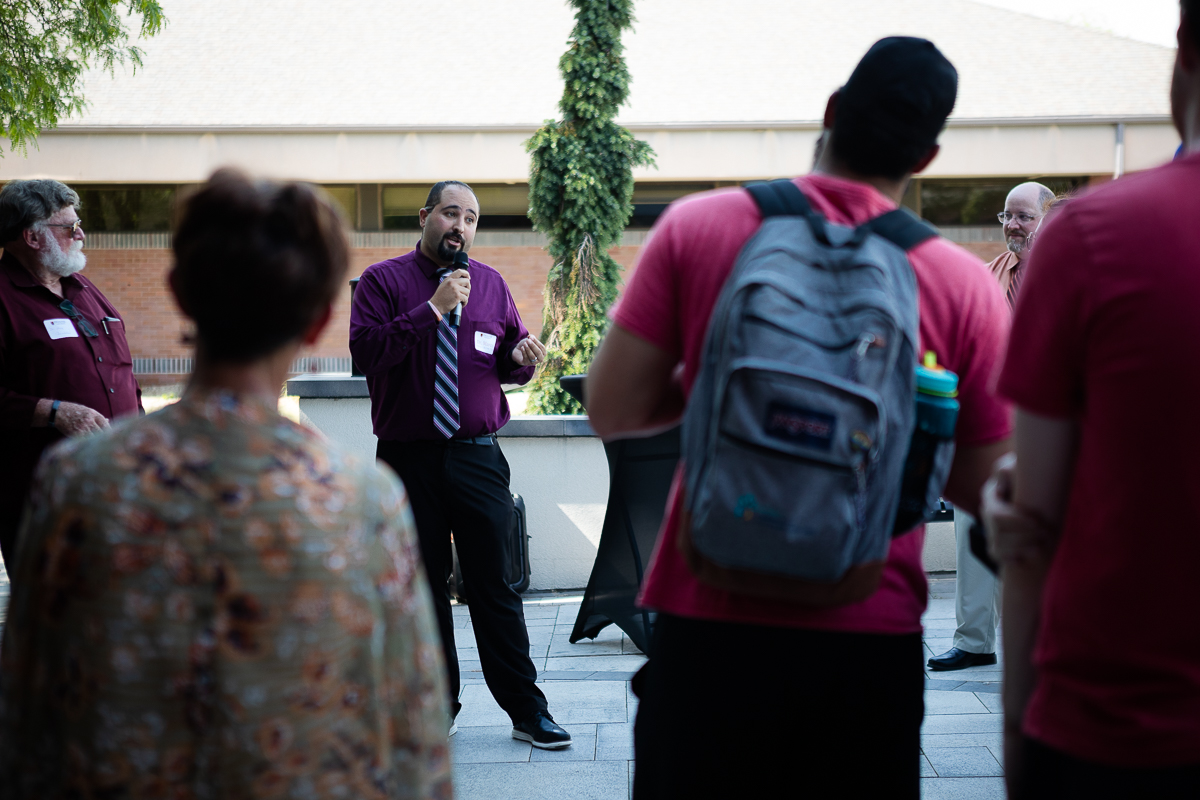 Bio written by Sara Hinds, copywriter.
He earned a trio of postgraduate education degrees from Doane — a Doctorate of Education in 2021, Master of Education in Curriculum and Instruction in 2012 and Master of Educational Leadership in 2014.
Each diploma only further cemented his confidence in his career change — and his servant leadership mindset he inherited from his parents.
Pedroza was born in Scottsbluff to Ramon and Elena, who emigrated from León, Guanajuato, Mexico. Determined to provide Marco and his two siblings, Carlos and Liza, with a better life than they had, his parents instilled in them the importance of education.
Eventually, education became Pedroza's career, too. After graduating from the University of Nebraska-Lincoln with a degree in business, Pedroza was working at the University of Nebraska Medical Center when a colleague encouraged him to look at interpreting with Lincoln Public Schools.
He continually looks back at his two years as a bilingual liaison for Hispanic students and their families.
"To be able to be that bridge was amazing," Pedroza said. More than a translator and interpreter, Pedroza said he was also an advocate.
"I will say, some of that is some of the most fulfilling work that I've done, it being working with the Hispanic population and giving them access to education."
It was then he realized the broader impact he could have and he worked — and learned — his way into leadership roles.
Pedroza is now in his fifth year as principal at Scott Middle School. He's building a culture for staff, students and parents alike that's inclusive, safe and comfortable.
At times, that means he dusts off his bilingual liaison duties and allows direct access to Scott parents who prefer to speak Spanish. He said something as simple as calling a child in as sick is a task that becomes complicated when you don't speak the same language.
It's all part of servant leadership, Marco said. So while he's "humbled and blessed" to receive the award, he notes the efforts of his staff and fellow educators.
"There's so many of us out there that are doing this work," he said. "And so I want to acknowledge them as well and know that there's plenty who would be deserving of the award as well. And so I'll just continue to do my piece of serving kids and serving my community and doing what I can."
Marco lives in Lincoln with his wife, Karmin and their kids Ty, Santana and Baylor.