Dr. Ken '85 and Tami Wolfe '82 Marvin, residents of Crete, received the Honor D Award, which is presented to former Doane athletes who have distinguished themselves through outstanding service in their life's work. The Marvins are two of nine Doane alumni recognized during the 2022 Alumni Awards Banquet on Oct. 9. Alumni who receive these awards exemplify the ideals taught at Doane, through their leadership and service throughout their careers and lives.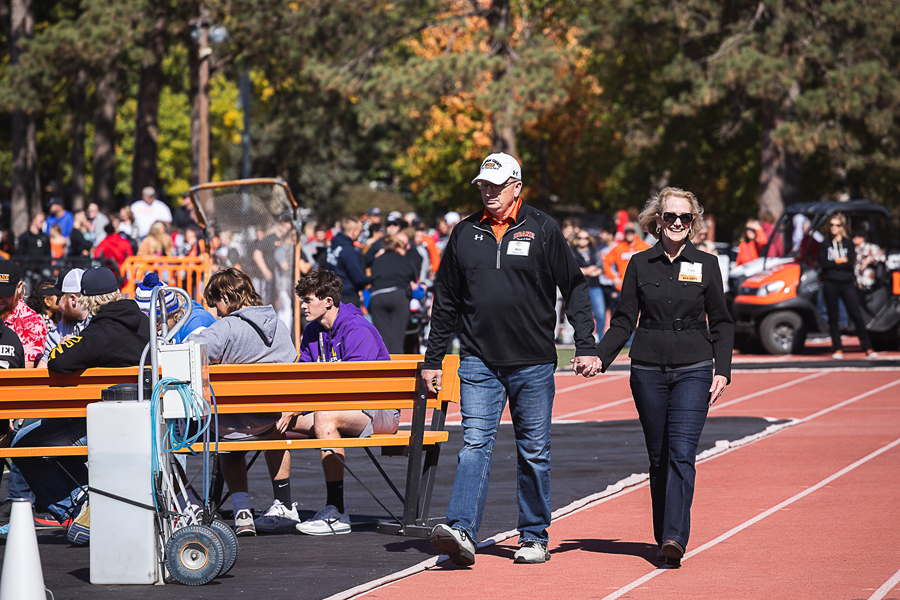 Bio written by Liz McCue, communications manager.
The men and women who coached Ken '85 and Tami Wolfe '82 Marvin — Bob Erickson, Fred Beile, Fran Schwenk, Betty Walters — hold an incredible legacy for the impacts they've made at Doane and on generations of Tiger alumni. Their influence has been invaluable for the couple, as student-athletes competing in football, volleyball and track and field, in establishing their faith, in building their family and raising three more Doane alumni.
And in continuing that legacy themselves.
Along with running two businesses in Crete (they own Ken's Pharmacy and ran the Hallmark store until just a few years ago), Ken has been a volunteer track and field coach for 30 years. Tami has been an assistant coach with the volleyball team for 21 years, as well as an adjunct professor for 24 years. They've sponsored Doane's Fellowship of Christian Athletes (FCA) for nearly 33 years.
In short, they're walking the path started by the coaches who inspired them. But they'll be the first to say that there's no other path they could imagine taking.
"My sister told us, 'you bleed orange and black,'" Tami said. "Doane is a very, very special place. There's no other place like it."
Because of Doane, they met each other, and found love and support in Christ. For the Marvins, the work they've done over the decades as coaches, teachers and spiritual advisers — for hundreds of students — is all worth it to give back to their alma mater.
"We've gotten more from students over the years than we could give," Tami said. "We're overflowing with blessings."
It's so humbling — "to the max," Ken said — to be even a small part of a student's life during their college years, to see them grow as people. As FCA sponsors, they're a major part of a student's support network, a foundation off the field when students face challenges, choices and opportunities. Sometimes, that support is shown through letting a student know they're in the Marvins' prayers. Sometimes it's a hug. Often, it's knowing there's a place they belong.
"Doane has a beautiful community that extends beyond the four years on campus," Tami said.