Charlaine Tso '12, a resident of Tołikan (Sweetwater, AZ), received the Young Alumni Award, which honors Doane graduates who are 35 years of age or younger for demonstration of and lasting commitment to the highest ideals and models of excellence exemplified by Doane University. Tso is one of nine Doane alumni recognized during the 2022 Alumni Awards Banquet on Oct. 9. Alumni who receive these awards exemplify the ideals taught at Doane, through their leadership and service throughout their careers and lives.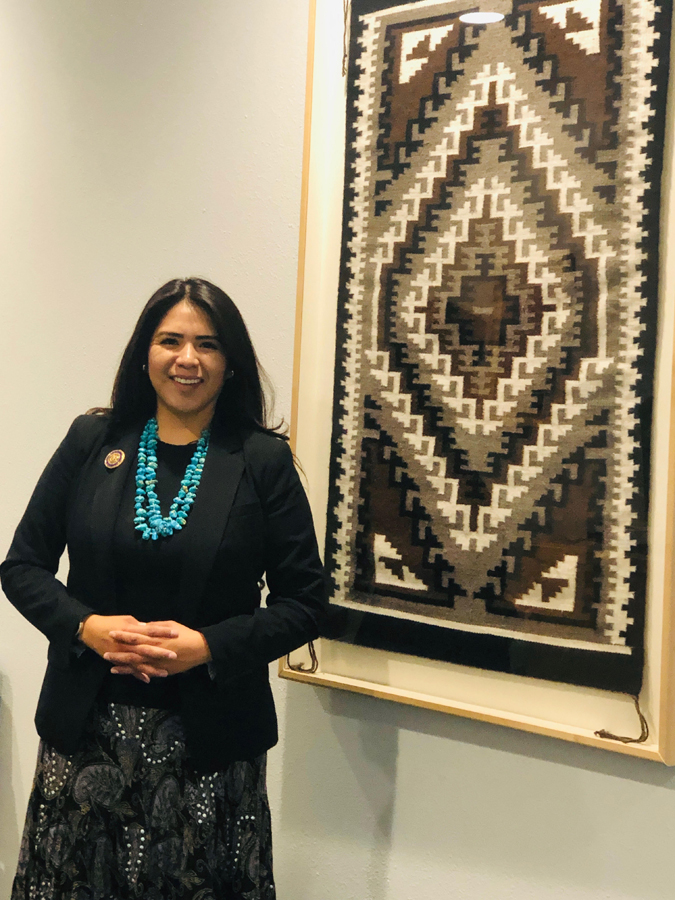 Bio written by Liz McCue, communications manager.
Charlaine "Char" Tso '12 has no intention of being done after completing her first four-year term on the Navajo Nation Council in January 2023. As of now, she's considering her options for a law degree, always motivated by the goal to improve conditions for Navajo (Diné) people.
"Four years is not enough to get things done," she said. "But you have to hand over the baton and hope the next person is going to continue those projects."
During her term, she's pushed for a major infrastructure bill; advocated for resources and partnerships to locate missing and murdered Indigenous women, building safe houses for victims of trafficking, and for investment in clean energy sources; and spoken up for the LGBTQI+ community, Navajo early education, veterans, elder abuse, and the preservation and practicing of her Navajo language, culture and traditions. All as the youngest elected Council Delegate since its creation in 1923, and as one of only three female delegates currently serving.
Since her election in 2018, she's seen a change as more young leaders step forward. Char has an incredible list of accomplishments — but setting the precedent that a young person, and especially a young woman, can be a delegate is something she's proud of.
"It shows 'you can do it, that we can do it,'" she said.
Throughout her journey, Char has been inspired by the women around her, starting with her mother, Sadie Tso '00E '02E, and grandmother, who turned 104 this year. Their home in rural Arizona was without running water until Char was in high school, and electricity wasn't installed until she was at Doane.
"It teaches you humility and compassion," Char said. "To help others in need and try to make the world a better place."
The two women have always encouraged Char to follow her path, too, in education, in politics, in tradition and in faith. Their support led her to Doane, where she met mentors like Sarah Begay, associate director of career development, and Dr. Lyn Forester, former dean of the College of Education and faculty emeriti.
"I've always considered it a second home," she said of Doane. Char graduated with a degree in theatre with an English minor.
After graduating, she also worked as a youth ambassador for Hillary Clinton and Debra Haaland, who represented New Mexico in the House of Representatives and is now the first Native American to serve as Secretary of the Interior.