More than 100 students crossed the stage at Doane University's winter commencement ceremony, held at 1 p.m. on Saturday, Dec. 17 inside Fuhrer Fieldhouse on the university's Crete campus. The winter ceremony includes both December and August graduates. Dr. Roger Hughes, Doane president, handed 121 degrees to students who attended, to the cheers and celebration of their family and peers.
DeMoine Adams, CEO of the TeamMates Mentoring Program and former Husker football player, gave the commencement address, titled "Ready, Set, Future." Adams is a first-generation student, and received his bachelor's degree from the University of Nebraska. He is currently pursuing his doctorate at the University of Nebraska, alongside leading TeamMates and inspiring others as a motivational speaker.
The ceremony also invited and recognized the Belmont 8 students — Eveline Ungery, Alejandra Moreno, Mohamed Sabiel, Jevon Payne, Kenadee Broussard, Alex Morris, Leriya'h Clay and Payton Craine — and their families.
The eight Belmont Elementary students, now in middle school, starred in the Emmy-nominated documentary "We Will Not Be Silent," which followed their preparation for the 2021 Dr. Martin Luther King Jr. Youth Rally and March. Doane created the Belmont 8 Scholarship Program to guide them and other high-achieving students early in their academic careers through workshops, a leadership academy and coaching during their middle and high school education, toward a college education at Doane on a full-tuition scholarship.
In total, 149 students graduated in December, with 75 graduating from Doane's College of Education, 34 graduating from the College of Business and 40 graduating from the College of Arts & Sciences.
There were also 78 graduates in August, with 5 graduating from the College of Education, 13 from the College of Business and 12 from the College of Arts & Sciences.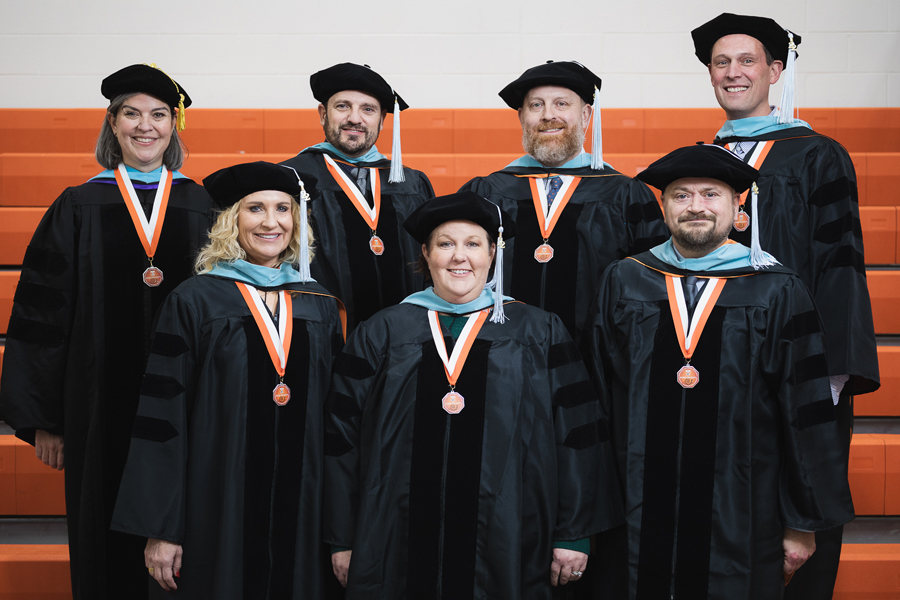 December Graduates
College of Education — Doctor of Education
| | | | |
| --- | --- | --- | --- |
| Colleen Diane Ballard | Doctor of Education | Omaha | NE |
| Scott Eric Eckman | Doctor of Education | Lincoln | NE |
| Andrew J. Havelka | Doctor of Education | Adams | NE |
| Ryan Ricenbaw | Doctor of Education | Lincoln | NE |
| Cindy Marie Scharff | Doctor of Education | Elkhorn | NE |
| Amanda Lynn Wharton-Hunt | Doctor of Education | Aurelia | IA |
| Dana Lee Wiseman | Doctor of Education | Sutton | NE |
College of Education — Graduate Students
| | | | |
| --- | --- | --- | --- |
| Alexandria Baruth | Education Specialist | Lincoln | NE |
| Danielle P Beerbohm | Education Specialist | Ashland | NE |
| Audrey Joy Brydl-Andrews | Education Specialist | Lincoln | NE |
| Shawn Michael Carlson | Education Specialist | Lincoln | NE |
| Mikhail S Happ | Education Specialist | David City | NE |
| Lisa Marie Hatch | Education Specialist | Omaha | NE |
| Rachel Ann King | Education Specialist | Lincoln | NE |
| Tricia Phillips | Education Specialist | Lincoln | NE |
| Brett Allen Schnabel | Education Specialist | Papillion | NE |
| Elizabeth M. Seegebarth | Education Specialist | Seward | NE |
| Cory Spotanski | Education Specialist | North Platte | NE |
| Curtis A. Thomas | Education Specialist | Lincoln | NE |
| Brandy L Thompson | Education Specialist | Schuyler | NE |
| Carly Ann Arduser | Master of Education in Curriculum and Instruction | Mc Cool Junction | NE |
| Jennifer Ann Boyum | Master of Education in Curriculum and Instruction | Omaha | NE |
| Becka Helen Bruntz | Master of Education in Curriculum and Instruction | Kearney | NE |
| Karli Jo Busboom | Master of Education in Curriculum and Instruction | Cortland | NE |
| Emily Rose Cady | Master of Education in Curriculum and Instruction | Lincoln | NE |
| Anna Lee Codr | Master of Education in Curriculum and Instruction | Lincoln | NE |
| Lauren Lee Copeland | Master of Education in Curriculum and Instruction | Omaha | NE |
| Allison Davis | Master of Education in Curriculum and Instruction | Omaha | NE |
| Erin Elizabeth Eisbach | Master of Education in Curriculum and Instruction | Lincoln | NE |
| Amanda Elizabeth Engler | Master of Education in Curriculum and Instruction | Aberdeen | SD |
| Sharidan Erb | Master of Education in Curriculum and Instruction | Hastings | NE |
| Kayla Finley | Master of Education in Curriculum and Instruction | Lincoln | NE |
| Taylor Michelle Garder | Master of Education in Curriculum and Instruction | Lincoln | NE |
| Kelly Lynn Gibbons | Master of Education in Curriculum and Instruction | Lincoln | NE |
| Alyssa Rose Grell | Master of Education in Curriculum and Instruction | Omaha | NE |
| Andrea Hartman | Master of Education in Curriculum and Instruction | Lincoln | NE |
| Kelly Kathleen Helgoth | Master of Education in Curriculum and Instruction | Aurora | NE |
| Samantha Lococo Holliday | Master of Education in Curriculum and Instruction | Lincoln | NE |
| Lindsey M Israelson | Master of Education in Curriculum and Instruction | Lincoln | NE |
| Claire Katherine Johnson | Master of Education in Curriculum and Instruction | Hebron | NE |
| Diana Kelly | Master of Education in Curriculum and Instruction | Council Bluffs | IA |
| Mikaela Jeri Klein | Master of Education in Curriculum and Instruction | Lincoln | NE |
| Tayler Dawn Mashburn | Master of Education in Curriculum and Instruction | Aurora | CO |
| Kelley McElhose | Master of Education in Curriculum and Instruction | Lincoln | NE |
| Kalli Jo Mumm | Master of Education in Curriculum and Instruction | Lincoln | NE |
| Lauren Neal | Master of Education in Curriculum and Instruction | Gretna | NE |
| Jennifer Ann Parker | Master of Education in Curriculum and Instruction | Crete | NE |
| Michael Howard Quaas | Master of Education in Curriculum and Instruction | Bellevue | NE |
| Tayma Rasmussen | Master of Education in Curriculum and Instruction | Central City | NE |
| Brielle Dawn Ricenbaw | Master of Education in Curriculum and Instruction | Friend | NE |
| Kayla M Rohmiller | Master of Education in Curriculum and Instruction | Omaha | NE |
| Landon Thomas Schmitt | Master of Education in Curriculum and Instruction | Hebron | NE |
| Bobbi Singer | Master of Education in Curriculum and Instruction | Elkhorn | NE |
| Donald James Strasheim | Master of Education in Curriculum and Instruction | SanDiego | CA |
| Rachel Marie Stuehmer | Master of Education in Curriculum and Instruction | Rogers | NE |
| Keith Wallace | Master of Education in Curriculum and Instruction | Lincoln | NE |
| Bailey Marie Zarybnicky | Master of Education in Curriculum and Instruction | Beatrice | NE |
| Jarren Alan Zimmerman | Master of Education in Curriculum and Instruction | Lincoln | NE |
| Caitlin Elizabeth Brewster | Master of Education in School Counseling | Lincoln | NE |
| Shelby Leigh Coomes | Master of Education in School Counseling | Baldwin City | KS |
| Holly Gonsor | Master of Education in School Counseling | Lincoln | NE |
| Megan Jo Good | Master of Education in School Counseling | Firth | NE |
| Samantha Johnson | Master of Education in School Counseling | Seattle | WA |
| Stefanie Marie Kirkland | Master of Education in School Counseling | Lincoln | NE |
| Jacob Veldon Morrow | Master of Education in School Counseling | Grand Island | NE |
| Erika Monique Ochoa | Master of Education in School Counseling | North Platte | NE |
| Sydney Marie Paige | Master of Education in School Counseling | Grand Island | NE |
| Katelyn Placke | Master of Education in School Counseling | Grand Island | NE |
| Pamala Sue Trauernicht | Master of Education in School Counseling | Beatrice | NE |
| Mitchell Allyn Connelly | Master of Arts in Counseling | Lincoln | NE |
| Bethany Jane Mahan | Master of Arts in Counseling | Lancaster | CA |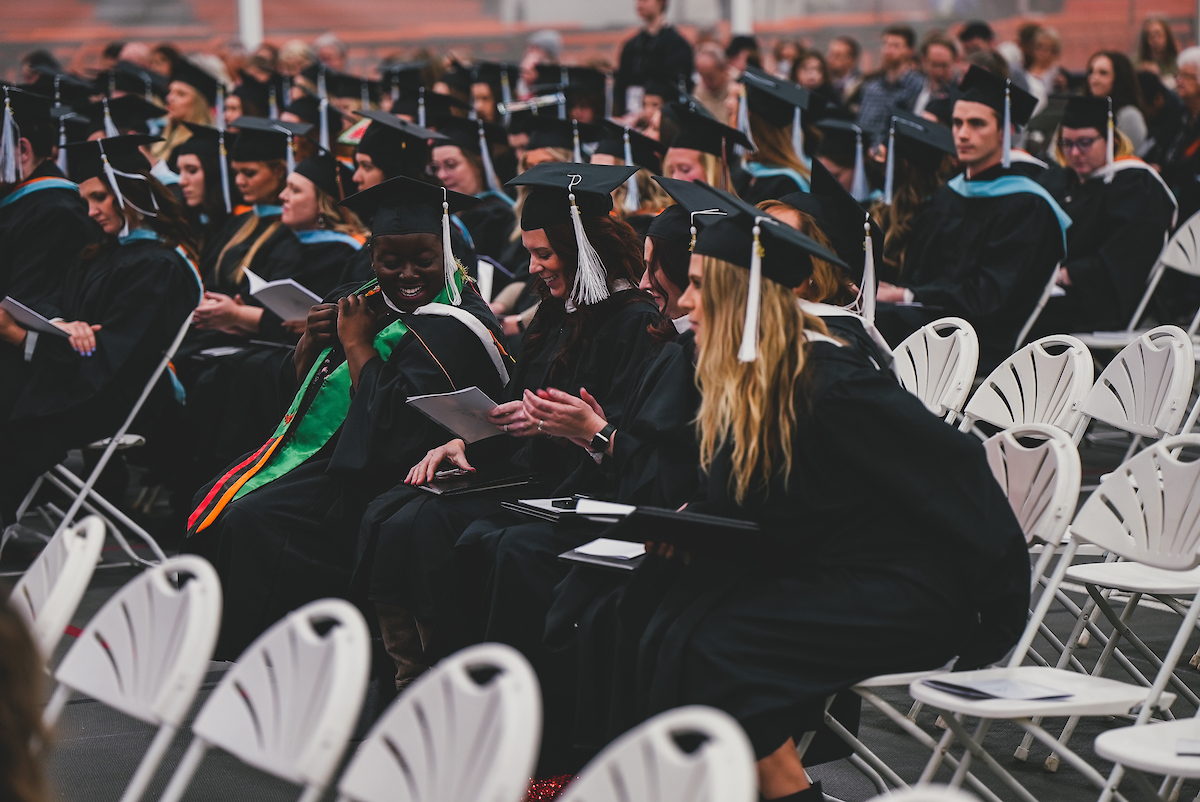 College of Business — Graduate Students
| | | | |
| --- | --- | --- | --- |
| Inonge Kasaji | Master of Arts in Management | Lincoln | NE |
| Susan Ann Klusman | Master of Arts in Management | Hastings | NE |
| Amanda Rae Lyon | Master of Arts in Management | Randle | WA |
| Lori Ann Srb | Master of Arts in Management | Lincoln | NE |
| Taylor Schae Steiner | Master of Arts in Management | Platte Center | NE |
| Tsogtbayar Tserendagva | Master of Arts in Management | Denton | NE |
| Brinn Ashton Williams | Master of Arts in Management | Okoboji | IA |
| Ersin Altintas | Master of Business Administration | Saitama | Japan |
| Brian P. Cross | Master of Business Administration | Cortland | NE |
| Tia Immonen | Master of Business Administration | Lincoln | NE |
| Brady Langemeier | Master of Business Administration | Stromsburg | NE |
| William G. Lyons | Master of Business Administration | Cincinnati | OH |
| Ron Niewohner | Master of Business Administration | Young | AZ |
| Bethany Rae Patrice Ruppert | Master of Business Administration | Lincoln | NE |
| Cheyenne Rae Ostrander | Master of Business Administration | Fullerton | NE |
| Gerardo Pena | Master of Business Administration | Lincoln | NE |
| Cheryl A. Schroeder | Master of Business Administration | Hallam | NE |
| Ryan Christopher Spear | Master of Business Administration | Alburtis | PA |
| Edmund Tan | Master of Business Administration | Kajang | Malaysia |
| Andrew Thomas Theiler | Master of Business Administration | Arlington | NE |
| Elizabeth Ann Davenport Thomas | Master of Business Administration | Papillion | NE |
| Benjamin Wilson | Master of Business Administration | Lincoln | NE |
Undergraduates
| | | | | |
| --- | --- | --- | --- | --- |
| Higor Andrade dos Santos | Bachelor of Science | Engineering | Rio de Janeiro | Brazil |
| Taylor Ball | Bachelor of Arts | Psychology | Lincoln | NE |
| Darrell W Baum | Bachelor of Arts | Liberal Arts | Lincoln | NE |
| Keegan Mitchell Biven | Bachelor of Science | Health and Human Performance | Lincoln | NE |
| Nicole E. Bradley | Bachelor of Science | Information Systems & Technology | Lincoln | NE |
| Madison Sue Brandenburg | Bachelor of Arts | Educational Studies | Central City | NE |
| Tessa May Brazda | Bachelor of Science | Computer Science | Lincoln | NE |
| Sydney McKayla Brooks | Bachelor of Arts | Interdisciplinary Studies | Mossyrock | WA |
| Mark Brown | Bachelor of Science | Biochemistry | O Fallon | MO |
| Eric David Castaneda | Bachelor of Arts | Business Administration | Crete | NE |
| Courtnie Jean Chavez | Bachelor of Arts | Business Administration | Lincoln | NE |
| Kimberly J Christiansen | Bachelor of Arts | Liberal Arts | Lincoln | NE |
| Kayleigh Ellyn Conner | Bachelor of Arts | Business Administration | Littleton | CO |
| Kelsey Lynn Coyle | Bachelor of Arts | Graphic Design | Lincoln | NE |
| Melissa T. Crew | Bachelor of Arts | Human Relations | Lincoln | NE |
| Joshua Ryan Cyboron | Bachelor of Arts | Special Education | Broken Bow | NE |
| Hayden Alan DeBoer | Bachelor of Science | Biology | Firth | NE |
| Salvador Delgadillo | Bachelor of Science | Engineering | San Diego | CA |
| Adriana Alejandra Dominguez | Bachelor of Arts | Criminal Justice | Lincoln | NE |
| Taylor Ann Drake | Bachelor of Arts | Human Relations | Lincoln | NE |
| William Draper | Bachelor of Science | Information Systems | Waverly | NE |
| Samuel Edwin Dunwell | Bachelor of Science | Biology | Lana'i City | HI |
| Emily Sue Ficke | Bachelor of Arts | Psychology | Pleasant Dale | NE |
| Barbara Ann Folsom | Bachelor of Science | Business Administration | Lincoln | NE |
| Jackson Frederick Haury | Bachelor of Arts | Sociology | Omaha | NE |
| Abbie Nicole Hedgecock | Bachelor of Science | Health Sciences | North Platte | NE |
| Ryan Andrew Hellmuth | Bachelor of Arts | Psychology | Lincoln | NE |
| Henrique Miranda Henriques | Bachelor of Science | Engineering | Vitoria | Brazil |
| Katie Ariana High | Bachelor of Arts | Business Administration | Staplehurst | NE |
| Dalila Hrustemovic | Bachelor of Arts | Human Relations | Berlin | Germany |
| Steven Dean Huls | Bachelor of Arts | Agribusiness | Western | NE |
| Jason Donald Jensen | Bachelor of Arts | Physical Education and Health Education | Crete | NE |
| Molly E Keefe | Bachelor of Arts | Liberal Arts | Lincoln | NE |
| Halle Rosemary Konz | Bachelor of Arts | Sociology | Genoa | NE |
| Tyson L'Heureux | Bachelor of Arts | Agribusiness | Hastings | NE |
| Shelby Marie Downard Matson | Bachelor of Arts | Business Administration | Marysville | KS |
| Elizabeth Miller | Bachelor of Arts | Human Relations | Lincoln | NE |
| Kelvin Joseph Mitchell | Bachelor of Science | Mathematics and Computer Science | Friend | NE |
| Katie Jane Mueller | Bachelor of Science | Health Sciences | Lincoln | NE |
| Alec James Oberhauser | Bachelor of Arts | Strategic Communication | Parkersburg | IA |
| Jack Olsen | Bachelor of Arts | Business Administration and Psychology | Frederick | CO |
| Boston Andrew Reid | Bachelor of Arts | Theatre | Omaha | NE |
| Koreen Amy Rose | Bachelor of Arts | Liberal Arts | Bellevue | NE |
| Gerardo Ruiz Aviles | Bachelor of Science | Engineering | Pachuca | Mexico |
| Victoria Faith Schaben | Bachelor of Arts | Human Relations | Lincoln | NE |
| Linda Kay Scheffert | Bachelor of Science | Health Sciences | Lincoln | NE |
| Delaney Isabelle Taylor Sotomayor | Bachelor of Arts | Health and Human Performance | Ramah | CO |
| Dalton Specht | Bachelor of Arts | Strategic Communication and Theatre | Wahoo | NE |
| Rachel Elizabeth Walters | Bachelor of Science | Exercise Science | Gretna | NE |
| Adam Wasserman | Bachelor of Arts | Business Administration | Fairbury | NE |
| David Allen Weber | Bachelor of Arts | Liberal Arts | Davey | NE |
| Mya Joy Williams | Bachelor of Arts | Music | Gretna | NE |
| Alyssa Wilson | Bachelor of Science | Information Systems & Technology | Lincoln | NE |
| Deborah Lynne Wilson | Bachelor of Arts | Business Administration | Lincoln | NE |
| Dora L Yang | Bachelor of Science | Business Administration | Palmyra | NE |
| Susan Martin Zimmer | Bachelor of Arts | Human Relations | Sprague | NE |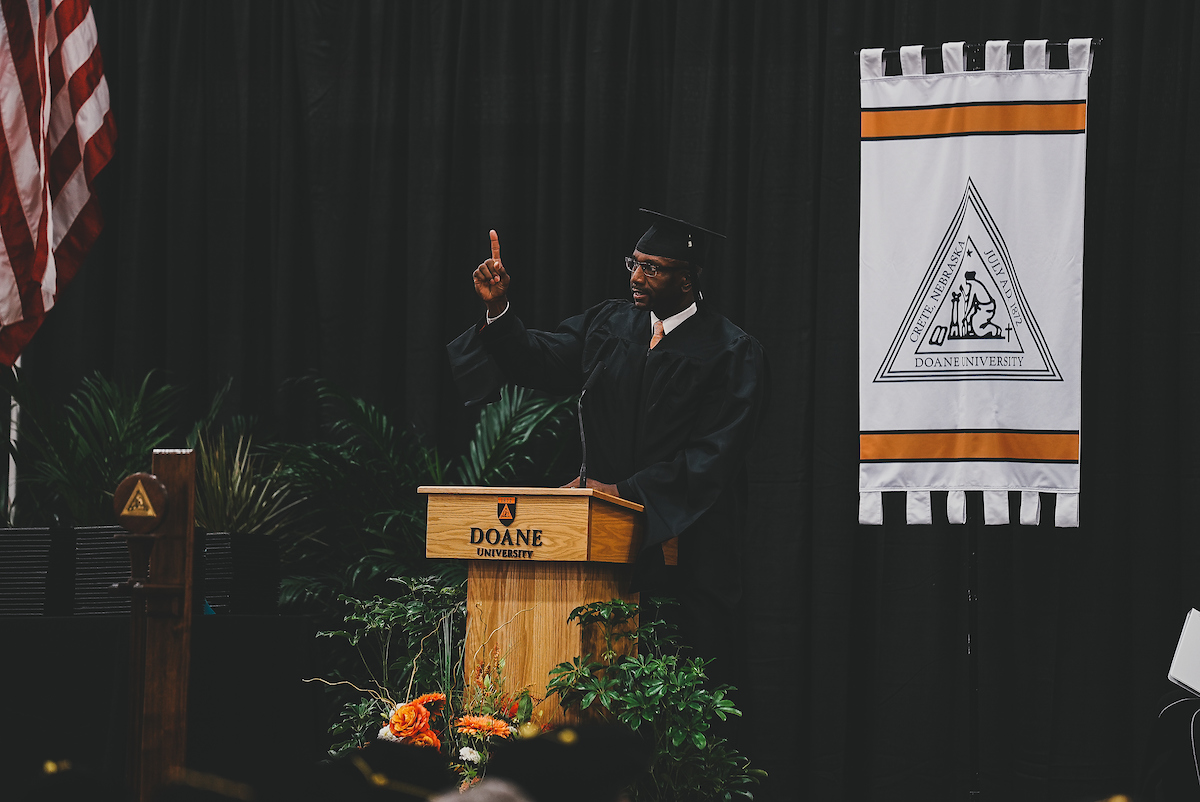 August Graduates
College of Education — Doctor of Education
| | | | |
| --- | --- | --- | --- |
| Gregory John Lamberty | Doctor of Education | Bennington | NE |
College of Education — Graduate Students
| | | | |
| --- | --- | --- | --- |
| Michelle Kathleen Kollasch | Master of Education in Educational Leadership | Omaha | NE |
| Sierra Nicole Bard | Master of Education in Curriculum and Instruction | Lincoln | NE |
| Kristina Lynn Basel | Master of Education in Curriculum and Instruction | Ceresco | NE |
| Sara Kathryn Bontz | Master of Education in Curriculum and Instruction | Papillion | NE |
| Matthew Alexander Case | Master of Education in Curriculum and Instruction | Kearney | NE |
| Hannah Elizabeth Childress | Master of Education in Curriculum and Instruction | Hickman | NE |
| Bryce J. Chudomelka | Master of Education in Curriculum and Instruction | Ashland | NE |
| Lindsey M. Cihal | Master of Education in Curriculum and Instruction | Gretna | NE |
| Melanie Clark | Master of Education in Curriculum and Instruction | Mc Cool Junction | NE |
| Taylor Consuelo Corona | Master of Education in Curriculum and Instruction | Grand Island | NE |
| Erica May Dettinger | Master of Education in Curriculum and Instruction | Omaha | NE |
| Ashton Rena Egger | Master of Education in Curriculum and Instruction | Lincoln | NE |
| Jennifer Mary Griebel | Master of Education in Curriculum and Instruction | Omaha | NE |
| Amber Rae Hall | Master of Education in Curriculum and Instruction | Nebraska City | NE |
| Sylvia Grace Hammer | Master of Education in Curriculum and Instruction | Wayne | NE |
| Megan A. Harrington | Master of Education in Curriculum and Instruction | Lincoln | NE |
| Naomi Beth Harvey | Master of Education in Curriculum and Instruction | Columbus | NE |
| Bethany Nicole Hawes | Master of Education in Curriculum and Instruction | Hastings | NE |
| Kalie Ane Horky | Master of Education in Curriculum and Instruction | Saint Paul | NE |
| Sadie M. Jons | Master of Education in Curriculum and Instruction | Geneva | NE |
| Addie Lynn Knorr | Master of Education in Curriculum and Instruction | Lincoln | NE |
| Michele Rene Knott | Master of Education in Curriculum and Instruction | Las Vegas | NV |
| Lance Edward Kush | Master of Education in Curriculum and Instruction | Elkhorn | NE |
| Erika Paige Last | Master of Education in Curriculum and Instruction | Holdrege | NE |
| Brooke List | Master of Education in Curriculum and Instruction | Crete | NE |
| Katie Maloley | Master of Education in Curriculum and Instruction | Elkhorn | NE |
| Christopher Stephen Maly | Master of Education in Curriculum and Instruction | Lincoln | NE |
| Tatum Mendenhall | Master of Education in Curriculum and Instruction | Omaha | NE |
| Molly Elizabeth Miller | Master of Education in Curriculum and Instruction | Omaha | NE |
| Alexis Nicole Nyholm | Master of Education in Curriculum and Instruction | Omaha | NE |
| Hailey Jocelyn Ortiz | Master of Education in Curriculum and Instruction | Lincoln | NE |
| Emily Lynn Peters | Master of Education in Curriculum and Instruction | Onawa | IA |
| Trina Rae Popple | Master of Education in Curriculum and Instruction | Lincoln | NE |
| Kellie J. Prather | Master of Education in Curriculum and Instruction | Omaha | NE |
| Cody Ryan Redford | Master of Education in Curriculum and Instruction | Papillion | NE |
| Sydney Rhae Reiners | Master of Education in Curriculum and Instruction | Lincoln | NE |
| Emily Joy Sheridan | Master of Education in Curriculum and Instruction | Syracuse | NE |
| Alexus Sherry | Master of Education in Curriculum and Instruction | Omaha | NE |
| Madeline Rose Sladovnik | Master of Education in Curriculum and Instruction | Littleton | CO |
| Emily Stephenson | Master of Education in Curriculum and Instruction | Omaha | NE |
| Ciera Unique Tolbert | Master of Education in Curriculum and Instruction | Omaha | NE |
| Stephanie L. Waskowiak | Master of Education in Curriculum and Instruction | Gothenburg | NE |
| Nathan Robert Wiebers | Master of Education in Curriculum and Instruction | Papillion | NE |
| Kolton Foxe Wiley | Master of Education in Curriculum and Instruction | Elkhorn | NE |
| Jennifer A. Williamson | Master of Education in Curriculum and Instruction | Lincoln | NE |
| Brittany Marie Wolfgram | Master of Education in Curriculum and Instruction | Laurel | NE |
| Kasey Marie Wurst | Master of Education in Curriculum and Instruction | Omaha | NE |
| Kelsey M. Yates | Master of Education in Curriculum and Instruction | Geneva | NE |
| Steven Yockey | Master of Education in Curriculum and Instruction | Gibbon | NE |
| Mindi Lea Gerber | Master of Education in School Counseling | Lincoln | NE |
| Laurie Ann Parr | Master of Education in School Counseling | Hastings | NE |
| Amber Jean Taylor | Master of Education in School Counseling | Elm Creek | NE |
| Julie Daigle | Master of Science in Instructional Design & Technology | Bellevue | NE |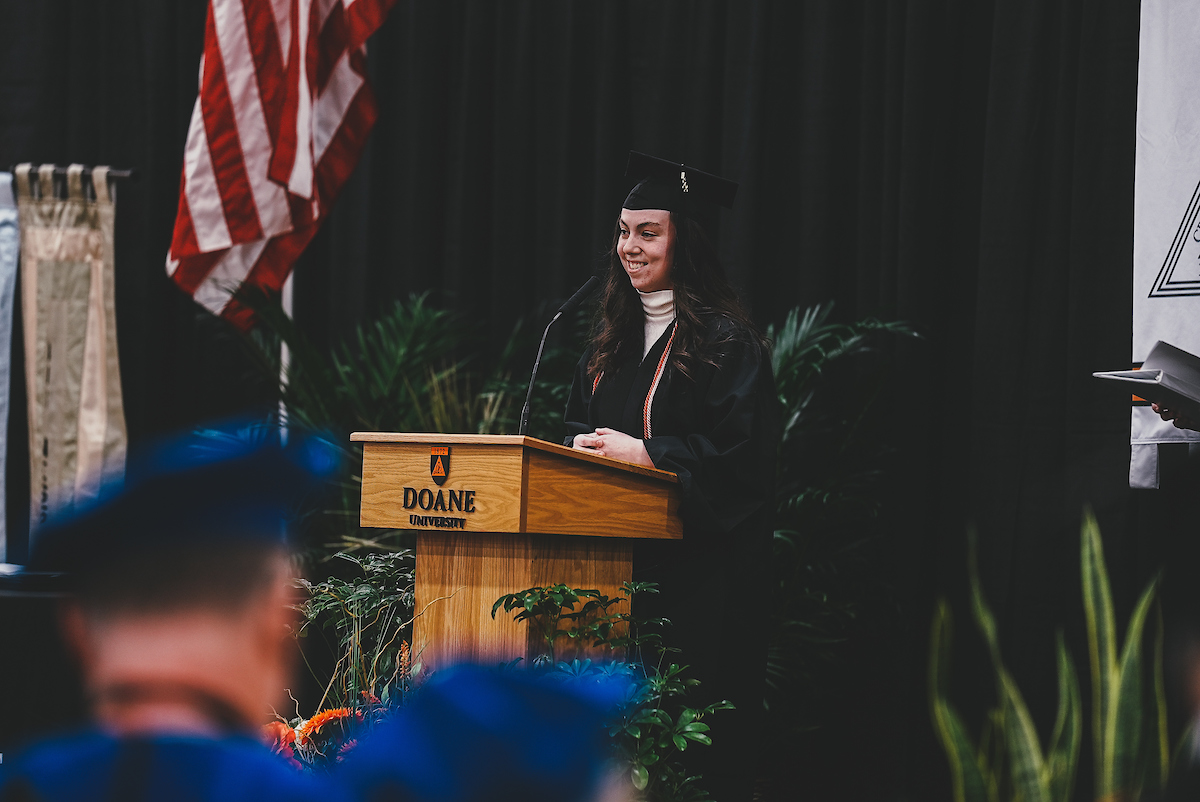 College of Business — Graduate Students
| | | | |
| --- | --- | --- | --- |
| Taegan Virginia Fink | Master of Business Administration | Urbandale | IA |
| Katie Lee | Master of Business Administration | Lincoln | NE |
| Ruth A. Marino | Master of Business Administration | Lincoln | NE |
| Jeanette White | Master of Business Administration | Omaha | NE |
| Ebimobowei Kevin Wodu | Master of Business Administration | Port Harcourt | Nigeria |
| Gregory Steven Wood | Master of Business Administration | Maple Valley | WA |
Undergraduates
| | | | | |
| --- | --- | --- | --- | --- |
| Taje Janieria Airington | Bachelor of Science | Engineering | Frisco | TX |
| David Arcos | Bachelor of Arts | Psychology | Columbus | NE |
| Derin Michael Benson | Bachelor of Arts | Business Administration | Yakima | WA |
| Arath Rigoberto Chairez Escamilla | Bachelor of Arts | Accounting & Business Administration | Arlington | TX |
| Emma Irene Covalt | Bachelor of Arts | Professional Studies in Business Administration | Lincoln | NE |
| Ruby Dominguez | Bachelor of Science | Nursing | Grand Island | NE |
| Danielle Rebecca Dubovy | Bachelor of Science | Engineering | Las Vegas | NV |
| Sade I. Dunn | Bachelor of Science | Health Sciences | Twinsburg | OH |
| Nathan Michael Harmon | Bachelor of Arts | Economics | Gretna | NE |
| Stacey Kot | Bachelor of Science | Allied Health | Lincoln | NE |
| Jessica Anne Meyers | Bachelor of Arts | Professional Studies in Business Administration | Lincoln | NE |
| Maria Del Socorro Mosqueda Gonzalez | Bachelor of Arts | Professional Studies in Business Administration | Crete | NE |
| Dustin Alan Nelson | Bachelor of Science | Information Systems | Dorchester | NE |
| Lacie J. Ritchie | Bachelor of Science | Nursing | Kearney | NE |
| Kennedy Elise Scheele | Bachelor of Science | Biology & Spanish | Plymouth | NE |
| Mabel Raja Shehadi | Bachelor of Science | Health Sciences | Temple | TX |
| Madison Elayne Shoemaker | Bachelor of Arts | Psychology & Spanish | Kearney | NE |
| Noah Arthur Zinn | Bachelor of Arts | Liberal Arts Studies | Lincoln | NE |