Oftentimes, scholarship funds are established in memoriam, opened by a spouse or a family member to celebrate the life of a Doane graduate they love. But Carolyn Kollmeier '74 wanted to go beyond sponsoring a student on their journey to graduation.
After being a decades-long donor to Doane, she wanted to provide an opportunity for mentorship, to give students access to someone who has been in the field for nearly half a century.
"I hope my scholarship will make it that much easier for the recipient to take full advantage of what the Doane Experience has to offer, both academically and socially, the rewards of which last a lifetime and go beyond anything one can imagine," Kollmeier said. "I valued my Doane experience enough to consider the college a most worthy charitable organization. It was always in the back of my mind to endow a scholarship, and I wish I'd done it much sooner."
The Carolyn Kollmeier Endowed Scholarship will be awarded to a senior majoring in education with an emphasis in English Language Arts. Kollmeier herself completed Doane's Education-Teacher Certification Program and graduated cum laude with majors in speech communication and theatre. Supporting students on a similar path, and furthering their love for the subjects they'll teach and lifelong learning, is an important part of establishing this scholarship for her.
Cue the first recipient of the scholarship — Samuel Province, a senior from Lincoln, Nebraska. Province attended Lincoln Southeast High School, and is completing his degree in education with a secondary endorsement in language arts and minors in leadership and philosophy. He is a member of Doane's honors program and the Alpha Pi Epsilon fraternity, and is active in Doane theatre.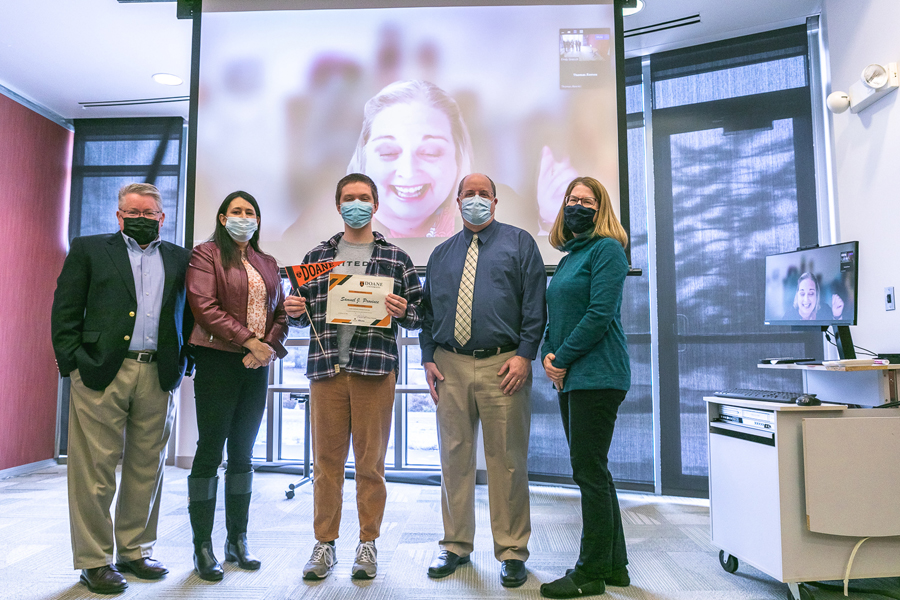 A resident of Texas, Kollmeier joined the scholarship committee via Zoom to see and discuss a list of students who met qualifications.
"Samuel really stood out, and after about an hour's deliberation, was selected," Kollmeier said.
Like her, Province is active in organizations and clubs across campus. And he hopes that after graduation, he can return to his hometown to get a job teaching speech, forensics or theatre.
"I thoroughly embraced college life, was very involved in campus activities, and made wonderful friends," Kollmeier said. "The friendships I made during my three years on campus have lasted, and over the years, my close Omega [Psi Theta] sorority sisters and others and I have had our own mini-reunions both on- and off-campus, or I've visited them on road trips."
Kollmeier was also active in Doane's forensics, theatre and the Omega Psi Theta sorority during the early '70's. She learned about the college from her mother, a 1946 graduate, during a 1969 alumni gathering in the Chicago area, where her family lived at the time. Soon after, she visited the campus by herself.
"I had never visited Doane before arriving on my own and being picked up by college officials at the Lincoln airport, but I immediately fell in love with the campus," she said.
She earned her master's in speech communication in 1979 from the University of North Texas. During her teaching career, she spent four years in Callaway, Nebraska; six years in Barranquilla, Colombia; seven years in the U.S. Territory of Guam; two years at Creekview High School and 16 years at DeWitt Perry Middle School, both in Carrollton-Farmers Branch ISD in the north Dallas, Texas area. After retiring in 2018, she continues to serve as a substitute teacher and AP testing coordinator.
Knowing that she'll eventually phase out of these post-retirement activities as well, Kollmeier said she hopes she can be of service to scholarship recipients to help them become the best they hope to be as each enters the tenuous profession of education. 
"It's difficult being an educator in today's world, and there is a shortage of teachers. I trust in Doane's education program and hope my scholarship will be an additional incentive to encourage new teachers in pursuit of that path," Kollmeier said.
Funds from the scholarship will help support the remainder of a student's study at Doane during several masters-level courses required for students completing the undergraduate education program to finish their teacher certification during the summer.
Those courses are a great benefit to students preparing to re-enter the classroom — as the teacher! — in the fall. But because they're master's level courses held after graduation, they fall outside of typical scholarship opportunities for undergraduates. It's doable, but can be a strain on students who haven't yet started their first job.
"It helps my peace of mind," Province said, to know that his summer courses are partially paid for and that he can put funds toward rent and bills after graduation.
Receiving the Kollmeier scholarship caught him by surprise, he said. He was nominated for it by several of his professors, and received the award in the presence of his classmates and friends after class on Feb. 22. Kollmeier also joined the presentation over Zoom from her home in Texas.
"It feels nice to be recognized in that way," Province said. "I'm thankful to get it."
And he's thankful to know that when questions arise at any point during his career, he can turn to Kollmeier for insight and advice. In fact, he's already reached out to her.
"She's already sent me advice about her teaching philosophy. It feels really good to know that I'll have a mentor as I begin my teaching career," he said.
Endowed scholarships are permanently invested and provide a yearly payout for scholarship awards. Anyone can donate to any of Doane's endowed scholarships, at any time and in any amount.
"I hope all my Doane friends, educators and otherwise, will consider earmarking their annual Doane gift to this scholarship fund. We need to repopulate the world with dedicated, inspired teachers, and I know Doane can make that happen," Kollmeier said.
For more information, contact Thomas Reeves '88, director of planned giving, at thomas.reeves@doane.edu or by calling 402-450-0613.