More than 300 students crossed the stage at Doane University's spring commencement ceremonies on Saturday, May 13. Two ceremonies were held, one beginning at 10 a.m. for students receiving graduate degrees and undergraduate students who attended the Lincoln campus, and one at 2 p.m. for students receiving undergraduate degrees from the university's Crete campus. Both ceremonies took place in Crete, in the university's outdoor amphitheater, Cassel Theatre.
Doane President Dr. Roger Hughes, a 1982 graduate of the university, handed 317 degrees to students who walked in the ceremonies, to the cheers and celebration of their family and peers. A total of 345 students graduated from Doane in May, though not all participated in the commencement ceremonies.
There were 144 graduates from the university's College of Education, 137 from the College of Arts & Sciences and 64 from the College of Business.
Megan Johnson Cook, who received her Doane undergraduate degree in 2015, presented the morning commencement speech, titled "Perseverance and Empowerment: My Journey from Hopeless to Hopeful." Johnson Cook is currently street outreach director for I've Got A Name, a 501(c)3 non-profit organization that raises awareness of sex trafficking in Nebraska and connects victims with support and resources.
Lisa Slaughter Fye, a three-time Doane grad who received her undergraduate degree in 1997, her Master of Education in Curriculum and Instruction in 2001 and her Master of Education in Educational Leadership in 2010, presented the afternoon commencement speech, titled "Coming Full Circle." Slaughter Fye is currently principal at Crete Intermediate School, which was recognized in 2022 as a National ESEA Distinguished School serving special populations based on improved academic achievement and attendance — the first in Nebraska to receive the award.
View all commencement images on PhotoShelter.
College of Education — Doctor of Education
| | | | |
| --- | --- | --- | --- |
| Anita Lucille Harkins-Mehsling | Doctor of Education | Omaha | NE |
| Melissa Sue Herrmann | Doctor of Education | Kearney | NE |
| Allison Marie Meister | Doctor of Education | Middletown | NY |
| Jacqueline Maren Morgan | Doctor of Education | Arlington | NE |
| Brandon R. Mowinkel | Doctor of Education | Milford | NE |
| Greg William Seier | Doctor of Education | Lincoln | NE |
| Anna M. Thoma | Doctor of Education | Papillion | NE |
| Nicholas Paul Wemhoff | Doctor of Education | Fort Calhoun | NE |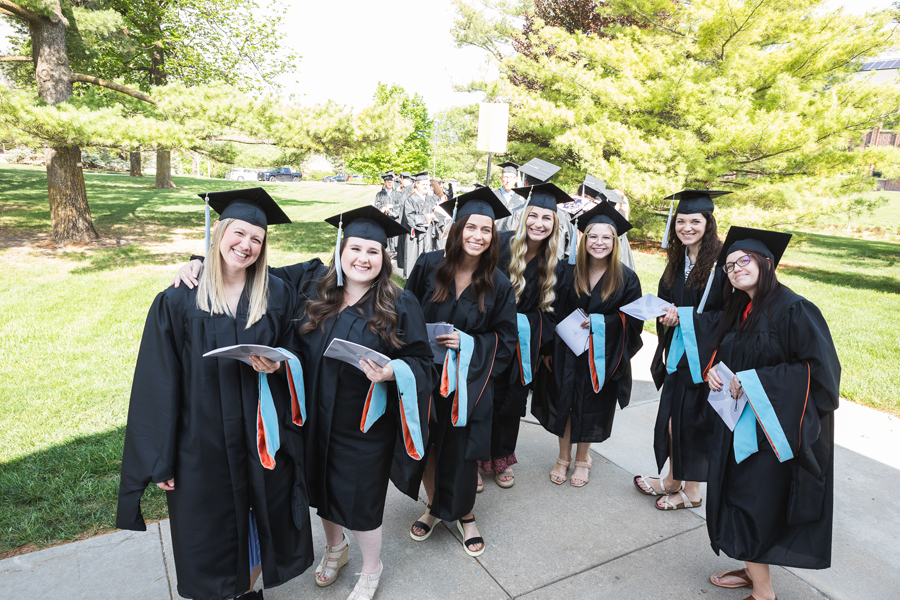 College of Education — Graduate Students
| | | | |
| --- | --- | --- | --- |
| Tanner Neil Penrod | Education Specialist | Lincoln | NE |
| James Ageton | Master of Education in Educational Leadership | Lincoln | NE |
| Brenda Alonso | Master of Education in Educational Leadership | Othello  | WA |
| Noemi Arias Saldana | Master of Education in Educational Leadership | Crete | NE |
| Nicole C. Ausdemore | Master of Education in Educational Leadership | Council Bluffs | IA |
| Krista Bendell | Master of Education in Educational Leadership | Bennington | NE |
| Emily Elizabeth Boehler | Master of Education in Educational Leadership | Martell | NE |
| Anne Cooke | Master of Education in Educational Leadership | Omaha | NE |
| Jacob Michael Cooper | Master of Education in Educational Leadership | Norfolk | NE |
| Jocelyn Michelle Crabtree | Master of Education in Educational Leadership | Lincoln | NE |
| Erin Elizabeth Eastman | Master of Education in Educational Leadership | Lincoln | NE |
| Benjamin George Esters | Master of Education in Educational Leadership | Lincoln | NE |
| Zachary Fleer | Master of Education in Educational Leadership | Neola | IA |
| Mackenzie Lea Fralin | Master of Education in Educational Leadership | Beatrice | NE |
| Alexis Ann Gardner | Master of Education in Educational Leadership | Lincoln | NE |
| Matthew Ryan Gerber | Master of Education in Educational Leadership | Norfolk | NE |
| Nicole Elizabeth Gonnerman | Master of Education in Educational Leadership | Lincoln | NE |
| Cydney Lauren Griffin | Master of Education in Educational Leadership | Omaha | NE |
| Jared Haag | Master of Education in Educational Leadership | Hickman | NE |
| Kaitlin Haller | Master of Education in Educational Leadership | Omaha | NE |
| Brook Hamrick | Master of Education in Educational Leadership | Lincoln | NE |
| Breanne Pella Helgoth | Master of Education in Educational Leadership | Clarks | NE |
| Fabricio Hernandez | Master of Education in Educational Leadership | Bellevue | NE |
| Kyle S. Hesser | Master of Education in Educational Leadership | Omaha | NE |
| Sara Ann Horstman | Master of Education in Educational Leadership | Hartington | NE |
| Nicole Renee Jamison | Master of Education in Educational Leadership | Omaha | NE |
| Jody Ellen Joel | Master of Education in Educational Leadership | Lincoln | NE |
| Kelsey Marie Kochsmeier | Master of Education in Educational Leadership | Seward | NE |
| Nikosia K. Kruse | Master of Education in Educational Leadership | Lincoln | NE |
| Hannah Dee Luber | Master of Education in Educational Leadership | Grand Island | NE |
| Ashley Marie Meyer | Master of Education in Educational Leadership | Grand Island | NE |
| Andrew John Nabity | Master of Education in Educational Leadership | Omaha | NE |
| Jessica Laura Neill | Master of Education in Educational Leadership | Omaha | NE |
| Alexis Nelson | Master of Education in Educational Leadership | Bennington | NE |
| Jaime Lynn Olson | Master of Education in Educational Leadership | Lincoln | NE |
| Micala Lynn Oltman | Master of Education in Educational Leadership | Lincoln | NE |
| Dan Preister | Master of Education in Educational Leadership | Gretna | NE |
| Mariah L. Reicks | Master of Education in Educational Leadership | Lincoln | NE |
| Nicole A. Reznicek | Master of Education in Educational Leadership | Omaha | NE |
| Monique Renee Ruiz | Master of Education in Educational Leadership | Lincoln | NE |
| Samantha Brynn Russell | Master of Education in Educational Leadership | Lincoln | NE |
| Stacey Schnauber | Master of Education in Educational Leadership | Omaha | NE |
| Gregory David Schroeder | Master of Education in Educational Leadership | Geneva | NE |
| Samuel Schroeder | Master of Education in Educational Leadership | Omaha | NE |
| Elizabeth Marie Seegebarth | Master of Education in Educational Leadership | Seward | NE |
| Kailey Elizabeth Smith | Master of Education in Educational Leadership | Bellevue | NE |
| Jessica Sturm | Master of Education in Educational Leadership | Omaha | NE |
| Megan Danielle Sughroue | Master of Education in Educational Leadership | Omaha | NE |
| Curtis A. Thomas | Master of Education in Educational Leadership | Lincoln | NE |
| Kristen Thurman | Master of Education in Educational Leadership | Lincoln | NE |
| Kelli Elaine Wemhoff | Master of Education in Educational Leadership | Grand Island | NE |
| Kathryn Wojtowicz | Master of Education in Educational Leadership | Omaha | NE |
| Ashton Noel Zabrowski | Master of Education in Educational Leadership | Elkhorn | NE |
| Mackenzie D. Alspaugh | Master of Education in Curriculum and Instruction | McCook | NE |
| Britney Beatty | Master of Education in Curriculum and Instruction | Griswold | IA |
| Natalie Ree Brainard | Master of Education in Curriculum and Instruction | Papillion | NE |
| Austin Joseph Bruning | Master of Education in Curriculum and Instruction | Bancroft | NE |
| Jessica M. Buss | Master of Education in Curriculum and Instruction | Gretna | NE |
| Brittany Campbell | Master of Education in Curriculum and Instruction | Hastings | NE |
| Kayla Lynn Casey | Master of Education in Curriculum and Instruction | Cambridge | NE |
| Brianne Kaylee Clark | Master of Education in Curriculum and Instruction | Lincoln | NE |
| Taylor Marie Cooper | Master of Education in Curriculum and Instruction | Plattsmouth | NE |
| Ashley ES Daily | Master of Education in Curriculum and Instruction | Lincoln | NE |
| Kristen Damman | Master of Education in Curriculum and Instruction | Grand Island | NE |
| Morgan Richelle Dredge | Master of Education in Curriculum and Instruction | Seward | NE |
| Brooke Fallas Quirós | Master of Education in Curriculum and Instruction | Papillion | NE |
| Lauren Ann Farritor | Master of Education in Curriculum and Instruction | Lincoln | NE |
| Julie Suzanne Haag | Master of Education in Curriculum and Instruction | Lincoln | NE |
| Karlee Haecker | Master of Education in Curriculum and Instruction | Lincoln | NE |
| Allie Lanae Hakinson | Master of Education in Curriculum and Instruction | Omaha | NE |
| LaRinda Marie Hall | Master of Education in Curriculum and Instruction | Omaha | NE |
| Ali Ryan Johnson | Master of Education in Curriculum and Instruction | Pierce | NE |
| Alexis Marie Johnson Brass | Master of Education in Curriculum and Instruction | Lincoln | NE |
| Preston Dean Jurgens | Master of Education in Curriculum and Instruction | Beatrice | NE |
| Sara Maria Kash-Brown | Master of Education in Curriculum and Instruction | Lincoln | NE |
| Candace L. Kastrup | Master of Education in Curriculum and Instruction | Lincoln | NE |
| Lily Knowles | Master of Education in Curriculum and Instruction | Fort Worth | TX |
| McKenna Ann Kucera | Master of Education in Curriculum and Instruction | Utica | NE |
| Ava Rose Macke | Master of Education in Curriculum and Instruction | Omaha | NE |
| Ellen M. Marquardt | Master of Education in Curriculum and Instruction | Elsie | NE |
| Michaela McLeay | Master of Education in Curriculum and Instruction | Omaha | NE |
| Kaylee Nicole Meyer | Master of Education in Curriculum and Instruction | Syracuse | NE |
| Taylor Nicole Mitchell | Master of Education in Curriculum and Instruction | Lincoln | NE |
| Brittney Rose Petersen | Master of Education in Curriculum and Instruction | Arlington | NE |
| Ashley Brooke Schafer | Master of Education in Curriculum and Instruction | Norfolk | NE |
| Tristin J'Marie Smith | Master of Education in Curriculum and Instruction | Wilber | NE |
| Chelsea Raeann Stepanek | Master of Education in Curriculum and Instruction | Plattsmouth | NE |
| Patrick Vrbka | Master of Education in Curriculum and Instruction | Lincoln | NE |
| Travis Lee Willnerd | Master of Education in Curriculum and Instruction | Norfolk | NE |
| Jhonny Beltran | Master of Education in School Counseling | Crete | NE |
| Julie Ann Bottom | Master of Education in School Counseling | Lincoln | NE |
| Shantaye Brown | Master of Education in School Counseling | Lincoln | NE |
| Kathryn Brubaker | Master of Education in School Counseling | Omaha | NE |
| Jeremy Cisco | Master of Education in School Counseling | Bellevue | NE |
| Joseph R. Coleman | Master of Education in School Counseling | Lincoln | NE |
| Tiffany Rose Gapp | Master of Education in School Counseling | Grand Island | NE |
| Flamina Harrison | Master of Education in School Counseling | Omaha | NE |
| Terese Marie Jose | Master of Education in School Counseling | Bennington | NE |
| Nicholas Raymond Langer | Master of Education in School Counseling | Omaha | NE |
| Amanda Rae Ludwig | Master of Education in School Counseling | Adams | NE |
| Sara Jafar Majid | Master of Education in School Counseling | Lincoln | NE |
| Brittany Lynn McCleery | Master of Education in School Counseling | Lincoln | NE |
| Gabriella Marie Montemarano | Master of Education in School Counseling | Gretna | NE |
| Jordyn Elizabeth Moran | Master of Education in School Counseling | Omaha | NE |
| Laken Amber Parde | Master of Education in School Counseling | Central City | NE |
| Montana Renter | Master of Education in School Counseling | Lavista | NE |
| Rachel Catherine Sandhorst | Master of Education in School Counseling | Decorah | IA |
| Matthew R. Scheidle | Master of Education in School Counseling | Omaha | NE |
| Cienna Lucile Stegemann | Master of Education in School Counseling | Omaha | NE |
| Lisa Dawn Tatro | Master of Education in School Counseling | Norfolk | NE |
| Shayla Lynn Tibbetts | Master of Education in School Counseling | Palmer | NE |
| Hailey M. Worthy | Master of Education in School Counseling | Omaha | NE |
| Madison Zaroban | Master of Education in School Counseling | Omaha | NE |
| Brian Patrick Ellis | Master of Arts in Counseling | Lincoln | NE |
| Joseph William Knott | Master of Arts in Counseling | Lincoln | NE |
| Mindy J.W. Parker | Master of Arts in Counseling | Lincoln | NE |
| Maggie Roybal | Master of Arts in Counseling | Lincoln | NE |
| Caitlin Summerlin | Master of Arts in Counseling | Lincoln | NE |
| Matthew Webster | Master of Arts in Counseling | Waverly | NE |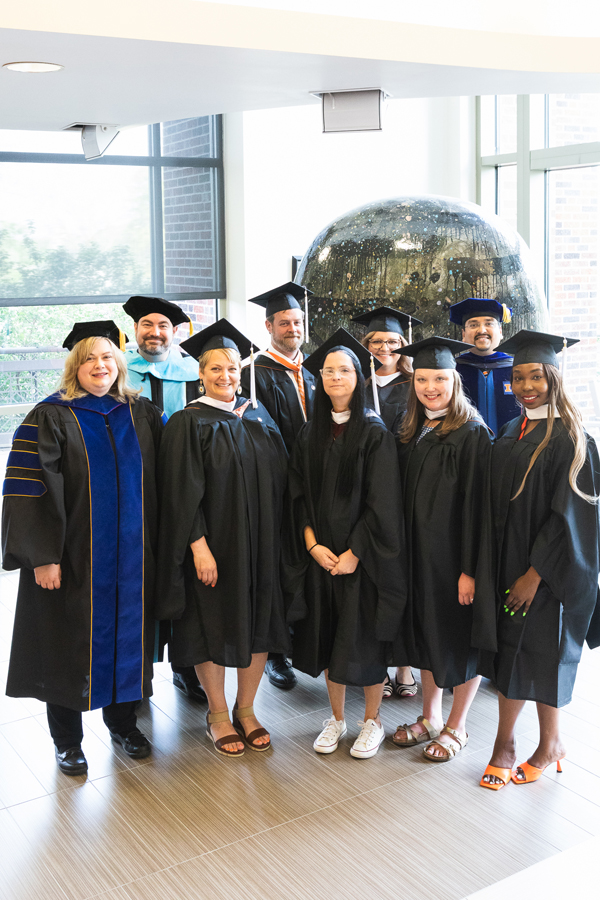 College of Business — Graduate Students
| | | | |
| --- | --- | --- | --- |
| Katherine Suzanne Higgins | Master of Arts in Leadership | Lincoln | NE |
| Purity Anyango Ortiz | Master of Arts in Leadership | Kisumu | Kenya |
| Jenei Lyn Skillett | Master of Arts in Leadership | Hallam | NE |
| Damion R. Brophy | Master of Arts in Management | Lincoln | NE |
| Allison Marie Cole | Master of Arts in Management | Lincoln | NE |
| Emily Jean Yokel | Master of Arts in Management | Friend | NE |
| Leslie Ryn Boelter | Master of Business Administration | Chesapeake | VA |
| Jacob Tyler Bush | Master of Business Administration | Lincoln | NE |
| Brenda Downey | Master of Business Administration | Lincoln | NE |
| Nadia Abraham Gove | Master of Business Administration | Lincoln | NE |
| Keegan Graves | Master of Business Administration | Hartsburg | MO |
| Tiffany Dee Gressley | Master of Business Administration | Kearney | NE |
| Ameer Hamza | Master of Business Administration | Sugar Land | TX |
| Aaron John Havis | Master of Business Administration | East Grand Forks | MN |
| Haley R. Kennedy | Master of Business Administration | Denton | NE |
| Taylor Lee Krupicka | Master of Business Administration | Bruning | NE |
| Cheryl Ann Larson | Master of Business Administration | Lincoln | NE |
| Adam Richard Lee | Master of Business Administration | Houston | TX |
| Christina Lynn Linville | Master of Business Administration | Lincoln | NE |
| Jason Michels | Master of Business Administration | Glendale | WI |
| Micah Adam Ramirez | Master of Business Administration | Loveland | CO |
| Christopher Cain Rappl | Master of Business Administration | Wahoo | NE |
| Prem Hansheena Ravechandran | Master of Business Administration | Ipah | Malaysia |
| Kathryn Jo Ryder | Master of Business Administration | Lincoln | NE |
| Michael Solomon | Master of Business Administration | Lincoln | NE |
| Joviale Uwase | Master of Business Administration | Lincoln | NE |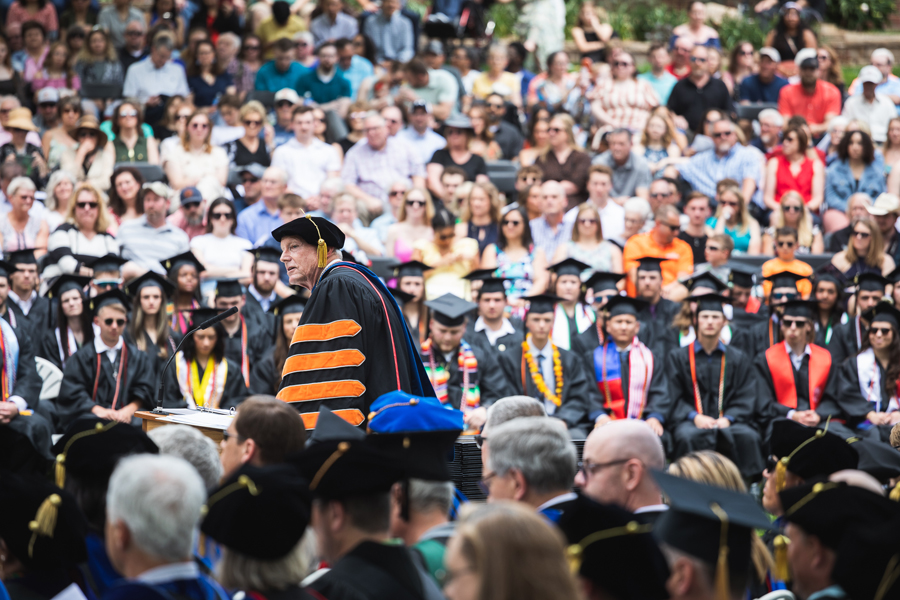 Undergraduates
| | | | | |
| --- | --- | --- | --- | --- |
| Arian Alai | Bachelor of Science | Mathematics and Data Analytics | Omaha | NE |
| Blake Zachary Andersen | Bachelor of Arts | Business Administration | Grand Junction | CO |
| Kaleb Riley Anderson | Bachelor of Arts | Social Sciences & History | Pierce | NE |
| Brandon Antesberger | Bachelor of Science | Biology | North Pole | AK |
| Madyson Elizabeth Arterburn | Bachelor of Arts | Elementary Education | Brady | NE |
| Bailee Rose Baack | Bachelor of Arts | Elementary Education & Special Education | Seward | NE |
| Dillon Lee Bailey | Bachelor of Science | Engineering | Papillion | NE |
| Ty Louis Barbazon | Bachelor of Science | Exercise Science | Ocala | FL |
| Aaliyah Bass | Bachelor of Arts | English Language Arts | Herriman | UT |
| Maria Isabel Benitez | Bachelor of Arts | Psychology | Panama City | Panama |
| Emmett Springs Black | Bachelor of Science | Exercise Science | Hildreth | NE |
| Tanner Michael Black | Bachelor of Science | Biology | Elkhorn | NE |
| Baterdene Boldmaa | Bachelor of Arts | Health and Human Performance | Ulaanbaatar | Mongolia |
| Logan Timothy Bornemeier | Bachelor of Arts | Business Administration | Lincoln | NE |
| Hunter Michael Bose | Bachelor of Arts | Special Education | North Platte | NE |
| Isabel Marie Bothwell | Bachelor of Science | Exercise Science | Gretna | NE |
| Quinton Gregory Boyles | Bachelor of Arts | Business Administration | Wilber | NE |
| Kelsey Jordan Brady | Bachelor of Arts | Psychology & Spanish | Malcolm | NE |
| Zach Brown | Bachelor of Science | Biology | Gillette | WY |
| Benjamin Patrick Brunsman | Bachelor of Science | Mathematics and Data Analytics & Computer Science | Lincoln | NE |
| Drew Buck | Bachelor of Arts | History & Spanish | Wayne | NE |
| Hannah Jane Burch | Bachelor of Arts | English | Papillion | NE |
| Kirsten Ameila Bures | Bachelor of Science | Exercise Science | Odell | NE |
| Morgan Ana Burnett | Bachelor of Science | Health and Human Performance | Fairplay | CO |
| Nicole Sue Carraher | Bachelor of Arts | English Language Arts | Gretna | NE |
| Matthew Gregory Case | Bachelor of Science | Health and Human Performance | Lincoln | NE |
| Jorge Chevez | Bachelor of Arts | Business Administration | Panama City | Panama |
| Hyunjun Jacob Chung | Bachelor of Science | Engineering | Seoul | South Korea |
| Michelangelo Ciotti | Bachelor of Science | Exercise Science | Lincoln | NE |
| Mara Kay Coates | Bachelor of Science | Biology | Salina | KS |
| Nathan Paul Cochnar | Bachelor of Science | Computer Science | Dorchester | NE |
| Joseph Robert Colanino | Bachelor of Arts | Social Sciences & History | Delano | MN |
| Beau Collins | Bachelor of Arts | Business Administration | Round Rock | TX |
| Sophia Josephine Coniglio | Bachelor of Arts | Music | Omaha | NE |
| Chandler Logan Cooper | Bachelor of Arts | Business Administration | Rockmart | GA |
| Bryce Cote | Bachelor of Arts | Health and Human Performance | Everett | WA |
| Alaina Janice Currier | Bachelor of Science | Liberal Arts Studies | Midland | MI |
| Rachel Bethene Darling | Bachelor of Arts | Psychology | Gothenburg | NE |
| Kaydi R. Daudt | Bachelor of Arts | Music | Plainview | NE |
| Hayden Alan DeBoer | Bachelor of Science | Biology | Firth | NE |
| Grace Jane Deines | Bachelor of Science | Biology | Omaha | NE |
| Keirra Joy del Valle | Bachelor of Arts | Psychology | North Bend | NE |
| Nathan DeLine | Bachelor of Science | Health and Society | Lincoln | NE |
| Caden Todd Doolittle | Bachelor of Science | Engineering | Ponder | TX |
| Austin Drake | Bachelor of Arts | Business Administration | Allen | TX |
| Hannah Isabella Drolshagen | Bachelor of Arts | Business Administration | Englewood | CO |
| Macy Jane Due | Bachelor of Arts | Elementary Education & Special Education | Cordova | NE |
| Emily Nicole Dunaway | Bachelor of Arts | Sociology | Crete | NE |
| Samuel Edwin Dunwell | Bachelor of Science | Biology | Lana'i City | HI |
| Trace Edward Ebert | Bachelor of Arts | Business Administration | Bassett | NE |
| Megan Laura Elliott | Bachelor of Science | Exercise Science | Simi Valley | CA |
| Madalyn Marie Elwood | Bachelor of Arts | Art | Lincoln | NE |
| Kathleen A. Espenhover | Bachelor of Arts | Psychology & Sociology | Lincoln | NE |
| Angelina Janae Esqueda | Bachelor of Arts | Business Administration | Las Vegas | NV |
| Austin Mitchell Filliez | Bachelor of Arts | Business Administration | Lincoln | NE |
| Roberto Antonio Filpo | Bachelor of Science | Health and Human Performance | Mineola | NY |
| Aaron Michael Forrest | Bachelor of Arts | Sociology | Phoenix | AZ |
| Victoria Rose Foster | Bachelor of Science | Biology | Lincoln | NE |
| Grace Frederick | Bachelor of Science | Information Systems | Benkelman | NE |
| Deanna Lynn Friesen | Bachelor of Arts | Business Administration | Lincoln | NE |
| Anna Marie Ganzel | Bachelor of Arts | Psychology | Springfield | NE |
| Steve Garcia | Bachelor of Science | Information Systems and Technology | Ogallala | NE |
| Maria Luisa Garcia | Bachelor of Arts | Social Sciences | Grand Island | NE |
| Caden Geiken | Bachelor of Science | Engineering | Gothenburg | NE |
| Michaela Chante' McBride Gilman | Bachelor of Arts | Elementary Education & Special Education | Lansing | KS |
| Amy LaVa Goracke | Bachelor of Science | Health Sciences | Sterling | NE |
| James Gene Griess | Bachelor of Science | Health Sciences | Sutton | NE |
| Benjamin Caton Grigsby | Bachelor of Arts | Psychology | Camino | CA |
| Kailyn Paige Groski | Bachelor of Arts | Graphic Design | Papillion | NE |
| Emily Sue Haines | Bachelor of Arts | Elementary Education | Folsom | CA |
| Alexis J. Hamilton | Bachelor of Arts | Psychology | LaVista | NE |
| Grady Hardin | Bachelor of Arts | Business Administration | Omaha | NE |
| Allison Kay Harless | Bachelor of Arts | Accounting & Business Administration | Lincoln | NE |
| Nicole Leigh Harms | Bachelor of Science | Mathematics and Data Analytics | Sterling | NE |
| Kingdon Hawes | Bachelor of Science | Chemistry | Omaha | NE |
| Gage Egan Heithold | Bachelor of Science | Information Systems | Denton | NE |
| Isabel Elizabeth Henson | Bachelor of Arts | Psychology | Gretna | NE |
| Samuel Lee Hewitt | Bachelor of Arts | Law, Politics, and Society & Sociology | Omaha | NE |
| Madison Rose Hickok | Bachelor of Arts | Music | Cairo | NE |
| Jaden Marie Hilkemann | Bachelor of Arts | English & Law, Politics, and Society | Lincoln | NE |
| John Carroll Leslie Himmelberg | Bachelor of Science | Exercise Science | Lawrence | NE |
| Nathan Matthew Hostetler | Bachelor of Arts | Agribusiness | Milford | NE |
| Cameron Hower | Bachelor of Arts | Business Administration | Quenemo | KS |
| Yevheniia Hrebenevych | Bachelor of Arts | Liberal Arts Studies | Lincoln | NE |
| Judith Lynn Hudgins | Bachelor of Arts | Business Administration | Lincoln | NE |
| Sean James Hummel | Bachelor of Science | Biology | Waverly | NE |
| Jadyn Abry Hunt | Bachelor of Science | Exercise Science | Elkhorn | NE |
| Kate Ashlen Jansky | Bachelor of Science | Biology | Milligan | NE |
| Bryant Edward Jeary | Bachelor of Science | Health and Human Performance | Gretna | NE |
| Katelyn Ann Jindra | Bachelor of Science | Biology | Crete | NE |
| Aprille Lynn Johnson | Bachelor of Arts | Elementary Education | Syracuse | NE |
| Bre Anna Forbes Johnson | Bachelor of Science | Exercise Science | Rock Falls | IL |
| Thomas Keller | Bachelor of Arts | Economics | Burbank | CA |
| Makenna Crystene Klug | Bachelor of Arts | Psychology | Columbus | NE |
| Olivia Grace Kreikemeier | Bachelor of Arts | Music | Waverly | NE |
| John Paul Krejci | Bachelor of Science | Chemistry | Louisville | NE |
| Luke Douglas LaChance | Bachelor of Arts | Business Administration | Littleton | CO |
| Amanda Renee Laib | Bachelor of Arts | History | Berthoud | CO |
| Parker Lange | Bachelor of Arts | Accounting & Business Administration | Elkhorn | NE |
| Vincent Robert Lauenroth | Bachelor of Science | Engineering | Crete | NE |
| Elizabeth Jane Lewandowski | Bachelor of Arts | Elementary Education | Lincoln | NE |
| Brandon Lucas Linhart | Bachelor of Science | Biology | Omaha | NE |
| Jada S. Lloyd | Bachelor of Science | Exercise Science | Columbus | NE |
| Maci Bree Lyman | Bachelor of Science | Health Sciences | Omaha | NE |
| Amber Lyons | Bachelor of Arts | Art | Canyon Lake | CA |
| Treyce Mark Machacek | Bachelor of Science | Engineering | Bellevue | NE |
| Joseph Kim Mackin | Bachelor of Arts | Graphic Design | Blue Hill | NE |
| Stephen Joseph MacNeal | Bachelor of Science | Information Systems | Weatherly | PA |
| Joseph Brian Manchester | Bachelor of Arts | Business Administration | Blair | NE |
| Ashley Taylor Marsh | Bachelor of Science | Biochemistry & Mathematics and Data Analytics | Gretna | NE |
| Kaylee Josie Martinsen | Bachelor of Arts | Special Education | Elgin | NE |
| Ty Robert Martinsen | Bachelor of Arts | Physical Education and Health Education | Cedar Rapids | NE |
| Emily A. Mason | Bachelor of Arts | Psychology | Firth | NE |
| Robert John Matney | Bachelor of Science | Mathematics | Blair | NE |
| Majesty Lynn Maxwell | Bachelor of Arts | Sociology & Psychology | Scottsbluff | NE |
| Olivia Marie McBeth | Bachelor of Arts | Music | Lincoln | NE |
| Lucia Marie McKeag | Bachelor of Science | Exercise Science & Spanish | Ogallala | NE |
| Simonie Ann Mendenhall | Bachelor of Science | Biology | Clancy | MT |
| Nathan Frank Mensik | Bachelor of Arts | Business Administration | Pleasant Dale | NE |
| Madelynn Elaine Meredith | Bachelor of Science | Biology | Temecula | CA |
| Brett Ryan Meyer | Bachelor of Arts | Business Administration & Agribusiness | Seward | NE |
| Cierra Virginia Meyer | Bachelor of Science | Biology | Lincoln | NE |
| Ryan Michael | Bachelor of Arts | Business Administration | Brea | CA |
| Abrianna Grace Miller | Bachelor of Arts | Psychology & Spanish | Friend | NE |
| Riley James Mitchell | Bachelor of Science | Health and Human Performance | Fort Calhoun | NE |
| Colton W. Mitties | Bachelor of Arts | Agribusiness | North Bend | NE |
| John Claude Molina | Bachelor of Arts | Business Administration | Omaha | NE |
| Jessica Navarrete | Bachelor of Arts | Elementary Education | Lincoln | NE |
| Trevor Daniel Nels Nelson | Bachelor of Arts | Educational Studies | North Bend | NE |
| Huong Nina Ngo | Bachelor of Science | Biology & Spanish | Crete | NE |
| Ragan Nickless | Bachelor of Arts | Elementary Education & Special Education | Imperial | NE |
| Mitchell Norris | Bachelor of Science | Computer Science | Columbus | NE |
| Joseph Elliott Osborn | Bachelor of Science | Biology | Hickman | NE |
| Johann Daniel Ott | Bachelor of Arts | Social Sciences, History, & German | Gretna | NE |
| Ashley Paolucci | Bachelor of Arts | Business Administration | Granite Bay | CA |
| Jacob Dean Patrick | Bachelor of Science | Engineering | Lincoln | NE |
| Gillian Olivia Pearson | Bachelor of Arts | Psychology | Papillion | NE |
| Alaynna Kristeen Pedersen | Bachelor of Science | Computing | Kearney | NE |
| Solomon Grey Peitz | Bachelor of Science | Engineering | Wakefield | NE |
| Jessica Rose Pelchat | Bachelor of Arts | Music & Theatre | Cedar Creek | NE |
| Drew Joseph Pennington | Bachelor of Arts | Music | Fremont | NE |
| Erica Hokulani Perez | Bachelor of Arts | Health and Society | Bellevue | NE |
| Blake Andrew Peterson | Bachelor of Arts | Business Administration | Buhler | KS |
| Samuel Mark Peterson | Bachelor of Science | Engineering | Bonney Lake | WA |
| Riley Shane Podliska | Bachelor of Arts | Business Administration | Lincoln | NE |
| Trey Kenneth Porter | Bachelor of Arts | Strategic Communication & Media Communication | Norfolk | NE |
| Samuel Jacob Province | Bachelor of Arts | English | Lincoln | NE |
| Tiffany Pusateri | Bachelor of Arts | Business Administration | Lincoln | NE |
| Morgan Marie Queen | Bachelor of Arts | Psychology | Salina | KS |
| Kristina Jordan Quinn | Bachelor of Science | Mathematics | Fort Worth | TX |
| Felicity Jean Ramsey | Bachelor of Arts | Art | Waverly | NE |
| Noah John Reestman | Bachelor of Arts | Music | Bellevue | NE |
| Jaime Marie Renshaw | Bachelor of Arts | Psychology | Sioux Falls | SD |
| Toby M. Rine | Bachelor of Science | Information Systems Management | Lincoln | NE |
| Beatriz Cruz Rivas | Bachelor of Science | Mathematics | Duarte | CA |
| Erik Ubaldo Rodriguez | Bachelor of Arts | Music | Nebraska City | NE |
| Sydney Roth | Bachelor of Arts | Elementary Education & Special Education | Deshler | NE |
| Colton Michael Sales | Bachelor of Arts | Liberal Arts Studies | Clements | CA |
| Jessica Nicole Sand | Bachelor of Arts | Psychology | Columbus | NE |
| Katelyn Renae Schroeder | Bachelor of Arts | Sociology | Wilber | NE |
| Taylor Jean Scott | Bachelor of Arts | Psychology | Lincoln | NE |
| Jacob Sharrer | Bachelor of Arts | Liberal Arts Studies | Lincoln | NE |
| Austin Allan Simmons | Bachelor of Arts | Business Administration | Boelus | NE |
| Kierney Renee Skiles | Bachelor of Arts | Elementary Education | Gretna | NE |
| Elijah James Smith | Bachelor of Arts | Business Administration | Bridgeport | NE |
| Joshua John Spomer | Bachelor of Science | Biology | Lincoln | NE |
| Jarryd Matthew Stone | Bachelor of Arts | Business Administration | Ballito | South Africa |
| Logan Scott Tackett | Bachelor of Science | Information Systems | Lincoln | NE |
| Jenna Michelle Tardiff | Bachelor of Arts | English Language Arts | Sacramento | CA |
| Jordan Dewayne Tasler | Bachelor of Science | Health and Human Performance | Atkinson | NE |
| Ashley Teten | Bachelor of Arts | Elementary Education & Special Education | Auburn | NE |
| Benjamin John Theiler | Bachelor of Arts | Theatre | Omaha | NE |
| Cassidy Rae Tompkin | Bachelor of Arts | Business Administration | Clay Center | NE |
| Sydney Ann Tramp | Bachelor of Science | Mathematics | Crofton | NE |
| Vanessa Ruby Trimmer-Enriquez | Bachelor of Science | Health Sciences | Rio Rancho | NM |
| Chinges Tsermaa | Bachelor of Arts | Liberal Arts Studies | Ulaanbaatar | Mongolia |
| Luke Jacob Urbonavicius | Bachelor of Arts | Strategic Communication | Kaunas | Lithuania |
| Sophia Grace Vacanti | Bachelor of Arts | Psychology | Omaha | NE |
| Jadyn Lee Vacha | Bachelor of Arts | Psychology | Cedar Bluff | NE |
| Elizabeth Paige van der Torre | Bachelor of Science | Exercise Science | Greeley | CO |
| Jackson Timothy Van Holland | Bachelor of Science | Mathematics | Bellevue | NE |
| Daniel Anthony Vargas | Bachelor of Science | Information Systems | Albuquerque | NM |
| Julian Victor Vargas | Bachelor of Arts | Business Administration | Denver | CO |
| Theresa Louanne Villagomez | Bachelor of Arts | Professional Studies in Business Administration | Lincoln | NE |
| Jose Villalpando | Bachelor of Arts | Psychology | Lexington | NE |
| Alexander Keith Wagner | Bachelor of Arts | Accounting & Business Administration | Lincoln | NE |
| Dylan James Wagner | Bachelor of Science | Environmental Science | Omaha | NE |
| Alexandria Hunter Wallace | Bachelor of Science | Health Sciences | Franktown | CO |
| Ryan Christian Walling | Bachelor of Science | Health and Human Performance | Elkhorn | NE |
| Rachel Elizabeth Walters | Bachelor of Science | Exercise Science | Gretna | NE |
| Joseph Levi Weinstein | Bachelor of Science | Biology | Thornton | CO |
| Jarod M. Wenger | Bachelor of Science | Biochemistry | Lincoln | NE |
| Aidan Shawn Wheelock | Bachelor of Arts | History | Minden | NE |
| Quinn Teresa Whitcomb | Bachelor of Arts | Psychology | Bellevue | NE |
| Jack Thomas Wiebelhaus | Bachelor of Arts | Accounting | Omaha | NE |
| Jacob Neil Williams | Bachelor of Science | Computer Science | Kansas City | MO |
| Nathan Allen Williams, Jr. | Bachelor of Arts | Liberal Arts Studies | Spring | TX |
| John R. Willis | Bachelor of Arts | Business Administration & Accounting | Omaha | NE |
| Jutharat Wilson | Bachelor of Science | Information Systems | Lincoln | NE |
| Brooke A. Wimes | Bachelor of Arts | Professional Studies in Business Administration | Lincoln | NE |
| Trey J. Winkler | Bachelor of Science | Mathematics and Data Analytics | Gering | NE |
| Joseph Harry Winton | Bachelor of Arts | Graphic Design | Omaha | NE |
| Stephanie Rae Wright | Bachelor of Arts | Music | Petersburg | NE |
| Jayden Young | Bachelor of Arts | Elementary Education | Iowa City | IA |
| Tristan Anthony Zamilpa | Bachelor of Arts | Psychology | Madera | CA |