If you look at other, larger universities, the opportunity to participate in scientific research is often limited to graduate students. But Doane isn't those other, larger universities. Here, you know right from the start, in BIO110, if conducting experiments and research projects is the path you want to take.
"It was not something I expected to do as a freshman," said Desiree Lopez, who is majoring in biology. "I'll have to do this in my upper level classes, so this is really going to help me in the future."
The Freshman Research Symposium has been held each winter for at least the past seven years, said Dr. Dane Bowder, assistant professor of biology. For the event, teams of 2-4 students in all BIO110 Inquiry Laboratory classes — around 75 students this fall — present their findings on research conducted over the course of the semester.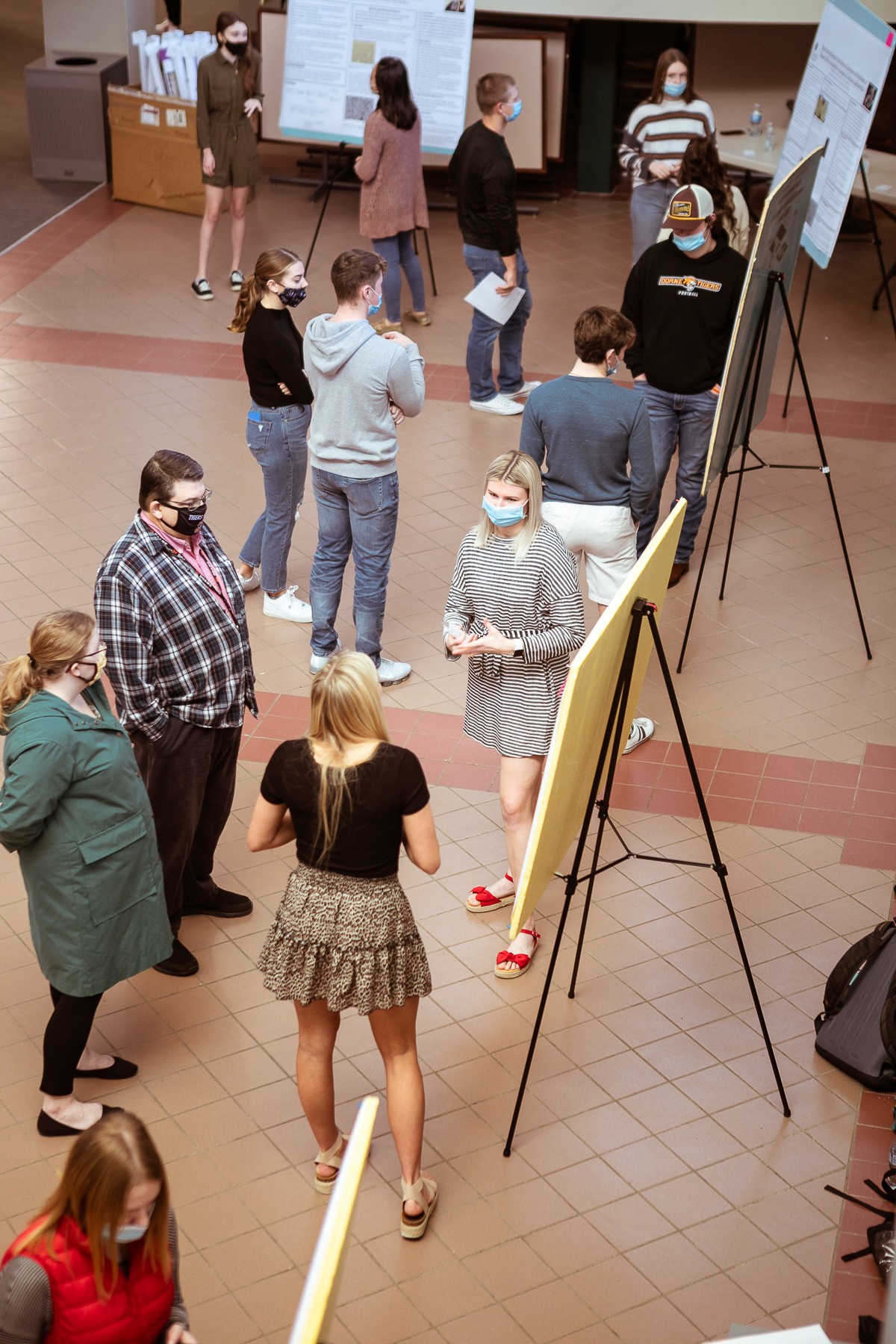 Bowder actually helped judge the event when he was in grad school, although judging wasn't held this year. Instead, seniors reviewed the displays and presentations for extra credit. Many of them will also have to do similar presentations in the spring semester for Mind Expo, which showcases research done for senior projects. Each year, some of those projects may have a root in the research students did as freshmen, too.
"It all starts in BIO110," Bowder said. "Some students will build off of this for their senior research."
This year, students got to choose from a wide variety of projects in Bowder's class, as well as in the BIO110 classes taught by Dr. Tessa Durham Brooks, associate professor of biology; Dr. Erin Doyle, associate professor of biology; and Dr. Eric Holley, visiting assistant professor of biology. Each class was a little different based on the overall research and passions of each professor.
For example, students in Bowder's and Doyle's classes looked at phages — viruses that infect bacteria, and could be useful in antibiotic treatment. Holley's class analyzed the effects of different chemicals on an invasive grass, smooth brome. Durham Brooks's class dug into the effects of chemotaxis — the movement of an organism in response to chemicals — on different types of microbes in soil and roots.
"We had a lot of really diverse projects that people chose to do," Bowder said.
In Brooks's class, students JaDae Moore, Brianna Vesely and Ysabella Arredondo ran experiments to determine the effects of serine, an amino acid, on E. coli chemotaxis in soil. They ran two sets of experiments. For the first, they had help from their professor.
"The second time, she [Brooks] sent us off on our own. That's really huge as we get toward careers and the workforce," Arredondo said. She is minoring in biology.
Vesely is majoring in biology with a goal to go to pharmacy school. Initially, her group's project about soil bacteria didn't grab her interest.
"But it could benefit agriculture in Nebraska, and after our second experiment, we found beneficial research that could benefit farmers," she said, which increased her motivation.
"Dr. Brooks is part of a study, so all of these things that we're working on, people didn't know," Arredondo said. "We had no expectations. And even though my focus isn't agriculture, plants or soil, this could influence other research."
These sentiments were echoed by the lone senior presenting research during the symposium, as well. Trevor Provencher graduated in December with a degree in biology. He's entering a program to earn his doctorate in physical therapy, which is what he hoped to focus his research on while at Doane. But if that wasn't an option, then he wanted to do something that would benefit his community in central Texas.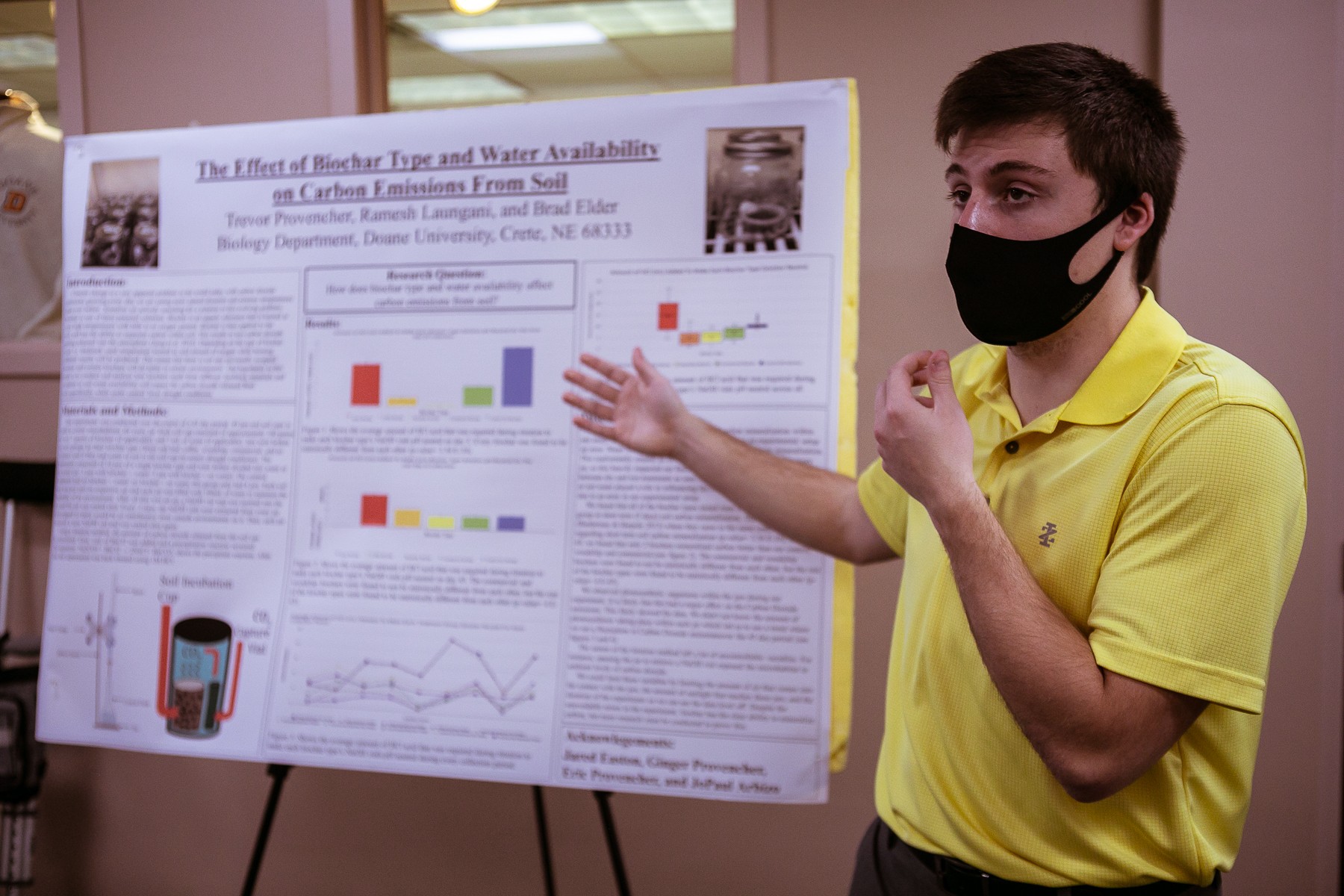 He chose to work with Dr. Brad Elder, professor of biology, and Dr. Ramesh Laungani, former assistant professor of biology, to research biochar made from different materials, and how those affect carbon emissions when in soil conditions similar to those found in central Texas. He didn't quite get the results he hoped for, but realized changing some of the methods used in conducting his experiments could increase the accuracy of his data.
And often, learning how not to run an experiment is just as important in the wider picture.
"It makes you really thankful for the scientific community," he said. "You see how long it takes."
Provencher remembers participating in the symposium his freshman year, too. It was a good introduction, something that he had never done before arriving at Doane. He said the work completed by the students around him was impressive.
"Compared to our freshman year, their posters look pretty good," Provencher said.
Many of the students who presented research said something along the lines of Vesely, Arredondo and Provencher. Their project may not have been in the field they intend to study, but because it's just one part of much larger research studies being conducted, each contribution feels — and is — important. Students may even be included as authors once the research findings are published.
For example, Doane is part of the SEA-PHAGES program co-led by the University of Pittsburgh and Howard Hughes Medical Institute, and will sequence the genomes of some of the phages used in research this year. Doane students will be chosen to help annotate those sequences, to take each individual gene and assign a function to it for publication this spring.
Remington Freeman, a biology-psychology double major, and Rilee Brazda, a biology and health sciences double major, studied a phage pulled from pond water outside a friend's home in Omaha. They came up with their research project by asking the classic scientific question, 'what if,' based on the knowledge that phages can decrease the risk of foodborne illness. Their experiment placed phages in juices of different acidities to see if it affected survival.
"The independence was really nice," Freeman said. "I didn't think I would enjoy lab work as much as I did. If you're looking to go into health careers or a lab setting, this [Doane] is definitely a good choice."